Steering a B2B enterprise towards profitability, success, and scalability requires a consistent axis of achievement across the entire sales process — from lead generation to conversion. However, the best sales teams know how to prioritize the tasks that make up day-to-day progress towards deal closure. The most applicable next step is what will advance the lead the most at any given point in time, and being able to recognize the hierarchy of those steps is the key to success on both the individual and team levels.
This installment in our sales acceleration series explains the importance of developing prioritization skills as a crucial sales habit and highlights the most effective prioritization methods for B2B sales growth. Learn the mindset, and technological innovations, that make prioritization possible.
Defining Prioritization in Sales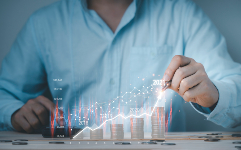 It can be argued that the lion's share of B2B sales efforts in recent years has involved implementing new technology to match and outpace competitors in the digital landscape. However, while investment in robust sales tools is an admirable goal, it doesn't account for the most crucial aspect of sales — the day-to-day, personal interactions with clients.
How do team members set their own priorities in these daily interactions? The most effective strategies balance efficiency with control of the sales process. While new developments in sales technology may enable increasingly shorter cycles, heightened pressure to work quickly is not enough to create sales success, it must be supplemented by a clear understanding of what to do and in what order to do it.
By differentiating the relative urgency and importance of each individual task according to what will bring them the most progress with a lead, sales teams understand how to best sequence their sales efforts across the board.
Highlight Prioritization During Training & Onboarding
The sales process only slows down when you do. That's why the planning skills necessary for effective prioritization should be taught first when working with a new sales team or an account executive and nurtured at every opportunity. The sooner team members understand how to prioritize their tasks, the less friction they will encounter in managing sales cycles towards their close.
With the right tools, prioritization training comes with the territory. The HubSpot CRM onboarding process, for example, fosters prioritization from the outset, teaching the natural hierarchy of events that constitute the sales cycle via key software features such as task queues, sequences, and cadences for email follow-ups.
Utilize Automation for Simple Priority Navigation
Deciding on sales prioritization strategies requires prioritization in and of itself. B2B companies should begin where they will receive the most return on their investment, and in many cases, this involves increasing efficiency by cutting down on repetitive manual tasks. Implementing automation into every step of the sales process is the most effective way to ensure that sales teams are always operating at the right place and time.
"The need for automation applies to the majority of our clients," says Doug Wendt, co-founder and Chief Growth Officer of Wendt Partners. "The reason is obvious when you take a look at their outreach measures. Whether a company is promoting a contact form to gather prospects or completing their sales calls, automation helps them to prioritize the most important next step to getting that next lead secured, that deal closed."
Automation triggers can be implemented at virtually any stage in the sales pipeline using HubSpot CRM. Once a prospect provides their contact information, such as through a form, automation can connect them to the next, most applicable step — whether that be auto-enrolling the prospect in the CRM platform, creating a deal profile, task, sequence, or scheduling an email or phone call.
By reducing the time lapsed between each client interaction, automation keeps the ball rolling on important sales conversations. Even so, many professionals are dissuaded from the idea because they want to avoid cookie-cutter interactions that sour client relationships, but with the right tools and configuration, automation can also allow a company's sales team the opportunity to add a personal touch to every interaction with their clients. HubSpot triggers personalized emails and follow-up tasks, which allows sales reps to maintain influence in their conversations with leads from start to finish — encouraging efficient and effective communication.
Queue for Success
Managing individual point solutions for a diverse group of leads can quickly become a source of sales friction without the right tools. Organized task visibility is crucial for a sales team's ability to prioritize each day.
HubSpot's task queue allows team members to see the next most important outreach measures for each lead, calls they need to make, emails that require follow-up, and more, and to complete those tasks back-to-back. This queue ensures that the most urgent and important sales steps are attended to first and in the order that makes the most sense for each individual contact.
Cultivating Proven Sales Success Strategies
As a trusted sales strategist in the B2B sector with years of experience integrating the leading CRM software, Wendt Partners understands the time-sensitive nature of sales prioritization. Without a clear path forward, sales teams become bogged down by demands and lose sight of not only the highest-value solutions but also the overall mission of their organization. Sales success depends on the agile implementation of the tools and strategies that count — both in the short and long term.
By teaching and implementing HubSpot's industry-leading CRM and sales acceleration tools, Wendt Partners opens doors to success for growth-driven companies across the B2B marketplace. We level up your preexisting structures and leverage your industry expertise through our Growth Stack, which includes each element necessary for sustainable growth: business strategy, brand strategy, CRM, sales, and marketing.
To begin developing your business's sales success plan with Wendt Partners, schedule a free growth assessment call today. Stay tuned for the next article in this series on sales acceleration, where we'll explore how HubSpot sales tools effectively shorten the time-to-close for each sales cycle.
Image Credit: iStock Photo