Welcome to the second article in our exclusive series: A CEO's Guide to Sales Acceleration. B2B businesses are often hyper-focused on sales as the foundation of their growth strategy – and rightfully so. But when this focus creates tunnel vision or silos between sales and other departments, the unintended result is friction in sales processes, increasing the time it takes to convert leads into sales. Misunderstanding the customer journey, poor interdepartmental communication, and even insufficient product knowledge can all drive this type of friction. Failing to address these points and adjust your B2B marketing strategy accordingly could lead to a long-term lack of growth and even a loss of reputation.
In this article, Wendt Partners uses their B2B growth consulting expertise to explore reducing friction in sales and marketing processes. Learn why you should carefully align those processes and how your B2B business strategy benefits from the right partners and technology solutions.
Primary Causes of Friction in Sales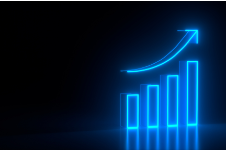 Friction within sales processes occurs when strategies, departments, and business goals are not aligned. Sales teams that work independently of a marketing team can become isolated from the latest campaigns or inadvertently deliver incorrect information to prospects. Marketing teams that ignore data from the client fulfillment or customer support departments could be missing out on opportunities to convert more leads or upsell to current clients. Businesses are a complex web of elements, but when these elements operate as separate entities, it can lead to disarray and misalignment, stunting business growth.
Lack of clarity is also a common culprit in the creation of friction in sales journeys, causing those leads to drop away and look at the competition. According to The B2B Buyer Experience Report, 70% of businesses still want contact and information from a dedicated sales rep and are unwilling to search for information themselves online. The same report highlighted that of those who did shop around online, around a third need help understanding the features and benefits of the products or services they're researching. Developing strategies to create clearer, simpler ways to access information on your products and smoother processes for your buyers is the first step to reducing friction stemming from a poorly planned or executed sales journey.
Understand Your Buyer's Journey
Understanding why your customers need the products or services you supply is key to providing the solutions that work best for their company. That goes beyond product effectiveness and quality and into how you engage with prospective buyers. Creating an initial positive contact is vital, as is gathering information on why your product will be important to your potential customer. As sales approach completion, logistics, communication, and even shipping timescales become factors in customer satisfaction. CRM platforms are a huge part of this, collating an effective customer information database and allowing you to build meaningful, long-lasting relationships with the businesses requiring your services.
Focusing on the needs of your target audience is one of the primary ways to smooth the sales journey. CRM software helps bring awareness to your customers' pain points, allowing you to shift your marketing focus to how your product or service addresses them. Your B2B software and digital tools can also help you collate customer profile data, allowing you to build a variety of buyer personas and create different, bespoke offerings of your product accordingly.
Businesses now interact with their providers online almost as much as general consumers. Research experts McKinsey & Company report that 65% of businesses now sell to other businesses online, with 31% of B2B providers creating leads via social media. You can now reach your buyers via more engagement points than ever, including blogs, social media snippets, videos, or by creating a whitepaper on a subject related to your product or industry. Doug Wendt, co-founder and senior partner of Wendt Partners, points out, "The modern customer journey is a complex maze of touchpoints, but by aligning your strategies with your business goals, you can cut a route straight through that maze." Working with a dedicated B2B growth consultant like Wendt Partners will help remove friction in your sales process by providing you with innovative, credible, trusted advisors, helping you to evaluate your buyers' journeys better, and empowering you to build confidence among your customers.
Introducing the Unique Wendt Partners Growth Stack Model
Wendt Partners has helped numerous B2B enterprises identify and mediate friction in their sales processes. By combining this experience with research and expertise in the latest business software and tools, Wendt Partners created the B2B Growth Stack. Five elements within the Growth Stack help set effective guideposts for aligning a business with its goals and objectives, empowering CEOs and owners to reduce friction in their sales processes. These five elements comprise the complementary pillars of Business Strategy – what owners want to accomplish with their business – and Brand Strategy, which includes your brand vision, company promise, buyer personas, competitive benchmarking, value proposition, and brand messaging. Once Wendt Partners has helped your business establish these strategic pillars, they can move on to guiding you through each step of the Execution Stack at the heart of the model:
Customer Relationship Management (CRM) – utilizing the CRM system as the core platform for engaging with customers to maximize business relationships, target accounts, prospect profiling, sourcing contacts, and managing data quality.
Sales – following the flow from lead generation to completed sales, pipeline and opportunity management, sales enablement and acceleration, and social selling.
Marketing – working with information from the sales process to identify ideal prospects in order to create a targeted and effective marketing infrastructure.
Your B2B technology solutions are also a foundational aspect of your growth strategy. For example, the CRM system is often one of the most under-utilized and forgotten aspects of business growth. CRMs like HubSpot encourage collaboration between business sellers and buyers, enabling businesses to position themselves as integral providers of essential products and services. This moves away from traditional "hard sales" techniques and creates meaningful relationships between businesses that will likely last for years.
Create Meaningful Partnerships Focused on Reducing Friction in Your Sales Process
Wendt Partners knows that when businesses effectively link those chains between the five elements of the B2B Growth Stack, they position themselves for long-term, sustainable growth. Successful, one-off marketing campaigns may bring bursts of success or flurries of leads, but these are often unsustainable, and spending time and effort trying to replicate these results can be costly. It's far more efficient to recreate the business model so that the various elements all work together organically, creating sales processes that synchronize harmoniously with the various other aspects of your business. Start reducing the friction in your sales process and partner with Wendt Partners as your B2B Growth Consultant. Contact us today to schedule your business growth consulting session and learn how our proprietary B2B Growth Stack can help your business.
Image Credit: iStock