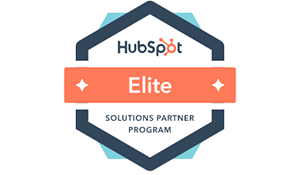 Wendt Partners, an award-winning business growth consulting firm serving emerging and middle-market business-to-business (B2B) companies, announces they have become part of the 1% – an Elite HubSpot Partner. Headquartered in Queens, New York, Wendt Partners is one of the less than 60 firms serve as an Elite Partner globally, and less than 30 of them are based in the United States.
Wendt Partners Recognized as an Elite HubSpot Partner
July 1, 2022 - Wendt Partners, a leading B2B growth solutions consultancy headquartered in New York, has been recognized as a qualified HubSpot Elite Partner by HubSpot's Solutions Partner Program.
To qualify for the Elite Partner designation, the Wendt Partners team had to complete a series of rigorous requirements including specific certifications, professional development standards, accounts sold, accounts managed and overall expertise as a solutions partner as proven by the firm's ongoing success in generating and retaining successful client relationships in the HubSpot ecosystem.
The Elite Partner designation is the top designation in the HubSpot Solutions Partner program and is currently achieved by only 52 firms out of HubSpot's more than 6,000 partners worldwide, with only 27 firms being U.S.-based Elite partners.
Elite Tier Represents the Top One Percent of All HubSpot Solution Partners Worldwide
"We are honored to have been selected for this designation, which represents the tireless efforts of our entire team," says Doug Wendt, Co-Founder & Senior Partner with Wendt Partners. "We have been a HubSpot partner for nearly a decade, and this achievement is proof that our clients find HubSpot to be the world-class platform they need to drive business growth."
Brian Garvey, Vice President of the Solutions Partner Program at HubSpot, says, "The Wendt Partners team has gone to extraordinary lengths to achieve this designation, and their commitment to clients and to the HubSpot ecosystem as a whole is demonstrated every day. In addition to their Elite Partner status, they were also recently appointed to the HubSpot North American Partner Advisory Council, and they continue to garner five-star reviews from satisfied clients on the HubSpot Directory. We could not be more pleased with their work and excited about their future as a premier member of the HubSpot ecosystem."
Wendt Partners is a longstanding member of HubSpot's Solutions Partner Program, an ecosystem of experts offering comprehensive CRM solutions, including onboarding and implementation services for the entire HubSpot CRM suite and all of its hubs across sales, marketing, service, operations, and web content management.
"Wendt partners got to Elite status among the fastest in history, and they did it in a few ways. They put the customer first, always. They work tirelessly for every customer to ensure they are turned into raving fans of Wendt and HubSpot. They stay on top of their certifications constantly and come together to brainstorm ways they can best service their clients. They are first-class in every way and one of my favorite businesses to work with. I will forever be grateful I had the opportunity to learn from such a fantastic group of people!" - Chris Moore, North American Strategic Channel Account Manager, HubSpot.
For more information, contact Doug Wendt, Co-Founder & Senior Partner via email to doug@wendtpartners.com or by calling 718.841.7169.