A high-quality CRM system is the nexus of your enterprise's B2B sales and marketing efforts. With a fully-integrated CRM, teams from across your organization are able to work together with synchronized data points, streamlined processes, and transparent sales operations to drive B2B business growth.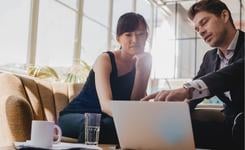 As the leading CRM solution for B2B businesses, HubSpot offers widely customizable functionality and seemingly endless opportunities for cross-platform integrations, allowing users to streamline their sales and marketing efforts to make room for more growth. Many companies, however, are not maximizing the use of these CRM capabilities. Whether you're not fully engaging with the native features in HubSpot or you haven't optimized all the available integrations, holes in your CRM processes can lead to costly opportunity losses.
Wendt Partners is a proud Elite HubSpot Partner. We work with our clients to implement and optimize their HubSpot configuration, making sure they're taking full advantage of the platform's many tools and resources. In this article, we've listed the most common missing links we see with our HubSpot clients, and the best solutions to get your team on track.
Missed Integration Opportunities
Calendar & Scheduling Integrations
Syncing your Google or Outlook calendars with your CRM platform through two-way integration helps your team to stay on top of essential tasks. Without leaving the CRM, you can schedule meetings, send invitations, and allow others to see your availability using a built-in feature like the HubSpot Meeting Scheduling App or a third-party integration with apps like Calendly. When optimized, calendar integrations can draw on the data stored in contact cards to create shared tasks or invite customers or coworkers to events.
CPQ Integrations
Sales teams can use HubSpot to track their engagements in the Deal Pipeline, so they know exactly when to send prospective customers project proposals, quotes, and contracts. While HubSpot does come equipped with some basic quote and proposal templates, CPQ platform DealHub offers expanded contract management tools, allowing sales teams to work from pre-populated datasets to fill out complex pricing estimates, then put them together in visually impressive proposal documents. DealHub and HubSpot employ a seamless two-way integration, allowing both platforms to share integral data in order to create a smooth, streamlined workflow.
Prospecting & Lead Gen Integrations
Powerful tools like LinkedIn Sales Navigator help your team target and engage potential leads and prospects. To learn more about your prospects, your team may use apps like Typeform or SurveyMonkey.
All of these tools are designed to help you establish and develop relationships with prospective customers, and to gather data about them to help convey the value your company can provide. By integrating them into your CRM, you can streamline your communication, engage leads with personalized outreach, and sync customer data with their contact cards for easy reference and analysis.
Data Entry and Data Quality Challenges
Often, sales and marketing teams will inadvertently delay the entry of data into the CRM, or not be fully aware of what pertinent data to collect on customers. Further, there may not be a regular cadence set up around updating customer data to make sure contact information is kept current and relevant. Finally, customer data from across all the platforms your enterprise uses may not be synced within your CRM.
These outcomes can happen for a number of reasons, including poorly defined workflow protocols, incomplete training or onboarding, or a disconnect between the teams using the platform and the expectations of the management who oversee them.
"Data quality loss is a big issue," says Doug Wendt, CGO and co-founder of Wendt Partners. "Examples we often see are outdated, incomplete, or incorrect data such as an old email address, wrong phone number, or other unvalidated contact information."
Poor Internal Practices Around CRM Use
Your CRM is only as effective as the processes and protocols your organization follows on a daily basis. Ensure your teams know how to use the platform and its integrations to maximize their full capabilities.
Separating Sales and Marketing
When sales and marketing teams are siloed from one another, the results can be detrimental to your business — marked by reduced efficiency, morale, and productivity. From a customer's perspective, a breakdown in communication between these teams can appear confusing and unprofessional.
One of the greatest benefits of a well-implemented CRM is that it brings teams together across departments, allowing them to share important data about prospects and customers. Use your CRM to its fullest connective potential to ensure that sales and marketing processes are efficient, and that customer communication portrays your organization in the best light possible.
Lack of Contacts in the System
Your CRM is the central repository for data about everyone with whom your company communicates. From customers and vendors to contractors and other B2B contacts, your CRM can tell you about every interaction you've had, what actions were taken, and what follow-ups are necessary.
There are many ways a CRM can lack complete and updated contacts. Stakeholders who regularly interact with your CRM may not be properly trained in appropriate protocols to keep contacts up to date. In addition, other platforms, such as your ERP, may not be integrated with your CRM, creating gaps in your contact data.
If your contacts aren't fully integrated within your CRM, you may miss opportunities with your customers. A thorough contact list will tell you important information, such as the total amount of business you've done with a particular contact, the last time they placed an order, or what products they have and haven't purchased.
Management and CRM Software
While your sales and marketing teams may be experts at using your CRM platform to its fullest capacity, sometimes management will lag behind. When management doesn't integrate the use of the CRM into their daily work processes, they risk isolating themselves from the specifics of your company's overall mission and detaching themselves from the teams over which they exercise leadership.
Fill In the Missing Links With a HubSpot Elite Partner
Engaging an implementation specialist to bring your team through comprehensive training in the use of your CRM — both during the onboarding process and as an ongoing education initiative — will ensure that your system is used to its fullest capacity.
"Wendt Partners helps clients identify the missing links in their CRM system by guiding their implementation process," says Doug Wendt. "As an Elite HubSpot Solutions Partner, our team helps you get the most out of HubSpot possible."
Contact Wendt Partners through our website or over the phone, and we'll show you how we can help you meet your goals as your HubSpot implementation partner. Check back soon for the next article in our series that explores the extensive benefits of HubSpot as the most recommended CRM for B2B business growth.