Implementing a quality, feature-rich customer relationship management (CRM) platform is crucial to the growth and long-term success of your business. In the ever-expanding B2B marketplace, maintaining open communication with your customers on a personalized level gives your company a competitive edge. Taking full advantage of a leading CRM such as HubSpot leads to shorter sales cycles, better lead generation, and increased team productivity.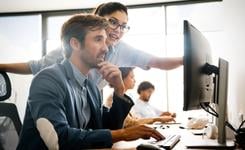 Employing a CRM implementation specialist will help maximize the capabilities of this powerful tool, improving overall outcomes in the short and long term.
"The most impactful way that organizations benefit from an implementation partner is to help them get the most out of their CRM," says Doug Wendt, Co-founder of Wendt Partners, an Elite HubSpot Partner. "They can more easily overcome the learning curves of discovering new software by choosing the right implementation partner, which will kickstart their CRM learning progress."
Below, find our guidance on how best to choose the right partner to aid in implementing your CRM platform for success.
The Value of a High-Quality CRM Platform
A CRM software platform can help your team interpret customer data and use the insights gained to strengthen client relationships. The CRMs available on the market today offer a bevy of features that allow for the detailed collection, storage, and use of data to be conveyed across a spectrum of marketing tools.
The proper execution of these advanced tools can prove indispensable for your digital marketing and sales strategies, helping you grow and retain a valuable customer portfolio. But no matter how streamlined your CRM may be, training your teams to engage with the full cadre of available features and use them cohesively can prove challenging to do on your own.
What To Look For in a CRM Implementation Partner
Taking full advantage of a robust CRM platform requires expert guidance. The right implementation partner can help you unlock your CRM's true potential and optimize your sales and marketing ecosystem for success.
When looking for an implementation partner, prioritize working with someone who has previous experience in your technical field.
"Organizations who choose implementation partners with knowledge in their industry see the most benefit," says Wendt. "In working with an implementation partner to configure and execute tasks, industry knowledge helps specialists swiftly lead to the client's overall success in working toward business goals using market focus."
Here are a few other desirable characteristics to consider when choosing the right partner to help you onboard your CRM:
Smooth process - Before you begin, make sure your CRM implementation partner has a clear and executable plan that takes into account your current daily operations. Introducing a new platform should not disrupt your business functions; it should help to enhance them.
Customized optimization for your business - When it comes to the way each business uses its CRM, one size definitely does not fit all. Your CRM implementation partner should understand your current sales and marketing protocols and help you apply the features that will best serve your specific goals.
Training - A CRM is only effective if your organization can cohesively execute its functions. Your CRM implementation specialist should devise a training plan to educate your teams on how to effectively use the platform to meet your goals.
Ongoing support - Because CRMs are comprehensive platforms, they involve a lot of moving parts. Inevitably, questions and challenges will arise as your team grows accustomed to this new tool, so initial implementation is only the first step in your specialist's job. Your CRM implementation partner should be on hand to address those challenges so your business can continue running smoothly.
Finding Success with HubSpot CRM
Of the many CRMs available for B2B users, HubSpot is the most inclusive platform on the market, with a full suite of capabilities to maximize marketing campaigns, sales flows, customer data, internal communications, and more. As a pioneer in the concept of inbound marketing, HubSpot has grown from offering best-in-class marketing automation tools into a comprehensive B2B solutions provider.
The HubSpot platform is designed to customize to the specific needs of individual businesses. Its expansive software integration support means that HubSpot can work seamlessly alongside the digital tools you already use, making the platform a centralized repository for data across your business ecosystem. Team members can navigate the platform's intuitive user interface to set up automated tasks and expedite the sales process.
As is true with the adoption of any powerful software tool, making sure HubSpot is set up to meet your specific business needs is vitally important. Employing a HubSpot implementation specialist can help streamline the onboarding process and set you up more quickly for the growth and success HubSpot offers.
How an Elite HubSpot Partner Can Help You Grow
As an Elite HubSpot Solutions Partner, Wendt Partners is recognized for providing exceptional service to our technical, industrial, and professional services clients to help them optimize their sales and marketing processes for lasting success. Our highly trained team of experts is dedicated to successful HubSpot implementation for all our clients.
"We have a proven track record of serving our HubSpot clients," says Wendt, "and leverage the access to the top levels of HubSpot leadership, management, and strategic direction that comes with Elite Partnership to their benefit."
At the Elite level, clients can think of us as an extension of HubSpot itself, which means that we are uniquely positioned to help your organization unlock its growth potential by creating an integrated strategy that draws on HubSpot's powerful capabilities.
Contact Wendt Partners through our website or over the phone, and we'll show you how we can help you meet your goals as your HubSpot implementation partner. Check back soon for the next article in our series that explores the extensive benefits of HubSpot as the most recommended CRM for B2B business growth.