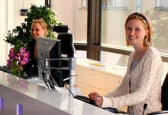 Two years ago, the Office Business Center Association International (OBCAI), the leading trade association for serviced office workspace operators, renamed itself the Global Workspace Association (GWA). This change was intended to accomplish more than just a brand refresh – it represented a dramatic change taking place in the industry as a whole. As a critical subset of the commercial real estate (CRE) industry, the office business center sector represents a unique component in the overall economics of the office space industry. In addition to major players such as Regus and numerous smaller independent and regional players, some property owners such as Carr and Vornado have developed their own on-site, branded office business centers.
Today, two years after the GWA name change, we find ourselves in a dramatically different environment. Traditional large-scale tenants are seeking open office build-outs with collaborative spaces and flexible working options. Smaller companies are gravitating toward pre-built suites and more cost-effective spaces. Startups are flocking to co-working centers – which developed largely outside the realm of office business center operators – and show no signs of scaling up to traditional office space, preferring instead to stay in collaborative settings, often with other companies sharing the space.
What, then, can traditional office business center (OBC) operators do to effectively follow this trend without breaking the bank or losing their core base of loyal virtual and full-time office clients?
Here are six strategies that can allow your OBC operation to begin engaging these emerging markets and transitioning your business model for the future:
1. Create and Promote an Energetic Environment
The traditional office experience emphasizes a clean, neat, organized environment with an almost library-esque level of quiet. Chances are, your business center is designed to support this, with sturdy privacy doors, most meeting rooms well dispersed into different corners of the facility and the kitchen hidden away from public areas.
Contrast this with co-working centers and other new shared spaces – where the kitchen is where impromptu meetings happen, desks are open and doors are removed. Now, many clients still want the traditional office configuration and we certainly need to meet their needs.
But the emerging market (and especially the Millennial workforce that is coming with it) has one big expectation: energy. I myself have often chosen to work in a crowded, chaotic Starbucks coffee shop in lieu of the quiet and peaceful setting of a Regus business lounge, just to have the energy of other people and conversations around me.
As a business center operator, think about new ways to use and engage your public and semi-public spaces. Host group meetings or co-working events in your meeting rooms; open the center on selected evenings for informal gatherings hosted by your staff (not unlike the Manager's Receptions pioneered by Residence Inn some years ago for extended-stay travelers); reconfigure a less-desirable interior office or two as drop-in spaces or teaming rooms, and make them available as a value-added service for traveling employees or partners of tenant companies; and then market these activities regularly to your regional business community.
In the past, prospects came to the business center for a quiet, guided tour of your features and amenities. Today, they appear at social functions and are attracted to the energy and enthusiasm of the people they meet, and the 'feel' of the place.
2. Open Your Center to New Client Categories
Virtual tenants. Full-time offices. Those are the two traditional categories that all center operators have historically marketed to. And certainly, these categories remain real and relevant. But the client experience today should embrace a far wider range of options, most of which you can pursue with little facility reconfiguration.
Co-working represents a critical step between virtual officing and full-time tenancy today. Set aside public or semi-public space that can be used by laptop-toting co-working clients, and encourage your existing customers to use co-working as an option to transition from virtual, or in order to add an additional staff seat before upgrading from one full-time office to two.
Meetings are a dramatically underserved segment that your facility can aggressively pursue. Yes, non-tenant foot traffic will increase and you do need to reserve a certain percentage of meeting room availability for your full-time tenants, but meeting business not only increases revenue from existing assets; it also brings in new prospects on a regular basis who are already pre-sold on a positive experience of your facility.
Pre-configured suites are the next step – providing tenants who would normally move from one or two suites in the center out to a traditional lease. You can accomplish this by adding a door to a set of suites on a dedicated hallway, or changing entryway placement to provide a dedicated sub-suite entrance. Some operators are even coordinating with property owners and larger clients to rent traditional office space on adjacent floors and wrapping them into the serviced office offering for larger tenants.
3. Tailor Your Message to Specific Verticals
For years, we've sold office centers on the basis of the space itself – the private offices, the meeting rooms, the amenities. Today, even our traditional customers are increasingly interested in customized solutions around their unique requirements.
For example, law firms seeking deposition rooms don't want just any meeting room – they want one that has certain resources and support services unique to their needs. Government contractors often want certain office configurations that not every center can offer, especially if they are engaged in classified work. Technology startups may be particularly interested in a capability such as IP telephony which your center may offer. If you don't customize your communications – online and in print – to these audiences, they won't find or short-list your center.
4. Expand and Upgrade Staff Support Services
There's a reason this industry is often referred to as the 'serviced offices' sector. It's because our number one product is just that -- service. That's why you need to double-down on the services provided by your staff – going beyond traditional mail delivery and phone answering. Certainly, tenants are less likely to need staff assistant with copies or collating. But there's a thriving global industry for virtual assistants and back-office support services. Your center can offer the benefits of these providers, but with an in-person touch.
Presentation design, database updates, back-office services, meeting support and virtual assistant packages are being sold by other companies to your clients – why aren't you selling them? You can even create a virtual team on the back-end to provide more advanced capabilities, and in so doing, you'll provide attractive 'sticky' value-added services that increase retention and client tie-in to your team.
5. Embrace Real-Time Availability
Perhaps the greatest change you can make to prepare for the future is to rethink how you schedule and plan the utilization of your center's assets. We traditionally view office centers as just that – offices. Contrast this view with that of the hotel industry, which sees every guest and meeting room in the hotel as a rapidly expiring asset with day-to-day occupancy value.

Your empty offices are not just awaiting a full-time tenant – they are day offices that can attract short-term clients and also generate more leads for long-term use. Your empty meeting rooms are not just a resource for traditional clients -- they are a valuable resource to outside businesses and groups who may need space next Tuesday.

Real-time availability goes hand-in-hand with expanded staff service, because the more flexible and dynamic your center clients become, the more valuable your staff services will be in meeting and exceeding their expectations.

6. Invest Aggressively in Your Brand
Speaking of hotels, one area in which you should double or even triple your investment is in building your brand – like hotels do. Customers are accustomed to the clearly defined differences between hotel companies thanks to extensive brand investments that hoteliers make -- not just the chains, but even the independents. Brand positioning is how hotels win in a highly competitive marketplace.
Unfortunately, business centers have virtually no wide-scale brand presence. Other than Regus, even those who are inside the industry have a hard time naming another operator whose brand is widely distributed and well understood by our overall target audience. If your clients can describe the difference between a Marriott and a Westin, they should be able to articulate the difference between your centers and those of your competitors.
Today, your competitive marketplace is dramatically changing. In the past, competition came from essentially one source: traditional office leases. Today, competition comes from everywhere – airport lounges, hotel loyalty networks, meeting centers, co-working centers and even coffee shop chains.
By embracing these six essential strategies, you will successfully position your office center company to succeed in the new global workspace marketplace – and transform into a workspace-as-a-service leader.
Doug Wendt is the president and senior strategist for Wendt Partners. He has extensive experience in the commercial real estate industry including consulting for leading companies in the flexible workspace sector such as Executive Space Solutions and TouchdownSpace.
Image Credit: AustinEvan @ Flickr (Creative Commons)