Company Profile
HCM (human capital management) developer Inova Payroll seeks not only to provide accurate and on-time payments to hardworking members of their community, but also to deliver the dedicated, responsive service that's missing from so many similar providers. By filling this void and creating an efficient and responsive customer experience for over 5,500 employers across the United States, Inova navigates the many evolving complexities of HCM with ease and ensures that each employee feels seen and heard.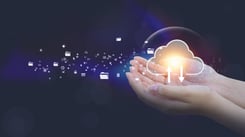 Read on to learn how Inova improved their sales system, strengthened their marketing team, and organized their referral data by completing a custom CRM migration from Salesforce to HubSpot.
Needs & Challenges
As a high-quality, nationally-expanding HCM service, Inova Payroll receives consistent opportunities to scale through acquisitions and provide their human approach to payroll to companies across the U.S. Their ability to take advantage of these occasions for growth is a testament to their high level of organization and initiative.
Unfortunately, their original CRM could not follow suit. After spending years with the Salesforce platform, the Inova team found that it became harder and harder to complete basic sales tasks — let alone integrate employer data and workflows from acquisitions without interruption to their own processes. Like many enterprise-level B2B organizations, Inova took issue with several key aspects of Salesforce that impeded their growth, including:
An overreliance on cobbled-together third-party platforms and a lack of native features.

Customer support hindered by time differences and administrators who were trained, and then promptly hired away.

A needlessly complex infrastructure that siphoned all of their administrators' time and energy away from creating opportunities to scale on the platform.
In order to engage prospects and clearly demonstrate the benefits of making the switch to a new payroll system, Inova Payroll needed to make a fundamental change within their organization as well — one that could aid their daily operations, not stunt them.
Premier CRM Solutions
Inova Payroll made the full transition from Salesforce to HubSpot in September 2021. With Wendt Partners at the helm, the migrating enterprise began benefiting from their decision in several key areas:
Data Quality Above All: Many Salesforce to HubSpot migrations are made more difficult by Salesforce's comparatively weak controls and inconsistent practices surrounding data quality, which lead to avoidable issues like duplicate data and users overwriting separate records. Wendt Partners' biggest initial goal was to hone the data in each of Inova's accounts and lists to avoid problems down the line.
Crafted, Not Cobbled: Wendt Partners worked closely with the Inova Payroll team to find alternative HubSpot-native features that could replace each of the separate products they had purchased during their time using Salesforce.

Housing Company Literature: All of Inova's datasheets, infographics, and other educational resources are now native in the HubSpot platform for seamless marketing and sales use.
Results
HubSpot performed highly in the area where Salesforce had failed the most: scalability. Throughout their Salesforce to HubSpot migration, Inova's growth did not stall — in fact, the company acquired two new organizations in just one year. Each time, Wendt Partners created custom HubSpot configurations to meet all new system requirements so that the team could continue bringing over data and resources without a hitch.
Even as the company continues to expand their reach and its use cases for HubSpot evolve, their data quality will remain consistent and up to the standards of a high-level payroll system provider because of the intense data review Wendt Partners performed at the outset of the migration. Inova also no longer has to rely on third-party applications to make their CRM function at a basic level.
"The solutions that we provide for clients are also contained in a single database, so we create one place for truth," says Melanie Crow, SVP of Sales Enablement at Inova Payroll. "HubSpot can do so many things within its own native modes, which helps us."
With all necessary integrations located on one code base — and all marketing and referral partner resources resident in HubSpot for easy access — Inova is one step closer to reaching their goal of making HubSpot the go-to place for all of their sales and marketing functions.
Inova Payroll's Bright Future
With their migration complete, it's time to analyze how HubSpot can be further utilized in each of Inova Payroll's initiatives and operations. As an ongoing collaborator, Wendt Partners is committed to developing and implementing a full-scale system optimization plan to improve Inova's business processes and fine-tune their data, creating an efficient flow of information throughout the organization.
"It's going to mean so much to us to be able to define what we need, and then have someone come back and say, "here's what we need to accomplish this for sales, for marketing,
for business development,'" says Crow. "Everybody's got their own ideas, and they use different pieces of the system. It's exciting to have somebody on board that's got that overall view of everything that's going on."
Navigate To New CRM Horizons with HubSpot
With Wendt Partners, B2B enterprises don't just have access to over 25 years of business development expertise. These organizations also learn to build custom workflows, manage their sales and marketing pipelines, and strengthen professional connections, all on one comprehensive CRM platform.
As an Elite HubSpot Solutions Partner, the Wendt Partners team brings innovative solutions and understanding as we spearhead each Salesforce to HubSpot migration. Download "The B2B CEO's Guide to Migrating Your B2B Enterprise from Salesforce to HubSpot CRM" to learn more about beginning your CRM transformation journey — and fill out the form on our website to contact a HubSpot specialist today.