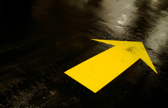 In 2014, VentureBeat named HubSpot the #1 company in the rapidly growing marketing automation technology sector. This was an impressive accomplishment for a firm that had been founded less than a decade earlier, and whose competitors include many vendors who are both older and larger. How does a growth-driven company achieve a market-leading position so rapidly? What makes it possible to establish and maintain a dominant role as a recognized leader in your industry?
In the business-to-business (B2B) sector, one key ingredient is clearly the power of the pivot.
In the past, MBAs and executives tended to divide companies into two primary categories. One group consisted of companies that are specific to one industry, sector or focus -- like FedEx. And the other group consisted of companies that are diversified and operate across many sectors – like Berkshire Hathaway.
However, today's high-velocity digital economy requires a more dynamic model. The concept behind the pivot is that a company can remain focused on a specific industry or sector, but at the same time re-engineer its approach to the market multiple times to either capture existing opportunities, or create new ones. HubSpot is a poster child for the advantages of this model of rapid adjustment and response to market evolutions.
Between its founding in 2006 and its arrival as the #1 vendor in its market as of 2014, HubSpot has moved progressively through four powerful pivots – an average of one pivot every two years.
Pivot One: All-in-One Small Business Self-Service Tool
In its very first iteration, HubSpot (the company and the platform) focused on selling directly to small businesses. The messaging focus was on the advantages of selecting an all-in-one solution for building a website and using additional integrated tools to create and convert traffic. The implied storyline was actually that HubSpot was a solution you could use instead of hiring a web designer or marketing agency. Significantly, some of HubSpot's most successful customers hail from this "1.0" era, primarily because they stuck with the platform and the methodology over time.
The advantages to this model were its singular focus on empowering small business owners and the clear competitive differentiation model that helped guide buyer decisions. The disadvantages to this market approach were (a) low price points, (b) high risk that a customer would never quite master or fully understand the power of the platform they purchased, and (c) poor market perception because do-it-yourself websites – even highly successful ones that generate great traffic – still usually look like do-it-yourself websites, thus eroding the brand equity of the platform behind them.
Pivot Two: Integrated Marketing Platform for SMEs
As HubSpot built more and more capability into its product and refined its overall offering, the company began to migrate through its next pivot. At this stage, the company still remained focused on direct sales but the focus became more targeted toward larger small and medium enterprises (SMEs) that were more likely to have a marketing manager or website administrator in-house.
The message here was that HubSpot would give the marketing person (or persons) the tools needed to manage and administer marketing effectively, all in one platform. The all-in-one angle was still present, but at this stage the focus was less exclusive to driving clients to build a website on the HubSpot platform. Instead, more customers were starting to add HubSpot to an existing strategy that might involve WordPress website, a HootSuite social media system and perhaps connecting HubSpot to Salesforce CRM as well.
The advantages to this model began with the competitive marketplace, where other marketing automation solutions were priced way beyond the reach of most SME marketing managers, and yet there was an inherent demand for something powerful and integrated. The disadvantages to this model were largely associated with the weaknesses of the buyer. If a marketing manager buys HubSpot but never gains C-level buy-in or receives necessary training to achieve implementation, the contract will probably not be renewed in the future.
Pivot Three: Agency-Led Web Lead Generation System
The history of agency strategy at HubSpot is a legend within the company, and arose out of a passionate debate between members of the executive team about whether HubSpot was better off selling against agencies or selling through agencies. What began as a test project ultimately evolved into one of the most successful sales channel launches in modern tech history. One factor that helped drive this pivot was data: As it turns out, companies that buy HubSpot through an agency are considerably more likely to keep the system over a longer period of time, in part because of the agency's presence as a positive force for progress, and also because of the high-touch advantages of the channel model.
At this stage – the third pivot of HubSpot – the company doubled down on agencies and positioned the product as a solution that, when coupled with a properly trained and certified agency partner, could generate and nurture leads for businesses. This also marked the return of the unique benefits associated with building a website on the HubSpot platform. Whereas in the early days the decision to build a website on HubSpot was mostly about the 'all-in-one' advantage, now HubSpot delivered a Content Optimization System (COS) that re-invented the entire strategic model behind website design and development.
Pivot Four: Enterprise Class Sales & Marketing Solution
Today, HubSpot has completed a fourth pivot – becoming a solution that is now embraced by leading agencies; produces cutting-edge, graphically stunning websites; and integrating with numerous third-party platforms. The key to the fourth pivot, however, was to redefine the boundaries of the company's target market. Instead of staying in the 'marketing automation' box alone, HubSpot crossed the boundary into sales, not only by integrating aggressively with Salesforce.com and other CRM systems, but also by rolling out new technologies (Signals, for example) and expanding the inbound methodology to redefine the business process between marketing and sales in the enterprise.
At this stage, the company also recognized that its unique approach made it a powerful newcomer at the enterprise level, and that the strategy of alignment between marketing and sales uniquely positions HubSpot to penetrate this market in a manner that sets it apart from its rivals.
Throughout each pivot, however, HubSpot stayed true to its core strategic concept of inbound marketing – a category that the company essentially invented and backed up with books, white papers, guides, training resources and a free certification program among other things.
Every B2B company needs to respond to the changing marketplace today by planning and executing key pivots every few years. Keep in mind that these are not a complete about-face, but instead they represent unique chess moves designed to keep the company at the forefront, and appeal in new and unique ways to its buying audiences.
The continuing success of HubSpot proves that the power of the pivot is an essential ingredient in B2B business growth strategy today.


Image Credit: imuttoo (Flickr @ Creative Commons)