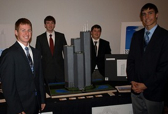 As the leader of an architectural practice, you face many unique opportunities and challenges in building and growing your firm. In the face of a difficult economy and a cost-conscious buying environment among potential clients, it's imperative to think differently and create a compelling value proposition. Working with a B2B business growth consultant can help you achieve sustainable growth, by focusing on these priorities:
Reposition the Role of the Architect as a Design-Driven Problem Solver
Whether the perception is fair or not, most project owners perceive architecture as a luxury purchase – an expense that's worth incurring when times are good, but best set aside or reduced as much as possible when belt-tightening is called for. The reputation of some 'starchitects' as unbridled and unrestrained artists whose designs, while inspiring, result in unbuildable or un-maintainable structures (see Calatrava, Gehry, Libeskind, et. al.) that capture headlines when the building leaks, the construction budgets blow by all estimates, and the structures prove impervious to future needs, does nothing to help overcome this stigma.
At the same time, there's unprecedented interest in the concept of 'design thinking' and the role that design can play in solving business and social problems. As an architect, you need to embrace this opportunity to reposition your role from that as an expensive, self-centered artist into a practical problem solver, grounded in the real world. This requires a brand strategy and service offering model that supports the message, and when properly implemented, has the potential to revolutionize your practice.
Emphasize the Project, Not the Structure – By Asking Better Questions
The beginning of this transformation is to look at each potential commission from the perspective of the overall project, not just the structure. Yes, your new healthcare prospect is looking for an inspiring design for an outpatient surgery facility on X lot that needs to come in at Y budget.
But the real question is, what kinds of patient needs does the project seek to solve, and how does this client envision growing their practice? How can the design of the space reduce steps between critical functions, or improve team collaboration? What methods can be used to reduce patient stress during pre-op preparation and increase family and caregiver support during post-op recovery? What future technologies may be coming in the next 3-5 years that should be planned into the design today? What operating costs can be lowered by configuring the site plan to maximize daytime light in a colder climate, or reduce heat gain in a warmer one? Can new building control technologies and LED fixtures improve patient moods and outcomes while saving on project and maintenance costs?
In short, the best architects are those who think like consultants and ask questions. And as soon as you're done with the questions you normally ask, go back and ask many more. Remember, you're not just looking for the client to give answers – you're also looking for them to use your questions to think more deeply about the project, and ultimately select your firm on the basis of the value you are bringing.
Take Responsibility for a Holistic, Flexible Approach to Specialized Needs
Yes, your official responsibility is to design a safe, high-quality structure that meets code, stays at or under budget, and exceeds aesthetic expectations. But out of every member of the project team – from the civil engineers and project management firms to the general contractor and commercial developer – the architect has the unique understanding of how the overall solution can come together.
Outstanding architecture -- when married with first-class interior design, landscape design, building material and fixture selection, construction quality and project delivery – is what results in a powerful solution that improves learning outcomes (education), increases showroom sales (retail), enhances mobility (transportation) and inspires confidence (government).
Therefore, the best growth strategy for an architectural firm is to combine a holistic view – where you consider, advise and educate on the entire process and all of the players from a strategic perspective – with a specialized focus on certain applications. This allows your firm to become known as a leader in chosen verticals, while also giving you the broad-based knowledge and client engagement model to expand into other segments in the future. In addition, architects can benefit their clients in new ways by marrying flexible thinking with the client's business model by, for example, committing to design options that allow a structure to be easily reprogrammed, or a building to be expanded in multiple directions based upon changing future requirements.
By working with a B2B business growth consultant and implementing some of these proven best practices, your architecture firm can truly achieve greater revenue and sustainable expansion during a challenging period in the economy and the marketplace.


Image Credit: Chicago Architecture Today @ Flickr (Creative Commons)