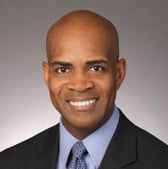 Rudy Burwell is a visionary business and civic leader with a passion for excellence. As the President & CEO of the Burwell Group, he has developed a dynamic business model that has engaged his company in the technology, manufacturing and distribution fields. A key part of his strategy has involved working with Wendt Partners to develop new business growth models. We sat down with Rudy for this insightful interview.
WP: Tell us a little about yourself and your professional background.
RB: I had the pleasure of serving my country for 25 years in the U.S. Army, and retired as a Colonel. Early in my career I was in special operations, but the majority of my time was spent in public affairs, focusing on effective strategies to communicate our messages to all stakeholders. I served as chief of media operations in Iraq, and have dealt with many complex and critical situations throughout my career. That turned out to be excellent preparation for life as an entrepreneur.
After retirement, I originally envisioned staying in communications, but I wanted to have something of my own. I had the wonderful opportunity to work with a small group of investors and partners, including the team at Hellerman Baretz Communications, and I discovered that I had a 'recessive gene', if you will, encouraging me to pursue a longstanding interest in business. At first, I worked with my partners on communications and consulting work, but over time I identified new opportunities in the technology, manufacturing and distribution sectors.
WP: How did you establish the Burwell Group, and what has been your strategic focus?
RB: My passion for business and entrepreneurship kept me interested in exploring and researching new opportunities, and when I found new market niches I also learned that they tended to be underrepresented by veteran-owned companies, including those with service-disabled veteran-owned business (SDVOSB) status. When you find a market that presents opportunities on both the commercial size and the government contracting side – rather than just one or the other -- you know it's worth taking a further look at.
I was also excited about contributing as a leader in order to showcase and expand the ranks of veterans building successful private-sector enterprises. As our defense efforts draw down in the coming years and our service members come home, they need to know that they have opportunities to succeed as leaders here -- in communities and in enterprises. The more of us there are, the stronger our role will be in making a difference.
The story of Burwell Group also demonstrates the value of partnerships. With the support of Hellerman Baretz, I knew I had a great team. And we started the firm at the INC.spire business incubator operated by the Greater Reston Chamber of Commerce. Again, good partnerships result in great opportunities.

Today, Burwell Group is at a pivotal moment. We are focusing more on the technology and manufacturing side with Adcour Inc., a Massachusetts-based provider of battery-­based power backup systems to customers worldwide that we acquired. We recently secured a new contract with the U.S. Coast Guard and we see that as a springboard for other federal opportunities. The firm had not previously serviced any federal contracts, but it has enormous qualifications in the marketplace. In fact, we were able to win our first federal contract, on our first attempt, the very first time – something that rarely happens.
WP: What led you to decide it was time to seek a business consultant to assist you with your plans, and why did you select Wendt Partners?
RB: I came across Wendt Partners at a Fairfax County Chamber of Commerce event, and it was at a time when we were just beginning to explore our market opportunities and were preparing to acquire Adcour. We were at a crossroads when we realized that we needed to have a clear, comprehensive assessment of the market opportunity from a due diligence perspective, as well as providing an action plan for identifying new market directions for the company.

We chose Wendt Partners for two specific reasons. First, we were impressed by the firm's deep domain expertise in the manufacturing, technology and supply chain sectors, which was essential to bring the right value to our firm. And second, the Wendt Partners StrategyFirst Action Assessment process is very clearly laid out, providing a powerful roadmap that makes it easy for me as a CEO to know exactly how the engagement will work and what outcomes we will have. As a result, it was a very straightforward decision.
WP: In working with Wendt Partners, what have been the one or two most valuable benefits that you gained from our role, and how have these factors helped you make better decisions as a CEO?
RB: I would begin by answering that Wendt Partners helped us focus. There are always a hundred opportunities out there, and entrepreneurs are easily distracted by the 'next shiny thing' that appears just around the corner. The Wendt Partners process provided solid analysis and evidence that committed us to a specific, solid direction and kept us on a clear path to success.
In addition, we were developing a comprehensive business plan during the acquisition process and the StrategyFirst assessment report and action plan provided a detailed and clearly organized resource that literally allowed us to 'plug and play' elements from the assessment into our strategic business plan. This is a testament to how outstanding the quality of the Wendt Partners work product is.
WP: And you have come back to Wendt Partners to assist with additional strategies and business opportunities as well.
RB: Yes, not only has our relationship with Wendt Partners met and exceeded our business objectives, but it has led us to view the firm as a strategic partner that can advise and direct execution of our growth efforts – both on the consulting side and in terms of the firm's outsourced CXO services -- for the long term. We are excited to continue working with Wendt Partners and see the value of their expertise bear fruit toward our business goals.
WP: In your experience as an entrepreneur, what are some of the lessons you've learned that you would like to share with other CEOs as they look to grow their companies?
RB: Lesson one: Focus! Time and again, you are always surprised about how easily you can move off your path and plan, and you want to chase new things. You have to be very strategic in building a business today, not only in the commercial sector but also in federal contracting. We need to make quick, clear bid/no bid decisions, and every CEO needs to think carefully about how best to use their resources - both financial and human resources. You can spend a lot of money on marketing, business development, proposal writing and more, and end up pursuing opportunities that in retrospect just don't make a lot of sense. So I would say to be very strategic, very specific and very smart about choosing your focus and deciding what opportunities to pursue.
Lesson two: If you plan to pursue a merger or acquisition, due diligence is everything – and that means taking your time. You want to make sure not only that the books are in order, but also that the markets you are considering going after make sense, and that you are able to establish a clear, compelling strategy for how to make the acquisition a long-term success story.
WP: You have expressed a strong commitment to building the veteran business community. What do you see as the greatest advantages and experiences that veterans can bring to the private sector?
RB: First and foremost, veterans bring values and ethics. Service members possess a clear, value-based system of management and leadership that is of enormous value to the private sector, and this commitment makes them outstanding business people. This is also true in the federal markets, where compliance and consistency is so essential to delivering the right solutions for the American people.
Overall, veterans also bring a sense of teamwork. They are used to working as a team to accomplish a mission -- and they are good at identifying a mission's scope, challenges and that priorities that should be pursued to achieve success. Service members know that it is about getting a very demanding job done every day – no matter what the environment is, no matter whether they possess abundant resources, few resources or for that matter, no resources. The focus is on forward progress, and in the business world that ability to execute is what separates the best companies from the rest.
This is one reason why it is a personal goal of mine to hire veterans as I grow my companies, because I know I will get someone who is going to show up on time, has the ability to take instruction, is ready to work diligently and will be accustomed to a culture in which being a reliable, drug-free, eager team player is essential to success.
WP: Tell us a little about your personal life and interests outside of work.
RB: Who said anything about having time for a personal life – I'm an entrepreneur! Well, when those rare spare moments of time do arise, family comes first. I am married and have two children, a 16 year-old and a 3 year-old, so that keeps me pretty busy, as you can imagine.
Also, I am an avid runner, and that is probably the one thing that I do that serves as my number one stress reliever. It is also how I think as well, to be candid. Even when I travel, my first question at the hotel front desk is, 'Where can I run?'. Staying in motion inspires me and gives me many of the best insights that I use in both my personal and professional lives.