Doug Wendt, Chief Growth Officer and co-founder of Wendt Partners, recently met with Chris Moore to discuss the many ways that HubSpot enables sales acceleration for its users in a live web event. As HubSpot's North American Strategic Channel Account Manager, Chris works with the CRM platform's elite partners to implement innovative solutions to today's biggest sales challenges. Both Doug and Chris have decades of experience working with various CRM resources and have witnessed HubSpot change the trajectories of countless B2B organizations.
Here are the main takeaways from their conversation, where they illustrated how Wendt Partners uses HubSpot tools in all areas of their business — from website development to growth solutions — to adjust to their clients' pipelines and accelerate each sales cycle.
Streamlined Process, One Tool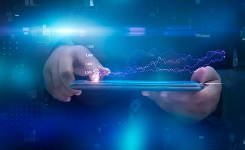 HubSpot partners make it their mission to turn B2B companies into "raving fans" by the time they are fully integrated with the marketing automation solution. Chris explains the value of choosing HubSpot by highlighting a key difference that separates them from alternative sales platforms: because over 1000 software partners have made their tools extremely accessible to HubSpot's workflow engines, HubSpot users can find everything they need in one place and by using one skillset. Gone are the days of learning several different software packages to even begin to use a CRM platform. HubSpot partners learn seamless sales automation at the fast pace necessary to succeed in B2B sales.
Solve Roadblocks to Efficiency
The only way to accelerate sales cycles is first to understand what slows them down. It's challenging to make the B2B sales process move quickly, as there are usually several decision makers from different departments who need convincing. The increasingly intense volume of activity required to make a B2B sale necessitates a set of intelligent tools to keep up with the fast pace.
With HubSpot automation, sales teams get hours of work and days of time between conversations with clients shaved off within seconds. Leads need only fill out their information on the interest form on the Wendt Partners website homepage or use the chat function to be placed on a discovery call calendar and then assigned to a team member for the call. The steps that occur in the background between those two objectives are all automatically completed by HubSpot. At the same time, the sales team is kept aware of which sales cycles are accelerating at the pace needed and which need support through an automated running list of active and stalled deals.
Doug also previewed the quoting tool, which allows sales teams to come up with pricing on the fly – something that often amazes leads and used to take days of wait time before a final quote is secured. This tool is just one of the ways HubSpot flips the script on efficiency and blows B2B companies away with speed and precision.
Configure a Polished, Accurate Sales Process
Many people consider salesmanship to be a purely innate, inborn skill. The truth is that technology contributes just as much to sales success and should not be underestimated.
Even the most efficient and effective salespeople can't escape human error. Tools like HubSpot keep important action items from slipping through the cracks, something that frequently slows down the sales process. Organizational assistance helps keep even the most diligent salesperson accountable and accurate. It also offers great optics — no matter how small or large your lead volume, a polished process could be the deciding factor in whether or not you close a deal. If the processes used in client interactions are flawlessly automated, leads are much more likely to be convinced to follow through. Having the right resources at the right time in client calls is an invaluable technological feat offered by HubSpot.
Integrate with your clients' processes
It's important for sales teams to understand that clients pursuing sales acceleration are on their own individual journeys towards that goal. These journeys involve specific processes and procedures for functions like selecting investments, budgeting, and getting approval from higher-ups. With HubSpot's real-time tools, sales teams can be reminded of their clients' processes and adhere to them in each interaction.
Implement HubSpot's industry-leading sales software with Wendt Partners
Wendt Partners has much to celebrate: over 25 years of success implementing growth solutions across the B2B landscape, a growing team of dedicated personnel, and being recognized as one of the few Elite HubSpot partners in the world. To get in touch with Doug about achieving sales acceleration in your organization with HubSpot, take our free Growth Assessment or set up a call today.
Watch the full recording of this live event below or on YouTube.
Image Credit: iStock Photo