The business-to-business (B2B) selling environment has radically changed, but unfortunately many B2B companies have not changed with it. Research shows that today's B2B buyer is more educated, more sophisticated and far further down the decision path when they connect with your sales team than was ever the case before.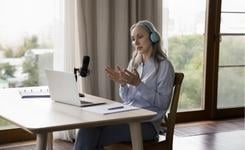 In the past, B2B sales people thought they could educate buyers who were already in a decision cycle and steer their decision with discussions about features and benefits. This is no longer the case, partly because buyers are more sophisticated -- and partly because they are more overwhelmed and confused.
So, how do you work past these limitations and build a lead generation model that works? Consider these five strategies that will help you not only generate more, better qualified leads -- they will also strengthen your business.
1. Create Compelling Content
Your buyers today are aggressive, rapidly absorbing information and insights through online research and offline assessment. They are afraid of making a bad decision (especially if they are considering replacing an incumbent vendor), and they need compelling reasons to consider new vendor options. White papers, blog entries, buyer guides, success stories and case studies are just some of the content deliverables you can create that will garner their interest and generate leads.
2. Produce Quality Programming
Webinars, workshops, seminars, conference calls, podcasts and video are some of the pathways you can pursue to create programming for your target audience. They need to be educated, and if they are serious about buying a new product, service or solution, then they are eager to absorb what you have to offer. Programming takes the content you deliver in static documents and presentations, and brings it to life. In addition, you can record these events and post them online, thus doubling your lead generation benefit.
3. Engage Prospects Socially
Contrary to some predictions, outbound calling is not dead. Outbound cold calling, however, is dead. Outbound warm calling is not, but the difference lies in the level of information that your calling team collects and the number of touch points they create prior to making the call. An outbound lead generation team that engages prospects online through LinkedIn and who can respond in follow-up to social media conversations is a team that will land meetings, time and time again.
4. Perform Valuable Research
Research as a lead generation strategy has two benefits for your business. First, anything you learn from the research (how your industry is changing, what emerging issues or needs are developing, etc.) will help you make better business decisions. And second, the information and data you collect and convert into valuable insights will be extremely attractive to your customers and prospects. This then becomes the basis for new content that can generate leads -- while also enhancing your brand position as the cutting-edge thought leaders of your industry.
5. Partner with Customers
Buyers like valuable information from well-qualified and intelligent vendors, but they far prefer success stories and real-world case studies about people like them, i.e. other buyers. Invite some of your top customers to be interviewed for a podcast series, or write a guest post on your corporate blog. Ask them to co-author an industry article or contribute to a new white paper. This strategy leads to a triple win: It gives you valuable, high-quality content; it strengthens your customer relationships; and it delivers information to prospects that they consider in the highest regard.
Steps to Getting Started
All five of these strategies require a significant commitment of time, energy and insight on the part of you and your team. If your executive, marketing and sales teams are not excited about or willing to support a content marketing strategy, then the power of today's best lead generation will continue to elude your business. Your buyers want to learn, and the more you engage them in the learning process, the more loyalty you will develop as they come to a buying decision.
Start today with one component – your blog, or a white paper, or a new podcast, for example. Then, gradually add other elements into the mix until producing quality content becomes second-nature to your team. Where appropriate, consider bringing in outside expertise to advise you on lead generation strategies or help you organize and execute an effective business-to-business lead generation program.
The future of B2B lead generation is bright, so focus on how you can take steps to transform your company and take advantage of these successful strategies.
Image credit: iStock Photo