Startup companies face many unique challenges as they seek to establish a strong position in the marketplace. As a CEO, you can guide your company to success by taking advantage of these four proven startup strategies:
1. Business Model Generation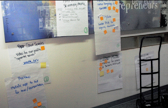 The Business Model Generation approach is a strategy created by Alexander Osterwalder and Yves Pigneur, two European business professors who introduced it to the business world in 2010 through a book of the same name. Today, Business Model Generation is used by companies such as G.E., Procter & Gamble, Nestle, Ericsson and 3M among others.
Business Model Generation emphasizes the idea that once a model for the business goals becomes apparent, the new business is ready to launch. The centerpiece of Business Model Generation is the Business Model Canvas, which focuses on nine components in a successful enterprise.
The nine interrelated building blocks to be assessed in this process include:
Value Propositions - Products and services that create value for a certain customer segment.
Key Activities - What a company must do to make its business model work.
Key Partners - The network of suppliers that make a company's business model work.
Key Resources - The most important assets needed for a business model to work.
Customer Relationships - The types of relationships maintained with each customer segment.
Customer Segments - The groups of people of organizations a business aims to serve.
Customer Channels - Communicating with customer segments to deliver a value proposition.
Cost Structure - Costs associated with the operation of the business model.
Revenue Streams - The revenue a company generates from each customer segment.
The key innovation behind Business Model Generation is that it facilitates strategic discussions about the nine elements in a manner that moves past product-centric thinking, and towards business model innovation.
2. Lean Startup
Created by Silicon Valley entrepreneur Eric Ries in 2011, the Lean Startup concept rethinks the assumptions of traditional startup strategies. In contrast to a traditional plan/prepare/launch approach, Lean Startup focuses more on the iterative evolution of the product, business, and the marketing plan as a whole.
This strategy takes customer evaluations and demands into consideration, and encourages the company to stay flexible and adaptive until it locates the 'best fit' between its capabilities and the needs of early customers. Startups that utilize this strategy may intentionally "prepare for failure", but quickly find their way out of it by constantly improving their products and adjusting their strategic direction. This rapid approach to innovation is the key to the Lean Startup strategy.
3. Blue Ocean Strategy
The Blue Ocean Strategy is a complementary model focused squarely on Value Innovation - differentiating your business and your product by creating entirely new markets. While the Red Ocean represents markets that have been established already and are overwhelmed with competitors pursuing the same fixed pool of prospects, the Blue Ocean represents markets that are not yet in existence, i.e. unknown potential market segments and future categories.
The goal of this strategy is to create new industries and market space that have not yet been formed and as a result, are not yet crowded in competition. This strategy focuses on creating simultaneous value for the customer and the company. At the same time, the company must be prepared to eliminate factors and/or features that are of less or no importance in the Blue Ocean. Value Innovation creates higher value at a lower cost - and without competition - in an industry where customers will readily pay for the updates made to the product. Strategic focus, divergence from the traditional marketplace, and a compelling offering are required for the Blue Ocean Strategy to bring success.
4. Design Thinking
Design Thinking, similar to Lean Startup and Blue Ocean Strategy, maintains a strong focus on design and innovation - constantly improving the product. However, rather than improving the product by taking problems and working towards solutions, it focuses more on building the product through new ideas and possible enhancements.
Like other methods, Design Thinking begins with an assessment of existing product or service weaknesses. However, in this model the next steps are concerned with designing a better outcome that aligns with upward-looking creative concepts that may address multiple priorities in one step, rather than using root-cause analysis or other downward-facing approaches.
The steps in Design Thinking include:
Define - Pinpointing issues/problems in the current offering.
Research - Researching the issues associated with the original product.
Ideation - Creating ideas that improve the product and move it forward.
Prototype - Producing models of the product with creative improvements.
Choose - Selecting priorities and picking a prototype to produce and sell.
Implement - Implementing the newly-improved product into your collection.
Learn - Making deductions based on the failure or success of the product.
While each of these methods may be best applied to certain industries, management models and intended outcomes, all four strategies have many striking similarities which make them ideal to mix and match, or use together as integrated resources for creating a competitive enterprise. Startup CEOs will benefit from becoming conversant with these leading startup strategy tools.
Image credit: Flickr @ Creative Commons