The challenges of closing a deal to win a new client are well known; a 2022 survey from drip.com reports that a full 40% of B2B salespeople identify prospecting as the hardest part of their job. They further note that at least 50% of the prospects they pursue do not ultimately end up being a good fit for their product or service. That's why upselling plays such a pivotal role in maximizing revenue once you establish a relationship with a new client and make that hard-earned initial sale.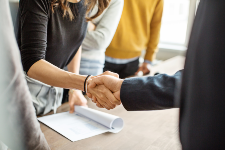 Upselling is a lot easier than prospecting. The number of touchpoints you have to go through to make an additional sale is less than the number it takes to close that first deal with a new client. The statistics for successful upselling are also in your favor. According to the book, Marketing Metrics, upselling to an existing customer can net a 60 to 70% success rate versus 5 to 20% to land a new sale.
With benefits like these, it's no wonder your sales team is ready to upsell before the digital ink has even dried on that newly signed contract. But how can B2B companies like yours best satisfy client needs and expectations while maximizing your opportunities beyond each initial purchase?
Welcome to part three of the series, A CEO's Guide to Sales Acceleration. In the first two installments, we discussed making CPQ work for your sales team and ways to reduce friction in your sales process. Here we turn our attention to key strategies that will help you maximize your upsell potential, increasing your profitability without decreasing the quality and trust of your client relationships.
First, Earn More Trust
Your overall B2B upselling strategy starts with one simple premise: "Make the most out of every interaction," says Doug Wendt, Chief Growth Officer and co-founder of Wendt Partners. "No sale should go unnoticed, and an atmosphere of trust must be established between B2B businesses and their clients, especially before an opportunity to upsell is presented."
Before upselling even enters the conversation, use data-backed metrics to show your clients the results you've helped them achieve. Did their sales increase with your new offering or insights? Has your marketing campaign converted as you expected? Is revenue up? Proving to your customers that they are netting more income because of your efforts is the gold standard for developing trust and improving your B2B growth relationship.
Develop an Opportunity Management Mindset
An opportunity management mindset is crucial to successful upselling. Even a well-crafted pitch for a needed service will fall flat if it is presented at an inopportune time. Your sales team and strategists must master active listening to gauge a customer's signals that they are ready for an upsell, such as language about wanting to reach goals even faster or accelerating certain processes.
Calibrate your management of upsell opportunities to be sensitive to expressed goals as well as emotional cues. It's never a good idea to try to upsell when your clients are angry or disappointed, even if it's not your fault. Look for positivity, and know when to bring up an expanded business relationship. Utilizing a comprehensive CRM like HubSpot provides a relevant way to keep track of these moments of opportunity, and the Wendt Partners team can show you how to capitalize on the power of your CRM as part of your B2B business strategy.
Leverage Analysis and Clients Insights
You can strengthen your buyer's journey by gathering insights into your current customers and ideal customers. There may well be differences between the two. Collect as much demographic and psychographic information about your current customers as you can. Analyzing this data will furnish you with insights into the existing customer journey and allow you to create buyer personas that can be used to develop messaging for loyal customers, as well as new ones you are trying to win over.
Working with a B2B growth solutions partner like Wendt Partners can provide you with the capability and expertise you need to analyze your customer data and create an environment conducive to upselling. Together you can ensure that your strategies align from all angles, from buyer's journeys and the right messaging to pricing and service after the sale. A cohesive approach will strengthen your nurturing process, empowering your sales teams to build higher-quality customer relationships.
Add Value by Training & Coaching
In-house or external training is critical to the success of any sales team. Prioritize developing great coachable moments, creating thoughtful onboarding processes, and training team members to recognize upsell opportunities. Show your account executives how to nurture leads in a more targeted fashion and how to leverage data on existing customers for effective remarketing of your products and re-enrollment in your services.
Social selling also produces strong results in our social media focused society. For example, starting a LinkedIn group for your industry can develop rapport among your target audience and help you nurture prospects over time. You may even find that some of your current clients gravitate to the group and start to interact, handing your sales team prime upselling opportunities in the social media space without the cost of advertising.
Perfect Your B2B Growth Strategies With a Valued Partner
At Wendt Partners, B2B growth consulting includes assessing your upselling and cross-selling techniques while helping your teams learn how to foster trusting relationships with clients that lead to revenue growth.
Wendt Partners specializes in B2B technology and innovative solutions to accelerate your company's sales growth. Our experts create a process for nurturing existing client relationships and identifying, engaging, and qualifying new leads – and as a HubSpot Elite Partner, we provide the highest level of support in implementing and leveraging the number one recommended CRM for B2B companies.
Schedule a free growth services assessment consultation call with Wendt Partners today and keep an eye out for our next article in this series, where we explore ways to plan and prioritize B2B sales success.
Image Credit: iStock Photo