Every B2B organization needs leaders who are prepared to spearhead the sales process and make future clients feel welcome. Enter Pat Fuentes, the Sales Operations & Client Success Manager at Wendt Partners. Pat has two teams under his direction: the Client Success Specialist (CSS) Team, which assists clients both during presale and post-sale by handling crucial administrative tasks, and the Sales Development Representative (SDR) team, which directs Wendt Partners' sales prospecting. From start to finish, Pat's teams inform leads on their marketing, sales, and CRM integration options and inspire them to begin their HubSpot journeys.
Under Pat's guidance, Wendt Partners utilizes HubSpot's groundbreaking sales acceleration tools to shorten sales cycles through innovative lead generation, lead scoring, and engagement tracking. Read on to learn more about the efficiency Wendt Partners continues to achieve by implementing these tools.
Needs and Challenges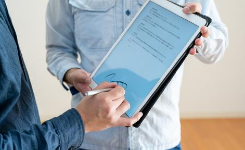 B2B sales comes with a fair share of unique challenges, including a complex approval process involving each lead's multiple decision-making departments. The volume of follow-up and communication necessary to close a deal can cost sales teams valuable time when not handled correctly. The Wendt Partners team is continually developing strategies to prevent leads from remaining stuck in the call scheduling process, as there is a direct correlation between this delay and whether the deal is ultimately closed.
Pat's team handles the discovery process from the start so that each lead can have a smooth experience throughout the sales cycle. CSS team members leverage a clearly developed plan to structure calls with appropriate priorities, create understandable expectations for both sides of each conversation, and establish goals that the team ultimately wants to accomplish by the end of the call.
When it finally comes time to draft a quote, it's the CSS team's job to ensure the prospect's final questions and concerns are addressed efficiently. If a prospective client thinks of important questions or requests beyond the initial scope of work calculated into the deal, they are less likely to take the remaining necessary actions towards deal closure — costing precious time on the sales team's end.
Intelligent Solutions
In order to mitigate the sales friction that can come from these common challenges, Wendt Partners' CSS and SDR teams take advantage of the many acceleration solutions implemented throughout HubSpot's sales software:
Data visualization: Each deal pipeline within HubSpot is visually clarified and laid out for optimal organization and understanding, giving Pat's teams important information about which leads haven't engaged recently so that they can provide further insights and motivate them to move forward. Data visualization scorecards help migrate each client from one stage in the deal pipeline to the next at a consistent pace.


Tracking lead engagement: HubSpot's email tracking feature is the most effective way for the SDR team to know how engaged each lead is with Wendt Partners' outreach efforts.


Roadmapping each call: The Playbooks feature within SalesHub offers Pat's team members a clear path through each call and lead interaction. Everything they need to move the sales cycle forward is provided through easy-to-understand directives.


Notifications for action needed: Wendt Partners takes the approach that leads should always be provided with action items they can take to move the deal forward. In order to keep the ball in the lead's court and avoid pending action, every interaction should include time to book a future call so that there is always a next call scheduled. Real-time notifications within the HubSpot platform alert team members of the time elapsed between lead engagement efforts and let them know when it's time to make a call or send an email to plan the next meeting.


Fast quote generation: Wendt Partners is currently laying the groundwork for complete DealHub integration. As an intelligent quote proposal builder, DealHub is an exciting new addition to Wendt Partners' already robust sales process that facilitates tailoring quotes directly to each lead's specific questions and needs, saving valuable time in the decision-making stage of the sales pipeline.
The Continued Impact of HubSpot Tools
Wendt Partners' successful track record in getting B2B organizations on board with HubSpot in record time per sales cycle has directly influenced their ability to rise in the ranks and become one of the few Elite HubSpot Partners operating in North America. That title alone garners both respect and interest from more organizations than ever before, giving Wendt Partners even more opportunities to engage healthy, forward-thinking prospects.
Wendt Partners' reputation as an all-inclusive, efficient team of professionals dedicated to showcasing HubSpot's capabilities continues to grow at a groundbreaking pace. This is in no small part due to their ability to close deals quickly while ensuring each new client is thoroughly informed on the HubSpot tools at their disposal and the steps they can take to develop their own sales strategies, marketing automation, digital presence, and more. Looking forward, the soon-to-be complete integration of DealHub will ensure that each lead feels secure in what they are paying for without any surprises, further expediting the sales cycle.
Implement HubSpot Sales Software with Wendt Partners
As an Elite HubSpot partner, Wendt Partners is proud to offer growth solutions in all aspects of B2B business. Our team is committed to showing clients just how much they can accomplish with one all-inclusive software platform. The necessity of robust, efficient marketing automation, sales, and CRM solutions has reached an all-time high — and with Wendt Partners, companies in the industrial, technological, and professional service sectors will be able to keep up the pace.
Contact Wendt Partners today to learn more about implementing HubSpot into your organization's sales process and making use of industry-leading sales acceleration tools to increase close rates more than ever before.
Image Credit: iStock Photo