Throughout our CEO's guide to sales acceleration, we have attested to the game-changing power of efficiency at every stage of the sales cycle. In an environment where the industry standard for speed is ever-increasing, B2B organizations must strategize to push prospects towards closure as quickly as possible while also maintaining their trust.
"If you can close the deal on the call, do it — getting a client to sign as fast as possible is the best way to seal the deal," says Doug Wendt, CGO and co-founder of Wendt Partners. "Speed is often a make-it-or-break-it factor in whether or not a deal reaches closure at all."
A software system for sellers who need to quote complex product packages can best ensure deals are pushed expediently to close when combined with a sophisticated automation platform. This final installment in our sales acceleration guide will explore the specific HubSpot CPQ capabilities and techniques that promote quick deal closure and boost close rates for B2B organizations.
Configure, Price, Quote Faster Within HubSpot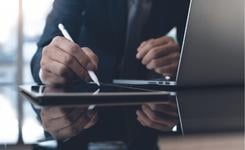 Common issues faced by CRM software users include the inability to quickly connect with other software integrations, having to handle clunky product libraries, and dealing with gaps in the quoting process that confuse the sales team and discourage prospects from following through. HubSpot's CPQ tools track deals, attach line items, and build out documents to streamline the quoting process from creation to final approval and close — all in a few easy steps.
HubSpot's quoting functionality makes the process easy from start to finish:
Quick start: All the information needed to begin the quote creation process is contained in the lead's deal record in HubSpot CRM.
Readability and comprehension: With snippets, users can drag and drop key elements, like terms of use, in digestible chunks to keep quotes from becoming overly long and frustrating to navigate. Clients can click the attached link to see the full terms of their legally-binding agreement.
eSignatures: HubSpot's HelloSign partnership makes for a secure signature process. Only administered email recipients can access and sign the quote sent through this integration, and the signed document is connected back to HubSpot for quote completion in a matter of minutes.
HubSpot Payments: Sales teams who benefit from having everything they need for deal closure under one roof can use HubSpot's payment system for an accessible QTC (quote-to-cash) process.
Pre-existing elements: Sales reps have the option to add their organization's products to the agreement terms by dragging and dropping them straight from their HubSpot product library.
Final price adjustments: Easily reward your prospects for their loyalty with discounts at the conclusion of the quote creation process.
Once completed, each quote is automatically generated to stay on-brand with your organization's color schemes and logos — so with the click of a button, you're ready to submit to the prospect.
Some teams use HubSpot CPQ primarily for the benefit of easily-generated terms, conditions, and HelloSign integration, while others complete the entire process from deal creation to uploading payments within HubSpot. The decision depends entirely on each specific use case, and the value of these tools adjusts in accordance with the most important determining factor: how they can help your sales team operate as efficiently as possible.
Getting the Ball Rolling in Record Time
Wendt Partners can attest to the abilities of HubSpot CPQ by drawing from its own successes with clients, who often need robust and complex solutions to manage their growing sales streams. Using SalesHub in conjunction with HubSpot CPQ tools, Wendt recently created a customized, flexible, and efficient system to allow one manufacturing company to control their increasing workload and prioritize their team. The client can now more effectively handle their sales increase and expand on their internal processes with faster proposals using the new implementations.
HubSpot's quote tools can be taught in a matter of minutes, so training will not siphon valuable time away from your sales team. The software is simple to learn and even simpler to implement, especially with the right support.
How Wendt Partners Uses DealHub to Reach Deal Closure
While HubSpot CPQ provides a streamlined quote system, some B2B organizations may benefit from additional access to the most advanced, comprehensive deal solution available.
"If you really have complex configuration requirements, then another approach is to consider DealHub, which is the number one advanced configuration platform for HubSpot," says Doug Wendt. "We're a DealHub partner as well as an Elite HubSpot Partner, which makes us a great resource for this implementation."
DealHub is an intelligent quote proposal builder tool that elevates each aspect of HubSpot CPQ to its greatest potential. By automating all manual sales processes and providing easy-to-use technological innovations, DealHub and HubSpot are a powerful combination that allows sales teams to focus on what they do best — closing more deals more quickly.
Full-fledged Support on Your Sales Acceleration Journey
In being recognized as an Elite HubSpot Partner, Wendt Partners claims a spot as one of the most proficient HubSpot Solutions providers in the world. Our expertise in integrating and training B2B organizations on HubSpot CPQ, as well as the other industry-leading CRM tools on the platform, makes us an invaluable asset to any growth-driven sales team.
Wendt Partners offers a full range of business growth solutions, HubSpot solutions, technical solutions, and digital solutions to meet our client's intentions and goals. By combining our experience serving over 125 organizations in the technical, industrial, and professional services sectors with their unique value propositions, we accelerate B2B growth at an unmatched pace.
Contact Wendt Partners through our website to learn more about our extensive growth solutions capabilities and get started on improved close rates in your B2B organization. For a full view of the opportunities within reach for your sales cycles, check out the other articles in this sales acceleration series.
Image Credit: iStock Photo