Inbound marketing has come a long way from its humble beginnings as a brand-new concept being tested in the sales world. What was once a theory about the value of taking charge in helping potential leads discover your company has become a non-negotiable B2B sales mainstay. While this evolution may have brought on new challenges — such as higher expectations for personalization of digital marketing content and faster sales cycles from lead generation to close — there are also plenty of exciting new tools and opportunities for your team to explore. With so many choices, it can be difficult to find a healthy balance between bringing more tools on board and having the ability to properly utilize them for your success.
Enter HubSpot, the #1 recommended CRM for B2B organizations of all sizes. HubSpot's robust platform has everything your team needs to meet and exceed your growth goals. In this continuation of our discussion on choosing the best CRM platform for your organization, we'll explore why HubSpot became the highest recommended CRM for B2B businesses, and how to best leverage the platform's award-winning features in your business.
The benefits of a CRM platform to B2B businesses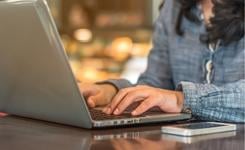 The development of inbound marketing has proven that a relationship-centered approach is the best method to see improvements in lead generation and prospect experiences. The best way to go about securing these assets is to use today's rapidly-evolving digital marketing and sales tools. Finding a solution to apply this principle has also become simple with never-before-seen digital marketing and sales technology advancements.
A quality CRM software platform can be the key to strengthening your buyer relationships. At the same time, you'll create a tighter sales pipeline, develop your own brand strategy, simplify the processes your employees use on a daily basis, and increase communication across departments for a more cohesive working environment.
What makes HubSpot CRM so invaluable?
HubSpot has been developing its CRM capabilities for as long as the concept of inbound marketing has been around — and like inbound, HubSpot has experienced immense growth. What was once a marketing automation concept is now a comprehensive B2B solutions provider, with several game-changing qualities that set it apart from its competitors.
Designed to stand alone: HubSpot is built to address all of the needs surrounding one essential function: marketing automation. Because HubSpot was designed as a comprehensive product that runs on a single database, the implementation process for B2B companies is simple in comparison to less streamlined alternatives.
Distinctive purpose: HubSpot was developed specifically for B2B companies; therefore, B2B is at the heart of its design philosophy. The platform's tools and integrations are easily identifiable as B2B-specific solutions, which makes learning the system simple for teams just like yours.
Easy to learn: HubSpot does not rely solely on its B2B-catered approach to argue its ease of use, however. Each tool is expertly refined to be intuitive, saving users the navigational trouble that can accompany less strategically designed CRMs.
Robust partner environment: HubSpot's affiliated technology partners truly believe in the platform's capabilities — so much so that many of these tools are built with HubSpot users solely in mind. HubSpot seamlessly integrates with hundreds of other apps and platforms to help further power your inbound marketing efforts.
Incomparable personalization: HubSpot hosts its own CRM-powered content management system (CMS) for beautiful website development and digital element creation. The flawless connection between its CRM and CMS capabilities allows users to personalize their online presence far more effectively than they could achieve with other CRM platforms.
Using HubSpot for comprehensive growth
No two CRM strategies are the same, but the HubSpot platform is easily-adjustable to each individual business need. HubSpot CRM's expansive range of B2B use cases means that proper implementation is key to continued success with the platform.
"Regardless of which software you're bringing on board, changes are always hard," says Doug Wendt, Chief Growth Officer and co-founder of Wendt Partners. "But the real challenge is not to get people to learn the software; it's to get people to use it consistently. To do that, you need to ensure you've properly configured the software to your specific business environment."
When Wendt Partners introduces a new client to HubSpot, they do so with the understanding that each business has a unique structure and value proposition to bring to the B2B marketplace. By first getting to the heart of each organization's business model and learning their short and long-term goals, they can emphasize the HubSpot tools and processes that will make growth attainable on both the managerial and team member levels.
Finally, proper training is one of the most essential objectives to focus on with new HubSpot end users – not only for education on the latest tools but also to highlight and reinforce the growth that will occur if those tools are used day-to-day. This is why Wendt Partners uniquely offers a 10-session training program on HubSpot CRM for end users.
Learn and integrate HubSpot CRM with a premier solutions provider
As an Elite HubSpot Partner, Wendt Partners is dedicated to the success of each technical, industrial, and professional services client we add to our growing roster. HubSpot continues to prove its immense value by innovating new ways to support B2B businesses in all areas. We're ecstatic about what's to come and would love to offer your organization the exciting new opportunities on the horizon — as well as the success we've come to expect from each HubSpot partnership.
Connect with Wendt Partners through our website to request a demo and see the strategic value of HubSpot CRM for yourself. Our upcoming article will serve as a guide to leveraging CRM for growth in the B2B marketplace, so don't forget to check back as we continue our series exploring the strategic value a world-class CRM can bring to your business.