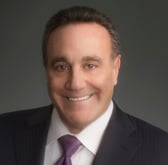 Marc Berman is a lifelong entrepreneur and fourth-generation Washingtonian with a passion for building companies and communities. When seeking to launch his most recent venture, Vector Technical Resources, one of his key steps was to retain Wendt Partners to assist in developing a powerful strategy and direction for the growth of his business. We had the pleasure of sitting down with Marc for this insightful interview about business, leadership and life.
WP: Tell us a little about yourself and your professional background.
MB: I grew up in Silver Spring, Maryland and come from a long line of proud entrepreneurs and innovators. My great-grandfather invented the wire coat hanger, and the screen that converts hot water to steam in irons. He was always thinking, "How can I make my business better, faster, or more effective?" and putting his mind at work, developing the answer. In those days, my great-grandfather built a chain of dry cleaning stores throughout the D.C. area called "Diener's Cash and Carry". As a middle schooler, I used to ride my bike across town to a deli to join meetings that my grandfather would have with his brothers to discuss business. My grandfather never made it past the tenth grade, but he was a brilliant businessman who successfully built a dry cleaning company, invested in real estate, radio stations and sports teams, and literally helped build the landscape of modern Washington. Then, at age fourteen, my parents divorced and my Mom, who had been a homemaker, needed financial help and support. A year later, I started my first business -- an auto products installation company. To give you some idea of when that was, we began by installing 8-Track tape decks!
WP: What led you to establish Vector Technical Resources?
MB: Prior to Vector, I had the pleasure of building ALTA IT Services, a top-ranked IT staffing and services firm with a client list that included accounts such as HP, Lockheed Martin and other blue-chip companies. After ten years with ALTA, I was looking for the opportunity to take my expertise, knowledge and personal brand and apply them to a new venture that I would own and develop. Rob Williams, whom I had met on the internet and who is my partner in this effort, had already established a company called DOMA Vector in 2007, which was focused on document management and IT services. It was a successful small firm and had secured Service-Disabled Veteran-Owned Small Business (SDVOSB) status as well as Top-Secret clearance for sensitive defense and federal work. However, the company was not growing aggressively and when I met Rob and we started talking in 2011, it became clear that if we married his business and credentials with my relationships and network, we could have the opportunity to build a world-class staffing provider.
WP: Where do you see the professional and technical recruitment and staffing sector heading in the coming years?
MB: This is the only industry that hasn't changed substantially in the past fifteen years. The way that all of the technology that has come into this field - Monster, Dice, CareerBuilder, etc. - makes you think otherwise, especially since it's the only industry where you have to have every platform, rather than just selecting one. But the only way to find the best people is still to hit the telephones and look for the talent because the best people aren't on these boards, it's all referral-based. The way it's going to change now is that there will be a technology solution emerging in the coming years to help us find the 90% of top-shelf candidates who are hidden, who aren't on these boards -- a system that can entice the passive candidate to want to switch jobs, to go to a different company or a better company. Contrary to popular belief, LinkedIn is not the answer. Many of us thought that LinkedIn would become that 'thing' that could put us out of business -- the 'holy grail' if you will -- but nothing even today substitutes for individuals looking for, connecting with, meeting with and vetting the right people. That aspect of it won't change, because at its core we are creating a dynamic match between the talent and the need.
WP: What do you see Vector bringing to the table that will help clients and candidates stay ahead of their requirements and emerging needs?
MB: First, we have a team approach with our clients, which is very different than that of our competitors. In our firm, we have our account management teams go in and actually interview the client in-depth. We find out what their culture is like, what they look for in their best hires, how they hire, what makes their process unique, and more. This allows us to build trust with them so that when we send a candidate over, they know that there is at least a 90% chance that there is a fit – because we have gone beyond just a list of job requirements and we've gotten to know the tangible and intangible factors that lead to a client's success. Our recruiters are all hand-selected -- they didn't find us, we found them. They go out and search for talent that our clients can't find, and that our competitors can't find. They are taught by people with years and years of experience to headhunt, recruit and source for the 'cream of the crop' – the needles in a haystack. The key to that is building a solid database of candidates – people who in turn refer us to other candidates – because they know that to work for Vector and Vector's clients is a solid, positive career move for them.
WP: You've had the opportunity to work with Wendt Partners to help you build your business. What led you to make the decision to retain our firm to work with you?
MB: We were so impressed with what Wendt Partners does. The firm's approach is truly unique, and I just had this very clear feeling that partnering with Wendt Partners and its team was going to help me as an owner – not only with moving the business forward, but also strengthening the leadership team and our direction. We rapidly developed a solid level of trust that Wendt Partners would be the right team to help us prepare for and achieve our next level of growth -- and it happened. I know that Wendt Partners promotes a model that touches upon consulting, coaching and contracting – and we clearly saw the benefits of this. They consulted with us and provided clear direction; coached me personally in ways that were invaluable; and contracted with us to take responsibility for some important questions about the future of our business. It was the total solution that I needed at a critical time in our growth and development.
WP: What, so far, have been the one or two greatest benefits that came out of your work with Wendt Partners?
MB: The best thing for us has been developing what I call the roadmap to success, that you laid out for us and that allowed me as President to see the path in front of us, follow that path, and feel confident that the goals we set out were achievable if I worked the plan clearly and consistently. And we have achieved those goals, thanks in large part to the clarity and value of that roadmap that helped us make decisions in all four key areas – sales, marketing, business strategy and leadership development. The second thing that was essential was the alignment that developed and the insightful nurturing of my relationship with my business partner, Rob. Rob and I had agreed to marry our visions together, but as you can imagine making that really work is tricky, especially with two executives who came from different industries and experiences, and who had not been business partners previously. It was essential – and sometimes challenging – for Rob and I to get the balance right, whether it be in terms of setting strategy, communicating effectively or making critical decisions. Working with Wendt Partners taught me and coached me to build my partnership with Rob in the best possible manner, and to use that strong foundation as the basis for our continued growth and success.
WP: What would you tell other CEOs about the value and impact they can gain from working with Wendt Partners to help them grow their business?
MB: In my previous company, I had several business partners, all of whom I could talk to, to bounce ideas off of and drive questions with. It was a major change to start Vector Technical Resources where I was the sole leader responsible for growth. At that critical time for me -- as the President of a company that sought to grow aggressively – Wendt Partners became an actual partner in our business. Working with you filled that critical gap of having executive-level expertise and enthusiasm, totally committed to my success, with whom I could review questions, work through concerns and make better decisions with greater confidence. Wendt Partners helped me create synergies and gain clarity -- achieving a gut-check and an invaluable 'look in the mirror', if you will. My point in sharing this is that all CEOs need to look in the mirror, but they often see what they want to see, not what is there. If you want to, as Jim Collins said, go from "Good to Great" then you need the benefit of that outside expertise and deep counsel that Wendt Partners provides. If a company is committed only to the status-quo and is not interested in achieving new growth, I would honestly not suggest working with Wendt Partners. You have to want to put change into action because Wendt Partners focuses not just on giving advice, but on actually working with you to implement that advice. So, the desire to grow has to be a shared value. If you do want to achieve growth and you are passionate about making your business stronger tomorrow than it is today, Wendt Partners is the right partner to help you get there.
WP: Do you have one or two suggestions or key recommendations you'd like to share with other CEOs that will help them grow their companies?
MB: My father-in-law and I were talking over dinner last night, and he comes from the generation where he remembers literally shaking hands over a major deal, and the confidence in what that stood for in terms of character. And these were no small deals – he runs an international shipping company with commodities going all over the world. Today, we're finding that in large respect people just aren't the same anymore, which means you need to be careful with your decisions but also stand out by being that person of impeccable character. Therefore, my advice to anyone building a business is to make sure that your ducks are in a row, your T's are crossed, your I's are dotted and that you do the right thing. Put another way, don't do anything today that you wouldn't want your kids to read about in the newspaper (or on the internet, or in social media) tomorrow. And second, your customers are your everything, so make it a good habit to under-promise and over-deliver – not only to them but to your staff. Create a culture within your staff that begins with passion – passion to make a difference in the world every day. That also means empowering them to talk, while you listen. Remember that the best leaders are learners, first and foremost, and to learn you need to listen. No one ever learned anything while talking.
WP: What kinds of fellow CEOs do you like to meet, and what are the most valuable communities for you to connect with your peers and prospects?
MB: This is my eighth business. I joined EO (Entrepreneurs' Organization) last month to give back to the entrepreneurial community and help others who are starting out – people starting their first business, where I am focused on mentoring them and guiding them to success. At this point in my life, I don't need to be around a Jeff Bezos or a Steve Case. I've been in those circles and enjoy those relationships, but today I like taking the knowledge that I have learned through long experience and transferring it to a younger generation, no matter what it is that they want to do.
WP: Tell us a little about your personal passions, charities and interests, or anything else you'd like to share.
MB: I have five children – four daughters and a son – plus a grandson and a second grandchild on the way. I love spending my time with them and with my wife. My wife is my best friend, and we love experiencing the adventure of life together. Beyond that, I do love golf – in particular I love being on a beautiful golf course. And I love the game, the self-competition of it, always finding room for improvement and always getting better. Golf allows you the opportunity to explore, which is a passion of mine. Every golf course you play is not only a different playing experience, it's also a different physical environment, a different form of beauty. It appeals to both my competitive side and my passion for a deep sense of place. Playing a round of golf with my son – nothing gets better. Nothing.