The importance and efficacy of inside sales was already steadily increasing as the digital transformation continued to shape every aspect of our lives, including how we conduct business. And then a global health crisis struck, and suddenly, almost all sales had to be inside sales. Businesses are now presented with the challenge of quickly adapting to remain relevant and profitable, and developing a strong inside sales playbook is crucial to making the transition.
In our last article, we laid the foundation for establishing your inside sales playbook as a mainstay of your B2B marketing strategy. In this second installment of our four-part series, we'll focus on building out that strategy with techniques designed to generate leads and convert prospects into paying customers.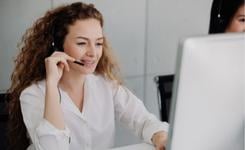 The defining characteristic of inside sales is that it is contactless. This makes it preeminently suitable for our current business climate, and very likely for the foreseeable future. But absent the traditional reliance on in-person and on-site meetings, your inside sales team must use alternative techniques like the ones detailed below to identify and establish the kind of rapport that turns prospective clients into loyal customers.
Lead generation techniques
The inside sales process, while highly customized to each individual business, will generally follow the basic pattern of outreach, follow up, conversion, and relationship growth. Many of the techniques used in inside sales will overlap and be leveraged in different ways at each stage of the process, but there are some that are unique to particular stages. The following techniques are specifically used in the first stage for lead generation:
Cold Calling and Emailing: Cold calling and emailing have earned the name because the prospective client has not yet had a chance to warm up to you, but that doesn't mean you haven't gotten to know them. In fact, before calls are placed or emails are sent, it's crucial to understand your intended audience. Rather than sending out scores of emails or going on a cold calling spree of indiscriminate dialing, put in the time to create a buyer persona, then research your prospects to ensure they are a good fit.
Researching prospects also allows you to personalize calls and emails so that it's easier to start to establish rapport. It's still possible, and advisable, to use templates and scripts to save time and make sure your message is consistent, however those templates can be personalized to show that the recipient is not just an anonymous potential dollar sign, but a respected potential partner whose success is important to you.
Lead magnets: WIIFM? The acronym stands for "What's in it for me?" and a lead magnet answers the question for prospects with whom you wish to engage. A lead magnet is a free offering of some kind—a downloadable PDF or e-book, or perhaps a free initial consultation—something of value that will induce prospects to call you, sign up for your newsletter, or connect with you in some other way.
A lead magnet can be placed on your company website, at the end of your blog, or as part of paid advertising on social media, and serves as a point of engagement, drawing prospects into your sales funnel. There are two cardinal rules to be sure you're following when it comes to lead magnets: First, make sure they are truly valuable. If someone signs up for your newsletter to get your free video training and it fails to deliver solid content, the prospect is unlikely to form a favorable opinion.
Second, be sure that you've set your lead magnet up to be successful. Create a list or segment for people who respond to each particular lead magnet you offer so that you capture not just their names and contact information, but critical insights into what appeals to them and motivates them to action. This information can then be used to further customize your follow up.
Traffic Generation: Traffic generation is an umbrella term for a host of methods that span a range of platforms. One of the most common methods of traffic generation is pay-per-click (PPC) advertising, in which you place paid advertisements on social media or search engines, and pay a fee each time someone clicks on your ad. Keyword research is critical for a successful PPC campaign, so it's important to work with a business growth consultant who knows how to maximize your spend and your reach through carefully developed ad campaigns.
In the B2B world, LinkedIn is a particularly powerful platform for traffic generation, and while LinkedIn does offer paid advertising, you can also bring the technique of cold emailing to LinkedIn's messaging function.
Nurturing and closing techniques
Once you've generated leads, it's time to bring them through the pipeline to your desired goal: a successful sale that leads to repeat business and referrals. Some of the same methods used to reach out to new prospects will work here as well, such as calling and emailing, though of course you would tailor them to the appropriate stage in the customer journey.
However, there are some techniques that are better suited for later stages of the inside sales process, and perhaps none is more effective than virtual meetings.
Virtual meetings utilize web conferencing software like Zoom or Go To Meeting to give your inside sales team and your prospective clients a chance to see each other face to face. With video and audio, the interaction is taken to the next level, becoming more personal and also opening up the door to additional capabilities like screen shares and live product demos.
One other method to consider, whether sending cold or using as follow up, is direct mail. In a digitally dominated age, a piece of actual mail can sometimes stand out, and may prove an effective addition to your multi-channel inside sales playbook.
All of these techniques have their own best practices, and a business growth consultant who understands how to orchestrate them into a comprehensive campaign will help you not only build your inside sales strategy, but use it to drive results.
Image credit: Flickr @ Creative Commons