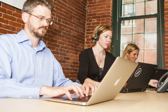 For many business-to-business (B2B) companies, social selling is a concept that is much discussed, largely misunderstood and rarely put into meaningful practice. Thanks to the proliferation of social media platforms and the confluence of radical changes in the sales and marketing environment today, many B2B sales teams are feeling genuinely overwhelmed when it comes to how they should approach the marketplace.

Nonetheless, ignoring or avoiding the opportunities presented by new technologies and methods are dangerous to ignore in a market as competitive as this one. How can you take the right steps toward social selling success without becoming overwhelmed or completely disoriented? Here are some key insights you can begin with:
1. Begin with a Solid CRM System
The first step toward social selling success is making a team-wide commitment to the disciplined use of customer relationship management (CRM) software. If your inside and outside sales personnel are not reliably and consistently using a unified CRM platform, then make this your immediate first priority by pursuing an effective sales CRM implementation.

Salesforce.com is the world's leading business CRM platform, and if your firm has not yet selected a solution, then you should give serious consideration to Salesforce.com as a preferred choice for three reasons. First, it was built as a cloud-native solution, which means it works for any user, in any location, at any time on any computer. Second, it is eminently customizable thanks to the extensive platform technology behind the scenes. And third, it offers the most complete library of integrations with other applications including email, marketing automation, social media and more. For example, Salesforce offers native, real-time integration with Hubspot, the leading B2B marketing automation solution.
2. Mobile-Enable Your Sales Team
Once your sales personnel are trained and using your CRM system, the next step is to mobile-enable them. B2B sales is, in many cases, a highly complex and relationship-driven process. Therefore, your sales people need to be empowered to operate effectively in any context -- at the office, on the road or at a client or prospect location.

Salesforce.com provides the Salesforce One mobile application platform that can be used right out-of-the-box or built upon for customizations or advanced capabilities. In addition, there are mobile applications in development or in recent release that can integrate Salesforce CRM with other common work activities such as scheduling and making phone calls; updating appointment calendars; tracking email follow-ups and more. These include WorkinBox, Tact, Cirrus Insight Mobile, Nuiku and Signals Mobile from Hubspot. In addition, numerous mobile apps can connect with your Salesforce system including those for business card scanning, expense reporting, document management, sales presentations and more.

3. Use Data.com to Build Your Target Account List
With a robust CRM system in place and a mobile-enabled sales team properly equipped, you're ready to make social selling a reality. Your first step is to build a target account list using the power of Data.com from Salesforce. Data.com is an integrated solution that marries the world-class business information database from Dun & Bradstreet with the contact sharing platform originally known as Jigsaw.

Imagine performing a search right in your CRM system for companies that meet your ideal B2B sales criteria, including industry (SIC or NAICS code); annual revenue; number of employees; physical location; headquarters or field office; key contacts by title; and more. Then, take that highly refined list and create new leads or contacts right in Salesforce to begin working them immediately or using them to start a new sales and marketing campaign. >Data.com Prospector makes it all possible and in addition, it allows you to clean your existing contact lists and build out additional profile information on your current customers and leads.

4. Prepare for Social Success with LinkedIn
Now that you have the data you need to achieve targeted sales results, it's time to role up your sleeves and get your team functioning effectively in the social world, beginning with LinkedIn. First, make sure that each sales person on your team has a LinkedIn account and profile. Remember that these accounts are/will be owned by the employees themselves, and not by your company. So you are partnering with your employees in this process.
Once everyone has a LinkedIn account, make sure they set up a properly developed profile -- one that is complete; provides all of their relevant professional history and background; offers a succinct but powerful summary of their current role with your company; and includes a proper headshot picture. If necessary, schedule your entire team for headshots with a professional photographer.
Then, give each sales person time to go through their business cards, current customers and other key contacts in Salesforce or other sources, and connect with them on LinkedIn. Encourage them to use personalized invitations with most if not all of them. After this step is complete, ask each employee to select one or more LinkedIn groups to join (and consider setting up one for your own company, product or service), then end by making sure they are linked with one another and with you.
5. Make Dynamic Connections with LinkedIn for Salesforce
Finally, you're ready to begin social selling. Set up a LinkedIn Sales Navigator account for your team, then have your Salesforce administrator configure the LinkedIn for Salesforce plugin for each user. With this powerful tool in place, your team is prepared to start seeing real results.

First, review your most critical target accounts and active prospects, and use LinkedIn TeamLink to examine the entire team's LinkedIn connections to identify direct or indirect connections. Perhaps an existing customer is connected to a key decision-maker at one of your key accounts. Or maybe a primary influencer at another target company is a former employee of one of your company's business partners. Then, start using this information to create a comprehensive profile on each key company -- all of the primary personnel (some of whom you identified using Data.com) and many of their relationships, connections and interests.

Next, use LinkedIn Premium Search Filters and the Profile Organizer to create a clear picture while ongoing Search Alerts keep you informed when new updates arise on LinkedIn – for example, when someone in your company's TeamLink network connects with a contact at a target prospect company.
From here, you can make a warm call; send a direct email; or use InMail within LinkedIn to reach out and either make a connection request or ask for a meeting. If you're two degrees away from a target contact, you can also ask an intermediary to make an introduction for you to start the discussion.
By bringing together the business intelligence of Data.com with the social and network intelligence of LinkedIn for Salesforce, your team is now equipped to achieve powerful results with the essential tools for social selling.