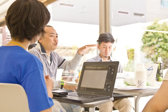 One of the most critical decisions you can make as a CEO is to select and commit to a technology platform that supports the growth objectives of your business. Many companies try to grow without a consistent set of tools in place to support that growth. However, the sheer complexity of sustaining growth results in a whole new range of problems: ignored leads, missed opportunities and confused priorities. On the other hand, selecting systems without a common strategy and integrated approach will result in many of the same problems. With these risks in mind, how do you choose the right tools for the job?
How to Select the Right Technologies for Business Growth
Let's begin by remembering the primary objective: to grow your company by identifying and securing business with new customers. In short, we're doing all of this to create new customer relationships that drive more revenue into the business.

With that objective front-and-center, there are two essential steps you should take before selecting systems. The first is to establish key selection criteria, and the second is to evaluate solutions with your business growth stage clearly in mind. When looking at the selection process, all of the tools you implement should meet these standards:

1. Commit to the Cloud
The business growth platform you build by necessity must consist of native, cloud-based solutions. Client-server, local database and even hybrid systems are not feasible today. They are hard to update, difficult to integrate and support-heavy. You can't afford that today, not when there are outstanding solutions which are lightweight, flexible and easy to scale.
2. Go Mobile
Growth requires the flexibility to do business wherever the market takes you, and that means using tools that are entirely mobile-friendly whether on your Android mobile phone, iPad tablet or on the web browser at a hotel business center. Make sure your applications support anywhere, anytime, any device availability - and usability.

3. Natively Integrate
In a prior era, integration was primarily a task performed by custom developers working to connect two products that had little to nothing in common. Today, web connectors like Zapier make it easy to connect multiple cloud platforms to perform basic integrations. However, core integrations that are mission-critical should be achieved through native integration whenever possible. Native integration means that the application vendors themselves are creating, supporting and upgrading the integration - and in a world where software updates are taking place daily, this is essential.
4. Unify the Inbox
We all know that email is exhausting, irritating and overwhelming to our daily productivity. We also know that email is essential, mission-critical and empowering to every aspect of our work. In short, email is still the center of our communication universe. That, along with social media information, needs to be fully supported by your inbox. Not just with "Send a BCC" workarounds, but with real, live direct integration (and, better yet, custom widgets and application tools) that connect Gmail and/or Microsoft Outlook into your applications.

5. Convert Information to Intelligence
Cloud applications have the unique ability to add value by connecting information that input with data and analytics that come from outside your own actions. A good application makes it easy to see who I haven't followed up with yet this week. A better application suggests whom I should call and in what order (and why).
Understanding Your Stage of Business Growth
Another important element in the overall process of selecting the best tools for the business is identifying the stage of growth your company is currently entering. At Wendt Partners, we focus on working with CEOs at two stages of growth readiness.

The first stage addresses companies looking to advance from the startup or small business position into a rapid growth ramp-up. These companies typically generate up to $10M in annual revenue today, may only have one or two dedicated sales personnel (outside of the CEO), but are ready to transition into a dedicated, budgeted strategic growth mode for the first time.

The second stage addresses companies that are ready to move from growth directly into the middle-market level. These firms typically operate in the range of $10M to $50M in annual revenue presently, with a strategic intention to exceed $100M through an integrated growth strategy.

Due to differences in the required investment, available staff time, technical bandwidth and market readiness, different solutions are often appropriate for these two profiles. For each of the application categories discussed below, we recommend one solution for stage one (growth-oriented startups and small businesses), and another for stage two (growth stage to middle-market companies).

That having been said, a smaller firm that is ready to deploy both the technology and a team may be ready for the middle-market solution set, and a larger firm that has not previously implemented these technologies and processes may be best served starting with the small business solution set.
What Applications Do I Need for Business Growth?
Having addressed the key priorities in selecting a solution and understanding the growth stages and their relationship to growth strategy, we're ready to select and implement the right applications. This list consists of seven key technologies that will be essential to your integrated growth strategy. The best way to order the list is to follow the buyer's journey (i.e. the process that your prospects will use to discover your business and become new customers):

1. Website Platform
Many CEOs do not realize that selecting the platform that your website is built on is just as important as the actual design and content development for the site. Today, your website is not just an electronic brochure. Instead, it is a dynamic center for digital interaction. This includes prospect inquiries, social media, customer service, e-commerce and more. The best platform options will make it easy to integrate the site within a wider set of tools, while also allowing non-technical personnel to update, expand and maintain the site with ease.

Startup/Small Business - WordPress or HubSpot

(Content Management System)
Growth Stage/Middle-Market - HubSpot (Content Optimization System)

2. Email Marketing
Robust and dynamic email marketing provides the most direct and consistent link between you and your customers, prospects and partners. An effective email marketing system will be simple to administer, easy to connect with other applications (such as a CRM database), direct for adding subscribers, and provide powerful tools for customization.

Startup/Small Business - MailChimp
Growth Stage/Middle-Market - HubSpot

3. Event Management
One cornerstone of every B2B marketing strategy is a regular program of events and activities. These may include in-person programs such as seminars, workshops, trade shows and conferences as well as online events like webinars, online meetings and virtual expos. The power of an integrated event management system is in connecting events with topics, participant information and other engagement opportunities.

Startup/Small Business - Eventbrite + GoToWebinar
Growth Stage/Middle-Market - HubSpot + Eventbrite + GoToWebinar

4. Social Media Management
The key to social media is to effectively and efficiently manage two-way interactions. This includes those that begin with outbound promotion; those that take place as a result of inbound engagement; and those that are topically related to the business. Dynamic monitoring and engagement across social media environments is the cornerstone of a successful social media system.

Startup/Small Business - HootSuite
Growth Stage/Middle-Market - HubSpot

5. Customer Relationship Management (CRM)
For the business growth strategy, your company needs to implement a powerful but easy-to-use customer relationship management (CRM) system. The most important priorities for your CRM system begin with the ability of a wide range of users to adopt and enjoy the system - from Baby Boomers on the senior management team to Millennials in the marketing department. In addition, the system must support clear and compelling lead, opportunity and sales pipeline management and provide robust social selling capabilities as well.

Startup/Small Business - HubSpot CRM


Growth Stage/Middle-Market - HubSpot CRM

or

Salesforce.com + Data.com + LinkedIn Sales Navigator

6. Email and Office Applications
For years, this category was not even necessary to discuss since Microsoft Outlook and Microsoft Office were the unquestioned dominant forces in the marketplace. Today, more and more companies are embracing the benefits of moving to the cloud either with Gmail and Google Applications for Business, or with Microsoft Office 365. However, the Google platform has rapidly overtaken Microsoft as the preferred environment for providing seamless, native integration between email, office applications and other products.

Startup/Small Business - Google Apps for Business
Growth Stage/Middle-Market - Google Apps for Business

A Note about Marketing Automation
The list of seven applications discussed in this article does not include a category specifically for marketing automation. However, for the Startup/Small Business group, the recommended applications integrate smoothly to support many core marketing automation requirements at a very competitive total cost. For the Growth Stage/Middle-Market companies, the HubSpot platform provides this capability as well as meeting the individual requirements noted above.
Next Steps for the Growth-Ready CEO
Now, you're ready to proceed from evaluation to action. To begin achieving business growth results, take these steps:

1. Research and understand the five selection criteria.
2. Identify your applicable strategic growth stage and objectives.
3. Review the recommended platforms and applications.
4. Meet with a qualified business growth consultant to begin planning for success.
5. Prepare to achieve rapid, sustainable revenue growth in your company!




Image Credit: PFJK @ Flickr (Creative Commons)