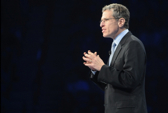 As the CEO of a growth-stage or mid-market B2B enterprise, you are always looking for opportunities to improve the company and achieve better business results. But whether your business is a $5M specialized architectural firm or a $45M industrial products manufacturer, one thing seems for sure: There are some competitive advantages and strategies that Fortune 500 companies can use, which are probably not scalable or practical for smaller companies…or at least, that's the common wisdom. As it turns out, there is more value you can gain from the strategies used by large companies than you may think.

Business growth consultants who specialize in working with mid-market B2B companies are experts in bringing large-company strategies to bear in ways that create major competitive advantages for private, mid-market firms. Here are four powerful examples of how a business growth consultant can apply these strategies to bring value to your company:
1. Creating an Innovation Lab Within the Company
Major corporations from Facebook in technology to Nordstrom in retail are investing in the development of internal innovation labs to create a dedicated center within the firm where new ideas can be explored. Perhaps the greatest story of the value of an innovation lab comes from 3M, whose R&D team was trying to create a super-strong polymer adhesive suitable for aerospace applications…and ended up creating a weak, easily removable one instead -- one that became the key ingredient in the Post-It Note, inaugurating a global communication revolution.
Growth-stage and mid-market firms can achieve similar results by enabling dedicated innovation teams and processes or partnering regionally or beyond. For example, some companies are establishing incubators or accelerators to partner with startup companies focused on their industry, while others are connecting with universities and economic development partners to create innovation centers supported by multiple companies.
2. Disrupting the Marketplace by Rethinking Your Strategic Focus
Quick, ask yourself: What healthcare practitioner do you most regularly interact with? Your doctor? (Probably not). A nurse? (Not likely either). Then who? The answer is: your pharmacist. Walgreens, one of the nation's largest pharmacy companies, recognized this and has embarked upon a complete rethinking of their entire business. Rather than keeping pharmacists buried, counting pills and sending prescription authorization forms at a desk behind the counter, the firm is investing in a completely inverted concept where pharmacy staff becomes front-line healthcare practitioners, and the rest of the operation and workflow moves behind the scenes. The result? Far greater store revenue and a brand-new market position.
Market disruption, however, is not only something that global brands can engage in. One of the nation's smallest cellular carriers, Republic Wireless of Raleigh, North Carolina, decided to "invert the network" and compete against the legacy carriers in its industry by using Wi-Fi as the primary network and cellular as the backup rather than the other way around. Thanks to this, they are able to offer dramatically lower rates and wider coverage than competitors and are building a brand-new business model – as the smallest player in their industry.
3. Establishing a Corporate University to Strengthen Your Culture
For years, global companies from Mars and Microsoft to Caterpillar and HP have invested in the development of corporate universities – comprehensive employee development, training and mentoring services that provide professional direction and continuous education for employees during the full lifecycle of their careers with the company. The advantages of the corporate learning model are so strong that many companies are now using them as a primary resource and setting aside more expensive – and often less effective – university-based partnerships. Why send your employees to an expensive MBA program when they can develop similar skills in a program tailored to your culture, for half of the cost and in a third of the time?
Interestingly enough, the research shows that smaller companies actually gain an even better return on the corporate learning investment. Why? Because a modest investment in corporate learning can entice more qualified employees to pursue careers with your firm; reduce early-career loss due to lack of effective onboarding; ensure that your existing employees are much more likely to stay; successfully build a pipeline of future senior-level leadership.
The greatest risks to most mid-market companies are: (a) the inability to attract and successfully integrate new talent, (b) the cost and pain of losing high-value employees to competitive opportunities, and (c) the lack of candidates for senior leadership when a succession or exit event arrives.
That's why small and mid-market businesses, from 25-employee CPA firms to 200-employee IT service companies and 500-employee mid-market manufacturers are making the commitment to creating a lasting leadership culture through corporate learning.
4. Driving New Revenue through Social Selling and Marketing Automation
At the end of the day, business growth comes back to two areas of the company: sales and marketing. How ironic that these two departments are often the most dramatically under-leveraged resources in the entire enterprise. Global companies like Oracle are completely revamping their sales teams and sales processes to respond to the social selling opportunity – which by many accounts is most powerful in the B2B sector. And marketing automation systems like Eloqua and Pardot count Comcast, Apple, Fidelity Investments and the NBA among their customers.
These systems and strategies allow sales teams to know exactly who is viewing key content on their website; how a prospect responded to a particular offer; who else in the company's customer base may know a target account decision-maker well; and more. The overall opportunity to prospect, generate leads and close sales through superior intelligence is a true revolution for B2B businesses, and newer vendors are offering a tailored offering targeted at the mid-market B2B segment for the first time.
How Your Company Can Benefit from Fortune 500 Thinking
As recently as a few years ago, companies in the growth-state or mid-market categories simply could not afford to access these technologies or implement the systems effectively without deep pockets and massive internal content development teams. Today, that's all changed and B2B companies from instrumentation to financing and from security solutions to professional services are able to dramatically improve revenue by implementing mid-market-focused solutions coupled with Fortune 500 best practices.
In each of these four cases, the opportunity is there – and the results are real. The greatest challenge is lack of time and energy within the smaller leadership team of a growth-stage or mid-market company. That's why a business growth consultant is the ideal resource you can use to drive these game-changing opportunities into place and move your business forward. As experts on emerging trends and dedicated partners to create the right strategy and see it through to implementation, a B2B business growth consultant can help your company achieve new goals.
Ready to learn more about how you can identify and pursue core strategies for fueling business growth in your company? Then download our free 64-page guide to B2B business growth:
Image Credit: Walmart @ Flickr (Creative Commons)