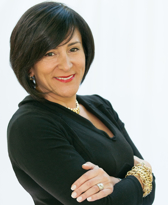 Angela Franco is a dynamic, energetic and accomplished business and civic leader. As the President & CEO of the Greater Washington Hispanic Chamber of Commerce, she has moved to solidify and strengthen the role of Hispanic businesses and entrepreneurs. She has been honored as one of the 50 Most Powerful U.S. and International Business Executives by Minority Enterprise Advocate, she was recognized as a leading Minority Business Leader by the Washington Business Journal and she is a 2013 graduate of Leadership Greater Washington. We asked Angela to share about her experiences as the leader of a dynamic business organization in the nation's capital, and as a client of Wendt Partners.

WP: Tell us a little about yourself and your professional background.
AF: I was born in Berkeley, California. I began my professional career in Bogota, Colombia in the financial world in 1989, where I worked in the insurance and banking industries for over 18 years. I later moved to the United States for the second time in May 2001, where I worked at the United States Hispanic Chamber of Commerce Foundation, followed by seven years at BB&T in different management positions, including being Manager of the Multi-Cultural Market. On November 1, 2009 I became President and CEO of the Greater Washington Hispanic Chamber of Commerce. Under my leadership, the Chamber's programs have helped the growth of hundreds of area small businesses. I'm also very proud to say that last year we received the Mid-Size Hispanic Chamber of the Year award from the United States Hispanic Chamber of Commerce.

WP: How long have you led the Greater Washington Hispanic Chamber of Commerce? What attracted you to this opportunity?
AF: I have served the Chamber as President and CEO since 2009. Since as early as I can remember, I have always had a passion for people -- helping them in reaching their full potential professionally and personally. The Chamber gave me a setting to implement both my experience and passion. As a result, the work that we do is truly rewarding to me and to our entire team, every single day.

WP: What are some of the challenges that Hispanic businesses face in the region, and nationally?
AF: I would say the access to essential resources for starting and growing a business are the top challenges facing Hispanic businesses. We have seen that the majority of the local business community isn't always certain about finding and utilizing these resources. Access to capital is also very difficult. The goal is to bring together the right people -- Hispanic businesses, non-Hispanic businesses, banking and finance partners, economic development organizations, government agencies and more -- to create a vibrant economy.

WP: What do you see the GWHCC bringing to the table that will help member companies grow, stay ahead of the curve and achieve success in a competitive marketplace?
AF: First and foremost, we provide them with the platform and resources to help businesses grow through our different programs in the District of Columbia, Arlington County, Montgomery County and soon in Prince George's County as well. Through our networking events, seminars, annual expo and matchmaking sessions, businesses are able to connect with other businesses, as well as with potential opportunities to serve federal, state and local governments. These programs enable our members to take advantage of multiple opportunities and grow.

WP: You've had the opportunity to work with Wendt Partners to help you, the chamber team and the board with strategy. What have been the greatest benefits of working with Wendt Partners?
AF: Working with Wendt Partners has been a great experience. I really like how the firm is able to put thoughts and ideas into action, and synthesize multiple perspectives to create a coherent strategy. The firm's President & CEO, Doug Wendt, has personally facilitated for us on multiple occasions. He does not hold back and is willing to walk with his clients step-by-step through each process, so that they understand the value of the strategy and can develop clear options. As a result, we've engaged Wendt Partners on multiple occasions to assist the board with strategy; to evaluate and assess our customer relationship management (CRM) systems and options; and to help us develop our board and leadership models. Thus far, the biggest benefit the Chamber has received from working with Wendt Partners is in finalizing and being empowered to execute a solid strategic plan.

WP: What would you tell other CEOs about the value and impact they can gain from working with Wendt Partners to help them grow their business or improve their organization?
AF: We would tell them not to be afraid or intimidated if they themselves have only taken the first baby steps in creating a plan, whether the plan is for a business or for an association. Wendt Partners will guide them all the way and turn simple ideas into solidified plans that are realistic and have impact.

WP: What kinds of CEOs would you like to meet as you continue your own leadership journey?
AF: It would be truly amazing to meet CEOs of Fortune 500 companies and the people that work hand-in-hand with corporate America. At the Chamber, we have had the pleasure of working closely with major corporations as well as leading government officials, and the commitment of these partners is inspiring.

WP: Tell us a little about your personal passions and interests.
AF: I'm heavily interested and invested in both business and education. I support the idea and practice of assisting those closest to you; including family, friends, coworkers and business partners. In addition, besides my professional career, I love to spend time with my family. I'm married to a wonderful man, Brent Gulick and I am the mother of a creative and energetic 4-year old boy named Matthew.