Looking for clarity about what HubSpot CRM has to offer? Registered guests recently enjoyed a discussion between Doug Wendt, Chief Growth Officer of Wendt Partners, and guest Anya Tijerina, HubSpot Solutions Specialist. Throughout the hour, the two compared Salesforce's offerings to the transformative capabilities of HubSpot CRM that make the platform a truly enterprise-class solution.
Read on for some key highlights from this groundbreaking session.
A Transition in Market Leadership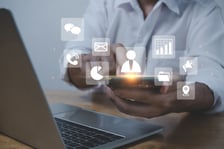 When discussing any influential technology, it's important to understand its history and evolution. Salesforce arrived on the marketplace in 1999, and has had a monumental impact on the ongoing cloud software era. But a quarter century later, technological innovations that were once revolutionary have become archaic — and Salesforce has been slow to evolve.
"Many of the underlying aspects of the technology still hail from this [previous] era," remarks Wendt. "And at the end of the day, one of the things that you're buying when you partner with a company is the history of how the software is developed."
Along with this deep history, Salesforce has made its mark in another significant way: its growth strategy. In the two decades since its start, the corporation has completed 72 distinct technology acquisitions. While Salesforce has affirmed their pride in this impressive metric, the approach to expansion poses unique challenges and consequences for current and prospective users — including a disorienting user interface and needlessly complex learning curve, among other issues.
Unifying Your Team Across Departments
HubSpot, on the other hand, makes every effort to build its interface to enhance each customer's experience and improve their chances of CRM success. HubSpot's intuitive design features allow any enterprise the capacity for next-level user experiences, and promotes unity between sales, marketing, and leadership teams.
Extensive Customization
HubSpot is easily configurable based on each individual team member that works on the platform. "2023 is the year of customization! We have endless opportunities to customize our portals, from custom fields, objects, and object views, to being able to change our forms and our pipelines to fit any business need. There are so many possibilities to customize [HubSpot] and make it work for your team," says Tijerina.
Those users who have full permissions can control dashboard presets to give their teams a consistent, yet specific experience. "If you have teams that work in two different departments, you can filter out views that other team members are seeing that isn't relevant information — allowing your teams to drive to the information they need more efficiently," explains Tijerina.
Scaling with Reliable Security
Permission sets are both easy to navigate and massively customizable in HubSpot CRM. "You can give [users] all the keys to the castle — or maybe you just want them to be able to go in and view contacts that they own only," says Tijerina. Enterprise-level security features allow HubSpot users to build out granular-level permission solutions.

On the backend, IT security for the database is built on redundant cloud AWS infrastructure, with 99.9% uptime. "It's an extremely robust operating environment for your data," affirms Wendt.
A True 'Single Pane of Glass' View
HubSpot's user interface maintains identical characteristics regardless of the team member's intended use case, so salespeople, marketers, and other integral users understand each other's needs — and HubSpot's modules and characteristics are far from appearing cobbled together as you interact with the platform and switch from object to object. "You'll never click into anything and wonder, 'Am I still in HubSpot?'" remarks Tijerina. This is all thanks to HubSpot's refusal to purchase and rebadge outsourced front end technologies, and dedication to creating one platform on one code base, 100% of the time.
Operating in Diverse Enterprises
HubSpot is a global product with users on every continent. Business unit add-ons allow rapidly scaling HubSpot-based teams to connect and work in one place, with singular brand kits, tracking, and analytics. HubSpot also allows content, knowledge bases, blogs, and more in twelve languages, and includes vast currency customization. "You can have different currencies in your pipeline, you can sort your pipeline by currency type, and you can also run workflows to assign currency type based on certain criteria," lists Tijerina.
The HubSpot Ecosystem
HubSpot's premier ecosystem rivals Salesforce AppExchange by seamlessly integrating with your team and boosting your tech stack.
Supplementing Your Current Tech
There are over 1,000 applications to choose from in the HubSpot App Marketplace and virtually limitless possibilities when it comes to building off your existing tech stack.
"HubSpot has an extraordinarily open mindset as a company. There is literally no barrier to building or utilizing an integration, whether it's off the shelf like in the App Marketplace or something custom, and whether you're using a trigger tool like Zapier, or it's custom-coded," affirms Wendt.
Thriving in Complexity
Can HubSpot CRM support complex CPQ, project management, and other advanced functions? The answer is a resounding "yes!" With game-changing app partners like DealHub and PSOHub that cultivate an identical user experience to HubSpot's, users can meet their enterprise-level goals.
Reporting, ERP, and IT Capabilities
HubSpot contains the technical specifications needed for advanced use cases:
Enterprise-Class Reporting
"HubSpot recognizes that everyone receives and interprets data and information differently," explains Tijerina. Data analytics experts and marketers have different needs and use cases when it comes to visualizing and interpreting key data points — and HubSpot has the reporting templates and capacity to support both.
In addition, intricate dashboards allow users to segment and quickly capture necessary information on one page and filter for specific qualities all at once, saving time and energy for your team.
Meeting Robust IT Requirements
Whether you want low-code or no-code solutions or your applications and environments require advanced IT support, HubSpot has the capacity to help. The Enterprise edition of HubSpot also supports comprehensive single sign-on (SSO) methodology. In addition, the evolution of the platform includes a higher prevalence of multi-factor authentication methods, as well as a switch from API keys to a private apps model for better integrations and customizations. Finally, HubSpot is the only vendor in the CRM space with a dedicated Operations Hub, which works as a data quality "command center" as well as a valuable management toolkit.
Deep Integrations for ERP Platforms
Whether you work with the most popular ERP softwares that make up the market (Oracle, SAP, Netsuite, Zoho, Globalshop, Visual Enterprise, DynamicsNav, etc.), need to make use of HubSpot's third party toolkits for advanced integrations, or want to develop an entirely custom integration project, HubSpot has what you need in the ERP space.
Building Advanced Solutions with Native HubSpot Properties
HubSpot's native properties are highly-flexible and help your enterprise deliver custom solutions directly inside its development environment. "HubSpot doesn't gatekeep information… they do a great job of guiding developers to give you a great solution," says Tijerina. From building custom UI components to creating actions in other systems the way you envision, the opportunities are endless!
Give Your Enterprise the Advantage of HubSpot CRM
Wendt Partners is proud to bring years of experience and proven results to the table as we help organizations realize their potential with HubSpot. Visit the Wendt Partners website or book an appointment with a HubSpot specialist to learn more about securing HubSpot CRM's powerful features for your B2B enterprise.
Want more information about HubSpot's CRM advantages? Download our free guide for a detailed checklist of every essential and groundbreaking feature that HubSpot builds into its premier platform.