CRM is an undisputed essential component of organizational growth for modern B2B enterprises, with Salesforce leading in user numbers. Because of its popularity, the idea of failure while implementing Salesforce into a B2B enterprise can be tricky for many CEOs and leaders to understand.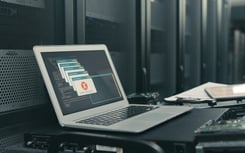 But how your team defines success on its CRM platform also provides insight into the obstacles and challenges you are willing to accept — and many CEOs and leaders may be putting up with more than they realize or would care to admit.
In this article, we'll clearly define what it means to be successful by Salesforce implementation standards, and compare this benchmark to HubSpot's true definition of implementation success.
Salesforce's Metrics for Implementation "Success"
As we work together with B2B clients to complete Salesforce to HubSpot migrations, Wendt Partners often faces an unexpected task: "rebooting" their understanding of what a CRM can accomplish. Their Salesforce build may have been working fine on paper for basic functionalities, like housing sales and marketing processes — but what does "working fine" really mean in the context of a growth-driven B2B organization?
Keeping Salesforce running without errors is a difficult task on its own, so these users may consider it a success to just get the machine whirring. Meanwhile, they are unable to spend time assessing whether their company actually experienced any monthly or annual growth. Continuous Salesforce use lowers company-wide expectations for what can — and should— be accomplished on a CRM platform.
"The bar for the definition of success gets lower and lower, to the point where leadership is satisfied if they are able to generate accurate sales reports every month," remarks Doug Wendt, Chief Growth Officer and co-founder of Wendt Partners. "In the end, you're spending such large amounts of money for what can be boiled down to glorified sales reports."
Shooting for Bare Minimum
The Salesforce user's standards for CRM success are slowly whittled away by fundamental problems innate to the platform. Here are just a few of the most common but crippling hurdles that B2B enterprises face when implementing Salesforce products:
Slow Responses: Users frequently report abysmal wait times from Salesforce administrators and customer support. To get to the root of a platform issue, consistent and clear back-and-forth communication is often needed. Days of delay that produce subpar results can quickly upend any chance of further growth beyond getting the system to work.

Poor Data Quality Management: Salesforce's notorious lack of user-friendliness makes it the perfect habitat for incomplete and inaccurate customer records, poor data hygiene, and inconsistent formatting — all of which lead to less customer satisfaction and communication.


Salesforce Integration Issues:

For a platform that relies so heavily on an array of patchwork technologies to function, it's very difficult to integrate essential features from other software and third-party applications. Users struggle to include data from these sources and lose another important element: user familiarity.



HubSpot's Premier Implementation Program
There are a host of available resources that help Salesforce users prop up their platform so it functions at a basic level, but we propose a better solution — choosing a CRM implementation that sets B2B leaders up for success.
One of the biggest factors that teams notice upon beginning their Salesforce to HubSpot migration is the high standard that HubSpot specialists hold themselves to. HubSpot implementation professionals enact change in your organization and begin new initiatives that not only streamline your user processes, but also improve the top-line revenue growth of your organization over time.
Implement Innovation With Wendt Partners
By and large, it's clear that B2B enterprises reach their most truly successful implementation outcome by choosing HubSpot. Here are some ways that Wendt Partners utilizes HubSpot to move the needle on growth in your CRM implementation:
Meeting Your Specific Needs: How can HubSpot be utilized in as many important areas of your business model as possible? We prioritize the integrations that will make your organization successful.


Data Quality First: We place an increased emphasis on improving data quality from the get-go to avoid problems down the line. There will often be a need for a data quality assessment early on in the migration to circumvent these future obstacles with corrective actions.


No Communication Delays: Unlike Salesforce's support team, we're available and ready to respond to all your questions along this journey as we introduce your teams to the HubSpot ecosystem.
At Wendt Partners, we know that any software migration journey is a team effort. With over 125 leading B2B clients and a stellar team of HubSpot implementation specialists, we have the time-tested processes and expertly-trained personnel to bring your entire business structure to the next level. It's time to rid your organization of technology roadblocks and process challenges and raise your CRM standards back to where they should be — so that your HubSpot implementation, and every use of the platform in the future, can be successful.
We're ready to help your team reimagine what a CRM platform can do to create more efficient and more effective processes with HubSpot. Book a timeslot with us to get the ball rolling on your Salesforce to HubSpot migration today. And don't miss the next article in this comprehensive Salesforce vs. HubSpot series, which will explain why so many IT teams and leaders choose Salesforce — even though the teams using the platform don't benefit from that choice.