Over the past few months, Wendt Partners has gone in-depth on the deciding factors that could drive an enterprise-level B2B organization to undergo a rewarding Salesforce to HubSpot migration (check out our blogs to learn more!). From difficult user adoption and incomplete technology acquisitions to constant roadblocks that admin and IT experts face, our HubSpot implementation partners frequently report fundamental problems with Salesforce that make for a harrowing CRM platform experience.
These problems run the gamut in impact from disheartening to debilitating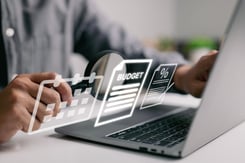 – and every single one of them is entirely avoidable. But as we close out this article series, we'd like to highlight one more major piece of the puzzle affecting organizations that put their trust in Salesforce's promise to "fuel innovation:" the platform's astronomical total cost of ownership (TCO), which increases the more you use each service.
Read on to learn more, and discover how your business can begin fresh today with a user-focused, cost-effective alternative.
An Empty Promise
Salesforce teams often offer price cuts during sales calls to encourage organizations to make the jump, but be warned — this perceived cost efficiency is very temporary. Salesforce has, by far, the highest TCO in the CRM industry, and this is a well-known fact in professional spaces.
Even when B2B organizations see through the discounted rates, they sometimes make a different mistake, thinking of the hefty price tag as a testament to the company's high profile and promised results.
"It's important for organizations to understand that higher cost does not equal more capabilities, better infrastructure, and more streamlined processes front to back," remarks Doug Wendt, Co-founder and CGO of Wendt Partners. "And disillusioning yourself to believe that it does leads to a dangerous sunk-cost fallacy."
Rising Prices, Low Results
Funding a Salesforce implementation goes far past the initial Sales Cloud license — often touted as being transparent and straightforward — to include a wide array of separate services and integrations, many of which you cannot do without. Here are the main factors that contribute to this incessant financial drain on your enterprise:
User Incompatibility: A basis of poor user adoption causes Salesforce-powered companies to purchase additional training resources just to learn how to perform daily tasks.

Always at Step One: Despite the steep learning curve, users need to maintain a rapid pace in order to stay on track with deals and communication. This leads to purchasing add-ons for basic functions — for example, separate duplicate data prevention and data cleanup tools. Each product you add complicates rather than simplifies, as these cobbled-together solutions maintain different layouts and user interfaces. No matter how much you spend on new integrations, your team will always take one step forward and two steps back.

Maintenance Without Growth: Salesforce administrators operate to fix the wide array of immediate issues caused by the platform's shoddy build and to keep the existing machine running — so you will soon find your precious dollars being siphoned away from your growth goals in the never-ending effort to maintain a less-than-ideal status quo.
HubSpot: Transparent Pricing, High ROI
Most comparisons will highlight HubSpot's free, limited-feature plan as the singular factor that gives HubSpot a cost-effective edge compared to Salesforce. While this plan does make HubSpot accessible to all levels of B2B business (including startups), HubSpot remains the most financially sound option even as you delve further into the five Hubs — as any company undergoing a Salesforce to HubSpot migration can attest.
With HubSpot, B2B enterprises gain a truly cost-effective CRM solution and work with the assurance that their investment will do wonders for their sales, marketing, and overall operations. At its core, HubSpot is built for the comfort of its users and works to ensure as many native functions as possible so that additional costs are only needed to scale the platform – not to make it function.
When it does come time to upgrade, you'll know what you're investing in. Transparency is baked into the HubSpot platform, and our specialists approach each opportunity to enhance your teams' experience by providing in-depth explanations of the different plan tiers and add-ons within the HubSpot ecosystem. You can count on your HubSpot implementation team to support you throughout the entire process of getting started on HubSpot, without the fear of continual backtracking and piled-on investments.
Cohesion & Collaboration
HubSpot has created an unrivaled customer experience by building all five HubSpot hubs as one product on one code base. The customer records your marketing team looks at are the same ones on your sales team's screens, and the service tickets your support team generates automatically appear in relation to the customer records your account managers live in. Different departments can speak the same language throughout any process as you scale your business to new horizons.
The Right Move for Your B2B Enterprise
For over two decades, Wendt Partners has paved the way forward to industry-leading growth for B2B enterprises. From the arrival of cloud-based CRM until now, we've evolved our processes to support today's demanding (and rewarding) sales and marketing pipelines. We believe wholeheartedly in the power and potential of a customized HubSpot software implementation — and as one of the few Elite HubSpot Solutions Partners in the country, we have the resources and expertise to show you the true impact of a consistent and well-orchestrated journey.
We're ready to put you on the path to organization-wide growth. The time is now — use the form on our website or give us a call to book a timeslot with one of our HubSpot specialists and get started on your Salesforce to HubSpot migration today.