The rise in popularity of cloud computing during the last twenty years has given IT professionals exciting new avenues to explore. Gone are the days of housing massive amounts of customer data on isolated client-server platforms — and along with that development came Salesforce, an innovation in cloud-based technology that took the world by storm.
But over the past two decades, since Salesforce first arrived on the corporate scene, the platform has also amassed inefficiencies that make any team member's daily usage difficult at best.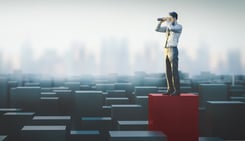 Nevertheless, many IT executives remain devoted to Salesforce as the biggest name in CRM software. How can a modern B2B enterprise avoid these setbacks while giving both their IT team members and their wider teams a digital environment that fosters both stability and growth?
This article will delve into Salesforce's longtime popularity with IT leaders, explore how the platform holds these experts (and everyday users) back, and lead your B2B organization to the optimal choice for IT departments and teams: HubSpot.
Breaking IT's Salesforce Chokehold
Salesforce arrived on the wave of cloud-based technology — and as such, many IT professionals often think of their own expertise and proficiencies as synonymous with Salesforce.com. However, the comfort that comes with exclusive use of any professional platform over time can lead to unproductive patterns and overlooked inefficiencies.
By and large, Salesforce users are unhappy with the site's performance and unable to manage their own sales pipelines independently in the day-to-day. Unfortunately, this reality — that Salesforce pigeonholes IT professionals as responsible for fixing ingrained system malfunctions that never end — has grown to become common knowledge and cause for conversation amongst team members.
A Frequent Misconception
Comfort with the way Salesforce operates can easily lead to a dangerous misunderstanding: that the platform's disconnected databases and faulty products are the only worthy venture for IT professionals. In reality, these seasoned experts deserve a career that leads to organizational success instead of filling potholes that shouldn't exist in the first place.
But if Salesforce is the only enterprise-level platform a business's IT team has ever used, there can be some qualms about starting over elsewhere. These experts in their fields need to know, with one hundred percent certainty, that HubSpot is developed enough to meet their exact requirements for data management, security, and protection.
How IT Professionals Become HubSpot's Biggest Fans
IT experts who work with B2B organizations that have begun their Salesforce to HubSpot migrations are often shocked by the ease with which they can achieve both immediate and long-term goals on the new platform. This is because — despite being a newer technology — HubSpot is far more well-organized, well-structured, and easier to troubleshoot than Salesforce.
"HubSpot's best-kept secret is its extremely robust IT architecture," says Doug Wendt, CGO and Co-founder of Wendt Partners. "And because of that, your focus as an IT professional undergoes a major shift: from fixing problems with Salesforce to enacting solutions with HubSpot."
It's time to move past a career of being pinned as responsible for getting an organization's essential processes to achieve basic application performance standards. With a HubSpot-focused enterprise, you'll be a vital resource in helping teams work towards change and innovation — both within their organizations and for the markets they serve.
"We have found to an overwhelming degree that once IT leaders get to know HubSpot, they become the platform's most powerful advocates," confirms Doug.
Everything IT Needs to Succeed
As B2B enterprises migrate from Salesforce and learn about the possibilities on the HubSpot platform, they will begin to set high-level marketing, sales, and general growth goals. In order to keep the platform running at top performance — throughout the Salesforce to HubSpot migration and beyond — it's crucial to have a knowledgeable team working closely with your IT leadership.
With the Wendt Partners Technical Solutions team, the IT side of each configuration is delineated and prioritized so that all of your concerns are addressed. We work side-by-side with IT professionals coming into the HubSpot fold for the first time and ensure they have all the essential tools they need, including:
SSO support to put sign-in in the hands of team members across the platform's many functions.

Snowflake data share integration for security and easy collaboration.


Data set creation and curation for enhanced organization of sensitive client information.
Programmable workflow automation that sets HubSpot above the rest in terms of performance and speed.
Learn More About HubSpot's IT Infrastructure
As one of the few Elite HubSpot Solutions Partners in the world, our experts possess an unparalleled understanding of the CRM problems facing many professionals today — and the steps to eradicate these obstacles. With each Salesforce to HubSpot migration we complete, Wendt Partners brings growth-driven B2B enterprises closer to their full CRM potential. We'll help you find built-in HubSpot solutions for each of the Salesforce products in your current stack, and integrate your processes with the platform designed for results without compromise.
Ready to get started in a digital environment that empowers – not hinders – your IT department and dedicated team? Contact us through our website or give us a call to tell us about your organization's goals and discover the world of HubSpot advantages today. And don't miss our next article, which will wrap up this comprehensive Salesforce vs. HubSpot series with an in-depth analysis of Salesforce's astronomical total cost of ownership (TCO) compared to HubSpot.