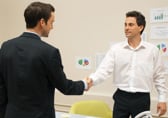 For many business owners, discussing their exit strategy for the company is as personally exciting as talking about death and taxes. Something about the term 'exit' seems to emphasize finality, and in some senses, fear. In addition, most CEOs are so busy running and growing their company that the idea of focusing energy on a future 'exit' feels like a non-urgent priority…for now.
Planning for Exit Means Planning for Growth
The great irony is that planning for business exit is, understood correctly, much the same as planning for business growth. The purpose of a successful business exit strategy is to maximize the value of an asset (your company) so that you can gain the highest possible valuation for that asset and end with enough funds to either retire or start another business.
Today, as more and more business owners are moving closer to retirement age, it is particularly urgent that all CEOs begin to address exit planning proactively, and consider it as a part of their business growth strategy. As the late Steven Covey said, "Begin with the end in mind".
One of the resources available to B2B companies is The Exit Strategy Handbook, authored by Jerry L. Mills, founder of B2B CFO (Available on Amazon.)
Mills opens the book by pointing out that 100% of business owners will exit their company at some point -- the only question is how that exit will go, i.e. whether it will be planned or unplanned; strategic or reactive; a success or a failure. The purpose of The Exit Strategy Handbook is to help CEOs prepare for an exit that will be planned, strategic and successful.
From there, the author emphasizes a series of priorities that all CEOs should begin working on immediately in order to prepare for a successful exit. The first of those is to improve the value of the business, and the second is to improve the efficiency of the business as well. A high-value, high-efficiency enterprise is one that is well on its way to achieving a successful exit.
The Ingredients for a Successful Exit
Going forward, The Exit Strategy Handbook provides a highly readable and clearly organized approach to preparing a business for successful exit, including:
Understanding the types of buyers
Building a successful exit team
The realistic value of your business
Increasing the value of your business
Preparing for the future buyer
The handbook proceeds with a full collection of checklists, covering everything from management and operations, to employees and vendors – and from finance and inventory to marketing and sales – eighteen checklists in all.
Although some of the checklists could go into greater depth (some of them are covered in as few as four pages), the book's core commitment to checklists as a central organizing principle is absolutely necessary and provides a reference source that CEOs can review and utilize consistently in order to stay on track.
Building Value, Avoiding Distraction
In fact, Mills quotes Gorden Segal, founder of Crate & Barrel, who indicated that the single greatest problem entrepreneurs face is becoming distracted. In a sense, then, Mills structured The Exit Strategy Handbook so that it would be as effective as possible in helping its readers avoid distractions and stay 'on-task' to the end.
In addition, the author's commitment to the question of how to increase the value of the business -- not just how to prepare for the exit event itself -- demonstrates perhaps the book's greatest advantage as a resource for all B2B CEOs. In fact, the first 75 pages are entirely dedicated to a discussion of business value -- what it is, what it takes to create it, and what you can do to increase it.
Building business value is truly the 'secret sauce' for a successful exit, and it is a discipline that must be embedded in the DNA of a B2B company by its CEO every day. Increasing business value means, in a nutshell, committing to business growth and supporting that growth with investments in infrastructure and innovation that create value for the company, its customers and its markets.
If you are the CEO of a privately held B2B company, the Exit Strategy Handbook can help you begin to refocus your strategic thinking on business growth and business value in ways that will help you prepare for the exit experience, and strengthen your company on the journey as well.
Image Credit: Victor1558 @ Flickr (Creative Commons)