Genius solutions developed by engineering and manufacturing companies compete to get noticed, especially if you're positioning your unique product or service against an established leader. Each competing solution generates marketing buzz, white papers, and a heavy amount of noise to attract buyers' attention.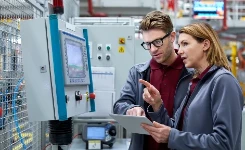 As an introduction to how Wendt Partners helps challenger brands like yours gain ground against established brands, we'll share the needs, challenges, and opportunities that lie at the heart of the battle for B2B attention, starting with the most significant challenge:
Buyers gravitate to The One, Safe Purchase unless there is an identified, imminent need for change.
Wendt Partners has developed a unique Business Growth Stack model for our manufacturing and engineering clients poised to dethrone The One. But leveraging the power of that model starts with understanding why your targeted companies make "safe" purchasing decisions.
Tech Space Purchasing
The average corporate purchasing decision-maker wants to know that once they've made a purchasing decision for goods or services, their choice will:
Get the job done.
Be adopted by the entire department or company.
Provide exceptional customer service and support when you or your customers have questions
Buyers notice costs, but pricing may not affect how they perceive value. Unlike B2C purchasing, buyers fill orders based on identified problems and solutions. However, just like B2C purchases, buyers and their companies want to solve the issues that keep their CEOs awake at night. In other words, you need to show how your product is uniquely effective compared to the market share ruler you're attempting to dethrone.
Challenging the Status Quo
To break through the barriers set up by The One, your challenger brand needs to convince a buyer that:
You understand their business problem or need.
You have a solution that matches their demand or solves their situation better than The One.
Identifying real needs and problems is the secret sauce for challenger brand growth. Challenger brands need to successfully show that their offer, product, and software solutions match the quality, ease of use, and feature set of the established brand competitor.
It's helpful also to have a differentiator that entices prospects to try something new – and a clearly defined path for clients to easily migrate into new systems and software. Education is key to easing both data transition and the human learning curve involved in switching to the challenger brand's solution.
How Wendt Partners Helps Challenger Brands Grow
Wendt Partners helps challenger brands communicate with their prospects, increasing buyer confidence by reducing risk. We meet their needs through a detailed inventory of their plans, processes, and potential. Our approach enables companies to develop a strong brand position and helps them strategically package products and services. Our clients learn ways to:
Overcome the reluctance of risk-averse buyers.
Increase confidence that purchasing from our challenger brand client is a good, sound decision.
The B2B Growth Stack
How we guide our challenger brand clients through this process is rooted in our comprehensive approach unique to Wendt Partners - the B2B Growth Stack. Our method integrates all five essential building blocks for business growth, especially when facing the goliath-like competition in your category, The One.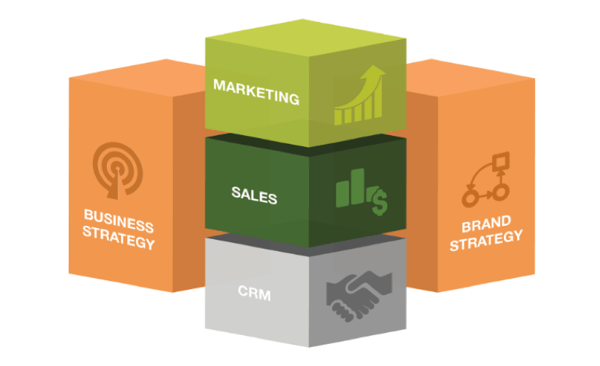 In the world of B2B business growth, our model consists of five elements. Two strategic pillars, business and brand strategy, create the frame that holds everything else together. Stacked between these pillars are three execution layers: marketing, sales, and customer relationship management. Each pillar and execution layer is further broken down into components. Agile and Iterative project management perspectives, uniquely suited to manufacturing and engineering clients, guide our work to build challenger brands into successful competitors:

Business Strategy contains layers that clarify objectives, evaluate business model effectiveness, and examine target markets. These layers depend on clearly defined products and services offered to identified customer segments.

Brand Strategy looks at the challenger brand's vision and promises for the present and future. Wendt Partners visualizes their ideal buyers and hones and sharpens value proposition and position messaging to these target audiences. In competitive benchmarking, we research established competitors for the strategies, practices, and services that provide a framework for reference for our client. We identify those competitor strategies, methods, and services and benchmark our challenger brand clients' performance to their category.

Sales involves examining how our challenger brand clients generate and nurture leads, and we look at how leads move through CRM channels into the sales pipeline.

Customer Relationship Management examines the critical layer of information that fuels sales efforts: our clients' business relationships, contact sources, and purchased list data. Once we review our prospects, we go to work helping refine or redesign prospect profiling and help establish target accounts.

Marketing focuses on the foundation of clients' brands, going beyond traditional inbound and outbound marketing to build a robust digital, content-based presence. We establish marketing channels, find potential partner marketing opportunities, and empower our clients with public relations knowledge.

This multi-pronged approach examines vital questions connected with each pillar and execution layer. We systematically ask questions about these areas in a purposeful order so that each area builds upon the other. The result? A cohesive strategy for business growth that aligns every aspect of your business.
Exploring the B2B Growth Stack, In-Depth
In our next articles, we'll explore each of the B2B Growth Stack areas and see how they interconnect for businesses in the manufacturing and engineering industries selling into the tech space.
Getting More Information
Contact us today and learn more about Wendt Partner's innovative approach that has helped our manufacturing and engineering lighthouse clients develop personalized playbooks. Our clients have success stories that we would love to share with you.

During our 15 to 30 minute appointment, we'll introduce you to our approach to business growth and explore how we can collaborate to increase your market share. Schedule your appointment by clicking here.