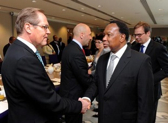 You're the CEO or a senior executive with a growth-driven business-to-business company, and you are committed to achieving new revenue and market targets for your firm. You've decided to retain an outside consultant to help you develop the strategy and pursue change. Now, you just need to determine how to select the right firm to partner with. This article, the second in a two-part series, gives you four key factors to consider in selecting the right B2B business consultant for your company.


NOTE: This article covers four additional factors in selecting the right business consultant for your company. To read the prior article covering the first four, read How to Select the Right B2B Business Consultant [Part 1].

Continuing on our themes from the first article -- the overall goal here is to find the right fit between the business consulting firm and your company. The following are four additional factors you can assess to ensure the right fit for your business, your goals and your intended direction:
5. Make Sure the Consultant Will Help You Execute, Not Just Plan
Many consulting firms are staffed with purely business analysts or advisors. These professionals are valuable resources, but their approach represents just half of the equation: recommending a specific strategic direction. The problem is, their engagement wraps up and they leave…just as you have to determine how to implement the changes you've decided to pursue. Who will communicate the new strategy internally? Guide the new market entry you've decided on? Ensure that the executive team stays on-track with the new approach?
If a business consulting firm doesn't provide support for execution, the relevance of their services is severely limited because they can make recommendations that sound good 'on paper' but may be nearly impossible to implement. By choosing a consultant who can and will assist with execution, you ensure that everyone is grounded in reality and committed to achievable outcomes.
6. Seek a Firm with Expertise in Your Industry, But Not Only Your Industry
It stands to reason that if you lead a professional services firm, it would be beneficial to choose a business consulting firm that offers expertise in professional services. Surprisingly, many executives tend to hire consultants without consideration of this important point, focusing purely on the firm's list of capabilities or services instead. Regardless of what you hear, the fact is that business-to-business (B2B) is a unique field, very different from business-to-consumer (B2C). So you need a firm with specific B2B expertise. So it is essential to find a firm that effectively serves your market.

By the same token, a firm that only serves your narrow industry sector is a risky choice for three reasons. First, firms that micro-target tend to get too comfortable with the culture and assumed standards of the industry they serve. Second, it's too easy to 'template' the work since you've decided to work with just one specific audience. And third, a micro-focused firm can't bring ideas and insights from other industries to bear. So you need a firm that is a B2B specialist, but not one that, for example, only serves law firms -- unless you want to do business like every other law firm and do nothing meaningful to differentiate in the marketplace.
7. Ensure that They Offer Comprehensive Content and a Clear Methodology
You're hiring a business consultant for their expertise, and business consultants are knowledge workers. Therefore, it makes sense that your B2B business consultant should offer a wide range of information, ideas and resources that you can review and utilize, both before and after you sign the contract. And yet, a great many business consultants sell based purely on their resume and lack any sort of commitment to market education.
Okay, so you were a VP at a series of major companies in my industry – so were a lot of people. Can you write, though? Do you have fresh ideas? How well do you communicate? What is your unique approach? What consulting methods do you utilize?
A professional business consultant should maintain a blog with regular, strategic content on B2B growth; white papers, eBooks, guides and other resources that CEOs can use to make decisions; and videos and media content. The firm's senior strategists should also be well-regarded public speakers and presenters. These attributes demonstrate that the firm is actively engaged, not just resting on its laurels -- and they enable you to learn about the firm's approach in-depth.
8. Search for a Firm with Transparency and Depth in Client Relationships
If you've wondered why some consulting firms list their consulting clients as "$5M industrial company" or "$15M Midwest professional firm" rather than by name, your concern is justified. We all recognize that there may be the rare case in which a client needs confidentiality – such as a company about to go public, or a firm hiring counsel for an emergency turnaround. And we also know that what a consultant produces for their client is confidential, i.e. their recommendations and client-specific strategic deliverables.
But to determine if a firm is a good fit, you need to know with whom it fits well. Professional, high-quality B2B business consultants will provide a comprehensive client list; publish regular and detailed client case studies; document their impact in result summaries and other resources; and showcase client testimonials.
At Wendt Partners, for example, we also profile select client company executives in detailed CEO Profile interviews, providing deep peer-to-peer insights that help demonstrate the value of the consulting relationship in the context of the individual companies.
Moving any B2B company forward is a daunting task, whether it's a funded startup, growth-stage firm or a mid-market enterprise. Bringing the right business consultant to the table can help you assess, plan and execute successful change. Use these key factors to help you find and choose the best B2B consulting partner for your company.
Image Credit: govza @ Flickr (Creative Commons)