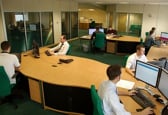 The professional services industry is a highly complex and rapidly changing sector. As the principal, senior partner or CEO of a business-to-business professional services company, you're constantly looking for new ways to enhance growth and build new revenue streams, whether you lead a staffing company, insurance firm, outsourcing provider, property management company, HR services firm, IT systems integrator or an A/E/C business. Working with a B2B business growth consultant, you can drive new revenue by focusing on these priorities:
Integrate Your Firm Around Client and Market Needs
The traditional approach to building a professional services business is to organize and manage the firm around the technical focus areas you develop in order to meet client needs. If you run an IT firm, this might mean that you have a practice lead (or partner) leading the desktop practice; one leading the server group; one focused on networking; and another handling databases. But today, there are two alternate approaches that should both be considered: market-based strategies and solution-based ones.
Market-based strategies mean that your expert in healthcare network topology, your developer who has worked on patient-facing tablet applications and your desktop maintenance leader who understands the safety and compliance requirements of computers in the patient care environment, are all placed on the same team. Build teams and practices around market needs, not functional silos.
Another model to consider is to organize around technology or solution strategies. In the IT case, that might mean creating a new group that focuses on end-to-end cloud solutions, including databases, applications and remote user integration.
Harness Your Employees as Growth Strategists
In the professional services sector, it's your employees who deliver the solution that the customer purchases. That's why your employees represent your greatest untapped or underleveraged strategic resource. Employees are the face of your firm to current accounts, and a renewed focus on account development and retention is an excellent first step. More than 85% of all professional service firms report that a high percentage of their clients do not utilize all of the services the firm offers, in part due to the 'tunnel vision' that develops in most client relationships.
In addition, your employees are in the field hearing and observing what clients are talking about, worrying about and planning for. Solicit their insights, ask for their thoughts on what and is not working, and commit to re-engineering your service offerings accordingly.
Use Technology to Gain a New Position in the Marketplace
Historically, professional service firms have thought of software as a tool that they use to manage client deliverables, project management and accounting, or (if they are technology companies) as the product they install and configure. Today, however, cloud-based platforms can become game-changers that improve, tighten and reposition client relationships.
One payroll company developed a customized cloud platform that extended their traditional payroll data and created an end-to-end human capital management (HCM) system. This set the stage for the rollout of new service offerings connected to other areas of the HCM process.
An architectural firm used a new, web-based application to provide renderings layered in with actual site photos and various options to create a completely different client decision-making process that combined visual comparisons with construction and maintenance costing reviews on a side-by-side basis. Later, the technology enabled the firm to expand its design services into new verticals that would benefit from the updated approach.
Professional services firm leaders have a powerful opportunity to drive growth through strategic focus, new services and an integrated, client-facing business model. By working with a B2B business growth consultant, professional services firms can achieve their long-term growth objectives and build the pathway to sustainable success.


Image Credit: dmhunt @ Flickr (Creative Commons)