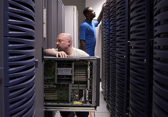 Perhaps no industry has changed more in the last ten years than information technology (IT). Companies that were providing Windows 95 desktop support and local-area network (LAN) upgrades are now in the midst of cloud migrations and questions about bring-your-own-device (BYOD) policies. For competitively-minded IT firms and their CEOs, working with a B2B business growth consultant can empower them to drive growth in new ways, when they focus on the following priorities:
Transition Your Team to Proactively Address Client Needs
In the traditional world of IT business, the client signs an agreement for services to be delivered or products to be installed, and then the vendor completes the work. In reality, your firm's clients today are confused and looking for guidance.
When your technicians, installers and implementers are on-site, what are they doing to look for client needs, concerns or opportunities? Installing new printers at a district attorney's office could reveal the need for better case management software. Upgrading the automation network in a small factory could lead to an opportunity for enhanced supply chain systems to drive better material planning. The point is, your people are there and in a position to have the conversation – or at least start it.
Rethink Your Service and Support Business Model
If you've been presenting your services by functional silo – servers, desktops, systems, databases, applications – you're letting the future of IT pass you and your company right by. This is the old model of information technology, built around the way IT professionals themselves look at the world. Today, the incursion of the cloud and the demands of user-driven changes such as BYOD are leaving more and more companies in need of an end-to-end IT strategy, even small ones.
Are you bundling network protection or cloud transition into your service offering? How about redundant systems or new software integrations? Have you crossed the Rubicon between systems and applications? By developing new options based upon business requirements rather than functional divisions, you demonstrate competence, add value and increase margins – as well as reducing your operating and service delivery costs by standardizing clients on a preconfigured architecture.
Examine Your Vendor Relationships and Client Market Verticals
Many IT companies have built their business as value-added resellers (VARs) for specific vendors. One company is the Microsoft Dynamics specialist and another is the Cisco networking expert. A third firm provides support for Mac-based workplaces and yet another exclusively delivers cloud applications.

Today, that's all changed and customers need complete market-specific solutions that are more likely to be multi-vendor or vendor-independent, and tailored to their needs. They also need far more strategic guidance in the form of fractional or outsourced CIO/CTO leadership and IT assessment and workflow/process evaluation. This also positions your firm to increase high-value services work and become less reliant upon baseline maintenance and install work.
The CEOs of progressive IT firms have a unique opportunity to drive change in the industry and meet the needs of increasingly complex verticals by combining systems, vendors and strategies to create powerful solutions. Working with a B2B business growth consultant can enable you to achieve these changes while you also build the infrastructure within your company to drive new growth.

Image Credit: argonne @ Flickr (Creative Commons)