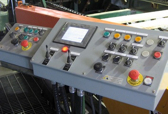 Industrial business owners and CEOs need to focus intently on responding to changing market conditions as they seek to achieve sustainable growth in their business. Industrial buyers and users require tight adherence to ever-changing specifications, demanding product lifecycles and high up-time reliability. A professional B2B business consultant with expertise in driving growth can help you find new revenue through effective strategies tailored to the industrial marketplace, including these:
Taking a New Approach to Industrial Market Education
Whether you provide subcomponents that are specified by OEMs, complete systems purchased by end-users, or authorized maintenance and repair (MRO) parts and services, now is the time to rethink your market education model. Specifying engineers, project managers, purchasing agents and system managers are making decisions differently today than before. And many of them are younger and more likely to think afresh about how to specify or select industrial solutions.
That's why you need to engage your customers and prospects in a more sophisticated and social effort than you have in the past. This requires breaking down the barrier between sales and marketing; creating new opportunities to highlight, profile and partner with users; and develop new information and insights that will drive better buyer decisions. Your business growth consultant will help you assess the market, examine competitors, get to know prospects and evaluate options before devising a specific strategy that will work for your industrial business.
Enhancing the Product and Service Offering
Has your product development effort become stale? Are your engineers solving yesterday's problems, rather than planning for tomorrow's opportunities? Are you launching product updates that your team thought were revolutionary until you received a lackluster response from the market? We live in a world where the focus is on efficiency and effectiveness – how can we do the job better, faster and at a lower total cost than before?
Your strategy can shift effectively in a more progressive direction through a rethinking of your product and service portfolio. You may be focused on a longstanding OEM relationship but missing an emerging opportunity that could radically leverage your products. Maybe your team is pursuing projects with an outdated model that doesn't emphasize stronger differentiators and more compelling effectiveness data. It's essential that you gain the fresh perspective of a business growth consultant so that you can see things from an outside angle and reshape the product or service portfolio to meet the customized needs of new market niches.
Researching, Selecting and Pursuing New Markets
Once you've crafted a stronger product or service portfolio, it's time to align it with the potential benefit of serving new markets. A business growth consultant will perform extensive external research, helping you consider domestic and international opportunities; new potential partnerships; emerging use cases and applications; and additional channel options. Also possible is the pursuit of growth through acquisition or merger where outstanding synergies can result.
Business Growth in the Industrial B2B Sector
Whether your company produces SCADA systems for industrial automation; make-to-order components for medical devices; PCB connectors for sensitive electronics; vacuum machines for municipal street maintenance; or aerospace guidance technologies – you need a partner who understands and can work effectively in the unique and rapidly changing world of industrial systems and solutions. Business growth in the industrial world requires a reliable brand message, a comprehensive approach to product engineering, and the powerful backing of your entire team.
If you're ready to learn more about how you can drive growth in your industrial business, please download our free 64-page guide to B2B business growth below.
Image Credit: JDouglas @ Flickr (Creative Commons)