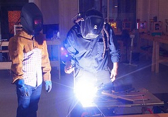 The manufacturing industry is as challenging today as it has ever been. Material and transportation costs continue to rise. The pool of available, trained and experienced labor for many manufacturing jobs continues to shrink. Taxes and fees on facilities, materials and transactions eat at profits. And competition (both onshore and offshore) is growing. In the midst of this, nimble and proactive CEOs in the manufacturing industry can find new opportunities by partnering with a B2B business growth consultant on the following priorities:
Evaluate Your Infrastructure and Capabilities with Fresh Eyes
Whether your company is a make-to-order job shop for the aerospace industry or a designer, developer and manufacturer of commercial off-the-shelf instrumentation, it's time to take a fresh look at your business by examining your core strengths. The unique mix of intellectual property, manufacturing know-how, capital equipment and trained staff you have can lead you in new directions and toward future opportunities.
One company that specializes in plastic injection-molding identified unique market niches for products in the healthcare space that were ideally suited to its manufacturing engineering expertise and production capabilities, and launched a series of new product lines into select markets based upon that analysis. Another company whose core team spent years perfecting a unique resin for a customized in-house product line realized that they could market their capabilities to non-competing market segments to solve problems in sectors ranging from vertical transportation to foodservice.
Understand and Leverage Your Strengths in Adjacent Verticals
If your company is manufacturing components for the video industry, consider how minor modifications could enable you to enter the mobile communications sector. Or how you can integrate your technology with other off-the-shelf products and create a delivery system for patient information in hospitals. Integration plus capability is what results in competitive advantage.
One firm that started in the assembly of custom television display systems ended up in the growing veterinary media industry by integrating IP-based transmission; digital information channels; a custom web application that runs on HDTVs; and an advanced, self-managing set-top box. Remember, you never know what opportunities will arise for your unique capabilities – the key is to constantly examine new verticals and business cases for future options.
Add Value By Integrating Manufacturing with Related Disciplines
In addition to combining products to create new solutions or entering new verticals with existing ones, you can also expand your capabilities to improve value to your customers. One company that started as a traditional industrial automation distributor added two pieces of equipment and a part-time design engineer, and ended up creating custom interface modules that dramatically increased profit margins. Another company in contract manufacturing repositioned its design and manufacturing engineering teams to become an expert in developing and testing custom tooling. And yet another firm added packaging and select 3PL services to provide its customers with an end-to-end solution that increased integration with the OEM client.
Manufacturers have a great many opportunities to drive growth and expand into new markets by applying innovative thinking to their business and finding new opportunities for growth. To achieve this, they can partner with a B2B business growth consultant to ensure that their vision is pursued and goals are achieved to drive sustainable opportunities for the future.
Image Credit: bekathwia @ Flickr (Creative Commons)