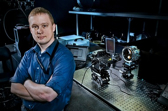 The technology sector is undergoing rapid change, and it is challenging for many companies to maintain a strong market position while also identifying and pursuing new directions. By sharpening their focus and defining new opportunities, technology companies working with a B2B business growth consultant can achieve and sustain new revenue by focusing on these priorities:
Connect New Innovations Directly to Real-World Problems
New technologies are always challenging to introduce. After all, Google just had to retrench and re-educate the market about the myths and realities surrounding Google Glass. This is because without a clear connection to specific use cases, most technologies will be interpreted inside of a constantly shifting perceptual frame buffeted by the issues and crises of the day.
Whether you're a leader in optoelectronics, the creator of a new network cybersecurity technology or a developer of cutting-edge dielectric and electrolytic papers, you'll benefit from breaking the capabilities of your solution offering down into industry-specific and even workflow-specific examples that clearly showcase not only the capabilities of the solution, but also the ease with which implementation can be accomplished.
For example, one company focused on applying electronic content management (ECM) systems to the institutional pharmacy sector walked through a step-by-step process of demonstrating how employees would experience the new solution (which would replace paper workflows and reams of faxes) in order to allay fears about installation, adoption and the ultimate ROI that could be achieved from the change.
Develop Dedicated Nomenclature to Educate and Engage New Markets
The line between a valuable new concept and a meaningless buzzword is a thin one. Sprint tried for years to encourage market adoption of the phrase "personal communication system" to replace "cell phone" in recognition of the enhanced capabilities of smartphone technology, all to no avail. By the same token, new and appropriately updated terminology has radically altered the landscape in the world of work, as seen in the example wherein the dated concept of 'telecommuting' gave way to the evolved strategy behind 'co-working'.
The key is to use language in meaningful ways that are easy to understand and connote more positive outcomes. If your company provides manufacturing process control systems, it may be appropriate to educate the market in how intrinsic safety solutions can be far superior to explosion containment. This is just one example of a case in which language is essential to demonstrating the value of a new technology.
Create Demand by Taking a Different and More Focused Approach
Sometimes, the front door is not the best entrance to an emerging market opportunity. One company that was developing a best-in-class system for eHealth integration realized that it would be difficult to go head-to-head with a handful of global players chasing the market for large practice groups and hospitals. So they decided instead to pursue small practices with a subset of their offering, solving just one key problem rather than ten – and enlisting early-adopters to present on a peer-to-peer basis. The result was successful implementation with a user base that larger firms had considered impossible to penetrate, and ultimately, successful acquisition by an industry leader.
It's clear that technology companies possess enormous opportunities to create new markets, enter additional niches and drive organic growth. Partnering with a B2B business growth consultant provides the strategic expertise and outside support necessary to ensure that new strategies achieve your growth objectives.


Image Credit: gsfc @ Flickr (Creative Commons)