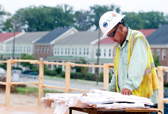 The construction industry faces intense competitive pressures and a rapidly changing market environment. Increasing project complexity, ever-shifting financing and mounting project requirements further complicate the challenge facing those in the sector. However, a strategically focused construction firm can partner with a B2B business growth consultant and achieve lasting growth, by focusing on these priorities:
Deepen Your Domain Expertise and Niche Focus
Commercial and institutional construction is not a one-size-fits-all industry, and each sector's needs are unique and demanding. Have you developed a deep practice knowledge with healthcare facilities, and know how to address the complications and challenges of building patient care structures that are highly regulated, technically detailed and loaded with piping and custom conduit? Is your team uniquely aware of how the varying missions of different church denominations lead to specific building requirements for new religious structures? Have you worked extensively with certain franchise companies, building standardized structures on complex lots to meet brand and cost requirements?
Enhance Expertise with Materials, Methods and Systems
Many construction companies possess specific market or domain expertise, but they don't organize, promote and educate the market about their knowledge in these areas. Remember, the time to reach prospects is before they are putting the finishing touches on the RFP. That means talking with them online and in person well before that point, by providing useful information.
For example, warehouse developers need to consider the advantages and disadvantages of tilt-up construction vs. traditional masonry. School districts and universities need to evaluate how to meet not only architectural goals -- but also maintenance, programming and building life-cycle requirements for new structures. If your firm has worked extensively with a specific technology such as pre-engineered steel, or has met or exceeded specific standards such as LEED construction, consider how to educate and engage the market with your knowledge in those areas.
Widen Your Capabilities to Align with Client Needs
From general construction to design-build to integrated program and construction management, companies that provide clients with multiple methods of achieving their project goals are those who will win in the marketplace. Construction management shows that your firm is committed to balancing business objectives, project costs, life-cycle objectives and final outcomes.

Design-build reduces the risks associated with multiple parties at the table and results in greater efficiencies when a highly qualified firm takes the lead. All of these options place your firm in a closer, more strategic relationship with the client and enable you to engage them in a broader discussion about their strategic objectives. The project for a mid-rise office building being built by private investors may be a completely different project than one for the same kind of structure being developed to centralize disparate offices of a nonprofit organization.
The evidence is clear that firms who focus on strategy, market needs, delivering expertise and educating clients on multiple pathways to successful outcomes are those who will be able to support sustainable growth in a complex environment. Working with a B2B business growth consultant can empower you to lead your firm into the future with a clear eye on the internal changes and external communications necessary to successfully execute a strategy for lasting growth.
Image Credit: usacehq @ Flickr (Creative Commons)