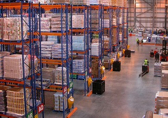 Companies serving the distribution and logistics marketplace – from warehousing and wholesale distribution firms to third party logistics (3PL) providers, distribution and logistics park developers and trucking/transportation companies – need to adapt to the changing supply chain business environment in order to complete. Working with a B2B business growth consultant, distribution companies can enhance their competitive opportunities by focusing on these priorities:
Move Beyond Traditional Positioning Strategies
In the distribution industry, most firms have historically focused on a traditional positioning model of having the most products for a given market's needs, available at the best price and in the fastest timeframe. Ironically today, those are the baseline elements necessary to get to the table, and no longer sufficient to win at the big game.
Instead, consider ways to become the market leader in a specific niche or, even better, for a specific kind of buyer. For example, one independent regional lumber and home products company decided to stop focusing on both the retail consumer and the contractor as well. Instead, they centered on the contractor and decided that rather than making their store as easy to visit as possible, they'd go one step further and move their expert sales and product experts into the field, meeting contractors on-site to specify and select the best solutions for their projects.
Add True Value Through Your Value-Added Services
Every company cannot be good at everything. However, you can be the best provider to your target market segment in part by providing true added value in your business partnerships. If you're going to offer co-location services as part of your 3PL company, consider integrating forward and reverse logistics more efficiently to drive greater speed to shelf and better cost-savings.
If you're focused on labor-intensive services like sort, containment, inspection, rework and assembly or packaging, develop and integrate your own systems and procedures to enable your front-line employees to operate more proactively and save the customer money while improving business results. Remember, your goal is not just to deliver high-quality services in accordance with your contract; it's to solve a business problem today, and create new solutions to business problems for your clients tomorrow.
Become An Innovator In One Aspect of the Supply Chain
Supply chain strategy, technology, training and integration is an enormously complex field, and this gives you the opportunity to become a true innovator in ways that can advance your business years ahead of your competitors. Can you develop a customized module for your WMS that integrates real-time tracking of shipments across multiple carriers? How can you integrate new decision-support systems to instantly choose the best over-the-road option to reduce costs and increase success? What training models can you enhance that will better integrate your customer's team and your own to increase the seamless workflow and drive deliveries?
Proactive, integrated, value-added, technology-driven and people-centered – these are the best practices that can create powerful and competitive enterprises in the distribution industry. Working with a B2B business growth consultant can help you evaluate new opportunities, new markets, new sites and new solutions to expand your business and build for the future.


Image Credit: nsalt @ Flickr (Creative Commons)