If you're a B2B business owner, you know that your long-term success depends on your ability to secure clients faster without compromising service quality at each stage of the sales cycle. Luckily, today's B2B landscape is home to groundbreaking new software tools that simplify this process from lead generation to deal closure. When sales teams are onboarded by the resident experts in these powerful tools, they can be confident in their newly-adjusted path to a friction-free customer relationship pipeline.
Welcome to the fifth installment in our series guiding CEOs in choosing features that elevate their sales acceleration efforts. In this article, we explore HubSpot as the platform of choice for B2B organizations looking for opportunities to shorten time-to-close throughout the sales cycle.
Streamlined Sales From Start to Finish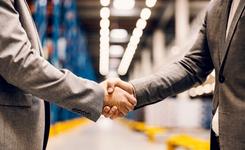 Rather than parceling individual sales functions out across a wide range of conflicting platforms, B2B companies that utilize HubSpot can find everything they need in one easy-to-use CRM tool. By combining marketing, sales, and advertising under one roof, HubSpot's interface makes good on its mission to scale and develop B2B companies across the board. Users can efficiently attract new visitors, monitor lead generation efforts, convert leads, and follow contacts through their buyer's journey.
HubSpot's dedication to growth is proven through consistently positive feedback from industry-leading companies, including Berk International, the leading U.S. manufacturer of innovative wiper solutions. Berk, and so many others, have been able to free up administrative time to spend on vital business development ventures by expediting each stage of the sales cycle. Read on to learn more about HubSpot's robust tool catalog that makes this possible.
Prospecting and Creating Valuable Connections
A significant amount of overall sales friction comes from challenges that arise in the very first stage of the sales cycle, according to a recent study conducted by HubSpot. Prospecting can be a time-consuming process when team members are not equipped with the tools needed to quickly generate and vet leads.
One way to simplify the prospect search process is to leave client information collection to another capable source. AI technology is integrated through almost every aspect of HubSpot CRM. Team members can rely on automatically-populated contact properties to save time when making first contact with each lead. As a result, they always know how to best connect and interact with the appropriate parties at the start of the sales cycle.
Engaging Clients and Presenting Next Steps
Once you configure automation based on the lead's provided information, HubSpot sequences make sure no communications slip through the cracks so that the ball is consistently in the lead's court to respond and move each deal forward. Team members can enroll and unenroll prospects in bulk based on the nature of their interactions. Sequences can also be paused at any point in the sales pipeline to ensure that sales reps can override automation when necessary and offer each lead an experience that is the most conducive to deal acceptance.
Additionally, being able to work on the go creates a more efficient pipeline unencumbered by technological delays. HubSpot's mobile app allows for sales team members to make additions to contact information at every stage of interaction, no matter their location. Wendt Partners clients who had previously relied on non-automated spreadsheet software and painstaking manual email outreach find this addition to the HubSpot tool library invaluable to their overall efficiency.
Reaching a Smooth Close
When it comes time to close a deal, you'll want to work quickly to ensure that you stay at the top of each lead's priority list. Drawing up contracts has never been easier with HubSpot's customizable quote features and proposal templates. As a fundamental CPQ addition, these tools ensure that every offer is delivered professionally and with the highest possible chance of successful deal closure.
Flawless HubSpot Integration with an Elite Partner
Among the 6,000+ B2B companies that currently implement HubSpot software, about 50 Elite Partners make up the top bracket. This outstanding tier is populated solely by renowned thought leaders in B2B sales strategy who continue to innovate and make sustainable growth possible for their clients. Wendt Partners is proud to be recognized in this category and uses its accumulated expertise in HubSpot integrations to assist B2B businesses throughout the technology, professional services, and industrial sectors.
"Our Elite partner status is recognition of the fact that we bring an unparalleled level of expertise and innovation to what we do," says Doug Wendt, Chief Growth Officer and co-founder of Wendt Partners. "Our clients can see that from their elevated sales processes, and they consistently report positive feedback. Our team will continue to leverage HubSpot's industry-leading tools to keep it that way."
HubSpot is seamlessly integrated into Wendt Partners' groundbreaking B2B Growth Stack model, which develops each client's business strategy and brand strategy by up-leveling sales, CRM, and marketing techniques.
Begin your B2B sales development journey by scheduling a growth assessment call with Wendt Partners today and getting in touch with a representative to discuss your expectations for the coming months. Don't forget to keep an eye out for the next article in our sales acceleration series, where we'll go more in-depth on optimizing the closing process with HubSpot CPQs.
Image Credit: iStock Photo