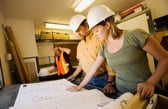 The civil engineering field today is as demanding as it has ever been, thanks in large part to dramatic shifts in project parameters and changes in the financing environment. In addition, increasing attention to environmental footprint, long-term maintenance costs and changing requirements during the lifetime of a structure demand more attention. Partnering with a B2B business growth consultant can enable your firm to overcome these challenges and position for new opportunities, by focusing on these priorities:
Bring Engineering Thinking to the Business Side of the Project
Whether you are a project lead engineering prime responding to a full developed RFP or an MEP consulting engineer meeting proactively with a prospective client before a project scope has been completed, your firm has the opportunity to shape thinking about the business goals of the project. If you are competing for a turnpike bridge project, consider how the public authority's charter and the long-range master plan for the asset may suggest future changes to the bridges, land use factors, traffic levels or modes, and other considerations.
If you're working to secure work with a private, for-profit hospital operator, examine the regional geographies and site challenges they may face, and position your firm's capabilities around minimizing site-specific problems or community approval issues, or improving the reliability and flexibility of building units to meet changing market needs. For example, a engineering and construction for a community hospital serving a catchment area of 250,000 rural residents of whom 75% are over 55 and the facility will be a primary care center, is a very different application than that for a community hospital serving 1.2 million suburban residents of whom 25% are children and the facility is in a highly competitive market for key services.
How can your engineering firm uniquely meet the business needs of these clients, while supporting their project objectives and budgets? The more of a business case you present, the stronger your position in the marketplace.
Build New Service Lines to Shape and Advance Outcomes
One way to build a better market position is to expand into new practice areas that grow your strategic footprint. If you do a lot of work with municipal governments, consider adding a community and regional planning practice group. Deal with lots of nonprofit clients and quasi-public authorities with complex public engagement needs? Provide community engagement and sustainable design. Looking to help clients shape better long-term strategies for facility requirements and future engineering needs? Develop a master planning and strategic facilitation service area.
Evaluate Your Business Model to Improve Revenue Opportunities
Many engineering firms quickly develop a wide range of practice groups to respond to the complex needs of their customers. As a result, the organizational chart of many firms (and the legal structure and shareholder capacities of the firm as well) tends to go from a single founding CEO directly into these functional categories, with a practice leader (and probable shareholder) for each one. That's one chief for structural engineering, another one for bridge engineering, another one for water and wastewater, another one for road and highway engineering, another one surveying.
The result in many firms is a completely convoluted business model in which each practice lead views his or her area as its own business – rather than being engaged in the strategy of the overall firm. In fact, many engineering firms find themselves functioning more like a loose alliance of five to fifteen different fiefdoms, each less interested in the kingdom than in its own growth and progress.
This results in a laundry list of political disputes, a cavalcade of missed opportunities, and a complete lack of cooperation when it comes to taking a holistic approach to sales and relationship development with the end customer. It's time for engineering firms to rethink their business model and leadership strategy, and reward executives for their contribution to the whole, not just their performance of the part.
Each of these strategies can provide dramatic growth opportunities to market-driven civil engineering firms who want to sustain future expansion and create better synergies within their teams, while successfully converting new opportunities into loyal customer relationships. Working with a professional B2B business growth consultant can enable the firm's principals to achieve these changes in an organized and ultimately effective manner.


Image Credit: myfuture @ Flickr (Creative Commons)