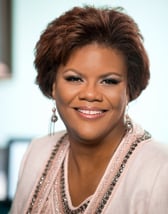 Wanda Alexander is an accomplished executive leader who built Horizon Consulting Inc. from a small consulting firm into an Inc. 500 award-winning enterprise operating nationwide while bringing technology, talent and cutting-edge expertise to the residential real estate industry. We sat down with Wanda to learn about her business acumen, life experiences and vision for the future.
WP: Tell us a little about yourself and your professional background.
WA: I am a native Washingtonian, a product of the D.C. and Prince George's County public schools and a graduate of the University of Maryland College Park. After spending 15 years working for two private entities and gaining a myriad of experience in asset management, portfolio supervision, debt re-structuring strategies for financially distressed multifamily real estate and proposal writing for government business, I was offered "partnership" in three companies. Two were already established and in a position to pay me a salary on day one, and I chose to join Horizon in 1995 because it was fledgling, only 13 months old when I made the decision. It was a better fit, providing an opportunity to really build something.
After purchasing a majority stake, and assuming the position of President & CEO of the company, I immediately began work on three contracts I had already negotiated before taking the entrepreneurial leap. In 2012, I purchased the remaining 49% interest from my business partner and am now sole owner, celebrating 20 years in business this past July 2014. Horizon experienced significant growth since 1995, adhering to the foundational principles it established at that time of honesty, integrity, hard work and professional. Horizon gained and retained a major client for all of those 20 years, and earned the #312 spot on the Inc. 500 List of Fastest-Growing Private Companies in America In 2002 and #2018 on the Inc. 5000 in 2010.
WP How did you decide that the path of entrepreneurship was your strongest direction and best opportunity?
WA: My business partner and I worked together for a consulting firm for four years, each running one of the two major divisions in the company. In 1993, he approached me and asked if I would consider going into business with him. After graciously declining (I was appreciating a check that cleared every two weeks during that season!), I did offer to provide input and assist him if he were to open this new business. In 1994, he left the prior consulting business and formed Horizon. We never lost touch and I did provide input to him, but did not take the leap. Since his offer in 1993, I was subsequently approached by others with the same or similar offer, but did not make a decision.
I then visited a headhunter to assist me with leaving the consulting firm. She asked me to complete an exercise, identifying exactly how much money my professional efforts had earned the consulting company during my tenure. In the middle of the exercise, my eyes were opened. She then asked me "If you can make that kind of income for someone else, why not make it for yourself? You do not need to find a job; you need to start your own business." Although placing me would have earned her a hefty commission, she refused to move further.
When I went back to meet with her after purchasing Horizon, she no longer worked there. She was actually the second person to suggest I was to own a business. Several other events happened that all seemed to keep steering me into the direction of entrepreneurship, to include two dear friends suggesting that they would give me their money to make real estate investments for them. That Sunday, as I drove away from their home, this thought surfaced: "If they are willing to invest their hard-earned money in you, why are you not willing to invest your hard earned money in yourself?" It was at that exact moment that I decided to consider purchasing majority interest in Horizon.
WP: What attracted you to the business model of Horizon, and how did you ultimately shape the business?
WA: Why Horizon? It was young and focused on the government-related business I had been doing for 15 years. Better still, it made me really research another aspect of FHA not previously considered, and that was single-family insurance. FHA insured millions of loans in this country and contracted with companies to do the backroom work necessary to support their mission. Recognizing that at some point HUD must consolidate this work from 57 small field offices located throughout the country to a structure handling several locations in order to increase efficiencies, Horizon decided to focus on the single-family business almost exclusively, and the Insurance Endorsement Processing (IEP) business more specifically, and began bidding on these contracts in every state.
We identified FHA's potential need for a contractor who had "geographical" experience to bid larger contracts and moved toward garnering that experience in anticipation of the consolidation. Four FHA Homeownership Centers were eventually formed to consolidate the work, and Horizon had developed the relevant past experience to bid them all. Eventually, we had staff located in each of the four FHA Homeownership Centers in the country and that goal was "checked" on the vision board!
WP: You've often said that your people don't just process paperwork, they impact lives. Can you tell us a little about what that vision statement means to you?
WA: Horizon's leadership adopted a "Servant Leadership" model in the late 90's. Realizing the only purpose for any work was to "serve" and "to meet a need", we adopted the philosophy outlined by Mahatma Ghandi which states "A customer is the most important visitor on our premises; he is not dependent on us. We are dependent on him. He is not an interruption in our work. He is the purpose of it. He is not an outsider in our business. He is part of it. We are not doing him a favor by serving him. He is doing us a favor by giving us an opportunity to do so."
Prior to adopting that tag line, Horizon was focused on ensuring its customers (employees), clients (we serve them, they pay us) and collaborators (all vendors) received the highest level of service and business reciprocity (e.g. treat others as you would like to be treated). Couple that with a critical component to give back to the communities in which we live and work, and to our society as a whole, and "impact" became evident.
In addition, Horizon grew to understand that we may enter a relationship with a client as a "contractor" but our intention was to serve in a manner which led to "consulting" and ultimately to becoming the client's "trusted advisor." To have done this successfully, we had to make an impression and an impact as an organization set apart from its competition. This was done by continually looking for ways to exceed client expectations; find a need that was not being met and propose a solution; see potential for challenges and propose options to address them; offer, at no additional cost, to provide solutions. As we shared this philosophy with a new marketing company, explaining what we do and how we do it, the "We don't just process paperwork, we impact lives." tag line was born.
Over time, as we meditate on that tag line, and after receiving feedback from all of those we served, it was evident that we had an impact that far exceeded the work. The work that Horizon does, processing thousands of applications, appraisals, inspections and other types of documentation, can be tedious if not viewed appropriately. Horizon knows that its intention is to do all of this work for its clients while minimizing risk and maximizing value.
Horizon's services address the most important concerns people face in life: purchasing a home, financing businesses, sending children to college or mitigating income risks in retirement, for example. All of this is ensuring the future well-being of every person represented in those mortgage files and appraisals, and everyone who had a hand in processing them before they made it into Horizon's hands. This is why we ensure that at Horizon Consulting, We don't just process paperwork. We impact lives. And at Horizon, we believe this is the essence of service and serving!
WP: What are some of the things that you have done differently at Horizon that make your approach more effective for you and your customers?
WA: The trust factor is critical at Horizon more than anything….our customers trust us, our clients trust us and our collaborators trust us….to do exactly what we say we will do! And there is a fourth "C" that Horizon's team members, especially the managers, know must be well-taken care of and that is…the contract! Contracts are a written agreement which outlines each party's responsibility. Horizon knows its contracts well. However, what has set us apart for 20 years is that we are not the "anything outside the contract scope requires client pays us more" type of organization.
Here is just one example. When Horizon began, its major client, FHA, had a scope of work to process insurance endorsement applications that required three (3) separate contractors with differing work scopes. Horizon immediately saw the inefficiencies in this approach and began discussions with its team on ways we could demonstrate to the client the efficiencies Horizon would bring if given the opportunity to combine at least 2 of the contracts. At no additional cost to the government, Horizon started to volunteer its services whenever another contractor got behind on its part of the process. Once given those opportunities, Horizon implemented new procedures and efficiencies, and was able to quantify the impact.
Over time, Horizon was instrumental in re-writing the scope of work to incorporate two of the contracts into one. As time progressed, the third was incorporated into the scope of work and Horizon Consulting was the successful bidder for the new scope of work on each occasion. Simply seeking opportunities to support the client as effectively as possible, and not focusing so much on the nickel and dime approach, served both the client and Horizon exceptionally well. And this is only one of many stories over 20 years of how this approach resulted in more and more success, to include Horizon being regularly asked participate in discussions on most new initiatives in a true 'trusted advisor' role.
WP: What led you to decide it was time to seek a business growth consultant to assist you with your plans, and why did you select Wendt Partners?
WA: Several years ago, as Horizon was experiencing its best year ever (2009), I had an epiphany about what it is that I had truly loved doing for approximately thirty years as a hobby and a service, and that was counseling and mentoring. If you count my college years, then even longer. Horizon was fifteen years old, very successful and yet there was a calling in me for more, similar to what was experienced in 1995 when making the leap into entrepreneurship. Having bought out my business partner's 49% in 2012, approaching twenty years in business in 2014 and having successfully completed dozens of contracts, employed thousands of employees and subcontractors, the question loomed…do I continue with this or pursue my passion full-time?
Several years ago, while pursuing my passion part-time, having already incorporated WAA-LLC in 2008, I sat on a panel about corporate culture moderated by Douglas Wendt of Wendt Partners and we made a connection. He seemed to understand my leadership style immediately and there was a synergy that required more exploration. Over time, Doug, his business partner Alice, and I shared meals and had discussions about life and business, and they kept in touch.
After rescheduling a meeting for months in 2014, Alice and I sat down in my conference room and discussed "What are the plans for Horizon?" It was in that moment that I discussed my passion and desired direction. Realizing this would require taking a good look at the options to move into building WAA-LLC and what that would look like for Horizon (HCI), it became clear to me that Wendt Partners could help me navigate this new territory. Horizon hired Wendt Partners to assist me with strategy, clarifying the direction of the business and assisting with the execution of the strategic plan. Hiring Wendt Partners was one of the best business decisions I've ever made.
WP: In working with Wendt Partners, what have been the one or two most valuable benefits that you gained from our role, and how have these factors helped you make better decisions as a CEO?
WA: Working with Wendt Partners brought the level of strategic focus needed to assist me as CEO and Horizon as a whole with making the tough decisions during this season of transition. Wendt Partners is excellent at assessing where you are now, assisting you with identifying and verbalizing your true intention and vision, and then aiding you in simply clarifying your vision and creating actionable plans to make it happen. Most importantly, Wendt Partners helps you stay focused on the tasks at hand. I cannot stress this enough.
Change, in my opinion, naturally brings a level of resistance and once Wendt Partners was able to navigate through my perceptions as CEO and developing a clear picture of the facts and opportunities, they assisted me with overcoming the additional resistance and hesitation that resulted - and which all CEOs struggle with when faced with new challenges. They assisted me with letting go, of what was, committing to the decisions made, and moving strategically and with intention toward my vision. Without question, this process assisted me with going to the next level not only as a leader, but as a coach and a mentor. It strengthened me to walk boldly into my purpose, without hesitation or reservation.
WP: What would you tell other CEOs about the value and impact they can gain from working with Wendt Partners to help them grow their business?
WA: There are four words that make up the foundation of Horizon Consulting as a business, and they are found in abundance with Wendt Partners. They are Honesty, Integrity, Hard Work and Professionalism. Wendt Partners will do exactly what they say they will do and you will experience quantifiable results. The other results, however, include more confidence, courage and clarity of vision as an individual and as a CEO and business leader.
Wendt Partners will tell you the truth - backed by frank and thorough assessment - not what you want to hear, but what you need to hear. To be successful in any endeavor, we must have the confidence to ask for help when we know when we don't know. Seeking wise counsel is critical to success. Wendt Partners has a keen ear since they listen carefully, then apply intuitiveness and wisdom that they appropriately apply to each and every client.
WP: You have also established Wanda Alexis Alexander LLC, focused on speaking, coaching and mentoring. What led you to take this extra step and 'give back' as a coach to other executives and emerging leaders?
WA: I was not conscious of the truth about my natural gifts, talents and skills. However, when I am in the midst of people, listening, laughing, loving, it's like breathing. What I share comes out of me so naturally and others laugh, cry, get wide-eyed and say things like "How did you know that?" or "That makes sense, I never thought of that." In those moments, the joy I feel is so deep. The level of compassion that overtakes me as understanding of another's feelings is clarified can be overwhelming at times, almost like it's not me but love and wisdom that have taken over. Since I was a child, being told to "stay in a child's place" and "you talk too much" the gifts were there but just not appreciated, not even by me. I questioned everything, and not simply with the word "why", but with well thought-out questions and observations.
As a student in elementary school, I created so much havoc as the class entertainment while still managing to learn the lessons that one teacher left the classroom and called my mother at work exclaiming "I don't know what to do with her." I skipped school in the 1st grade because they couldn't keep me engaged. As a student in Junior High School, I was allowed to take over Ms. Vickers's 4th grade Algebra class when she was away, and in high school the same happened for other classes. As a graduating senior, I was nominated by the students and teachers as "Lady of the Year" and it was years later that I understood how much my gifting had been seen and realized during my school years. During a summer school class in college I received the "Best Actress" award for a skit we did on the status of education. I played the teacher and it wasn't acting to me! Since my first job at age 14, I have been promoted into supervisory or management roles, without exception.
I'm saying all this to say that "giving back" as a coach was a natural progression for me. I started doing it long before it was called "Executive Coaching" or "Life Coaching." Others would ask me questions and I always took the time to share what I've learned, as they shared details of their life and challenges with me. This has even happened in grocery stores and in business meetings with both professional men and women. The thought of not doing this was foreign to me. I started officially mentoring others whenever asked throughout my career…that was it, no charge just because I loved it and saw the positive impact it had.
One day I had this epiphany when speaking with a mentee: "When Passion and Profession merge, it results in walking in Purpose and Impacting People." This is the moment when creating a business to do what I had been doing at no charge for decades and loving it, was seeded in my mind. I incorporated WAA LLC in 2008 and look forward to giving it my full attention and focus very soon.
WP: Do you have one or two suggestions or key recommendations you'd like to share with other CEOs that will help them grow their companies?
WA: First, learn to know and trust yourself. The gifting is in you and everything you need to be a successful CEO is already there. Your job is to spend the time with YOU, away from all the titles and responsibilities that are not you, to find out your truth. This practice will aid you in building your business from the inside out. It will also help you in making the best choice for you and your business, not based on popular practices or other's opinions, but based on your instincts, your intuitiveness.
And second, seek wise counsel. No matter what we'd like to believe, we do not and never will know everything, even if we articulated and followed through on the vision for the business. Surround yourself with people who know more than you do and listen more, be slow to speak, laugh often and lead--don't fix! Seeking wise counsel from those who've been where you are trying to go and are willing to share with you is a great strategy for success.
The key is this: If you are the smartest one in your circle, and the one most sought after, then it's time to expand your circle!
WP: Tell us a little about your personal passions, charities and interests.
WA: My personal passion is continually building a strong spiritual relationship with the true Source of every good and perfect gift—who I know as God. The principles of Horizon Consulting were gleaned from Proverbs in the Holy Bible. I love to read books by spiritual teachers and great leaders of all disciplines to glean the one thread that is consistent in them all: Faith, courage, moving through fear, believing in self, power, passion, purpose and one of my favorites: "All you need is already in you, not outside of you." I also love fiction and a great mystery! One of my favorite Martin Luther King quotes says "Life's most persistent and urgent question is: 'What are you doing for others?" I ask myself that question often. Horizon as an organization has conducted community service projects quarterly in each jurisdiction where we conduct business.
There are several charities that are precious to me personally and I contribute to regularly, to include the American Cancer Society and other cancer-related charities, such as the United Way, the Red Cross and other organizations with a national and international reach - as well as local charities that clothe, feed, house and take care of others in need. I volunteer at colleges and universities, teaching entrepreneurship and/or business ethics, and I serve on boards that support teaching entrepreneurship and providing opportunities and scholarships to young adults seeking a college education (which I thank my parents for).
I am the best Aunt on the planet and take that role, and that of Godmother, very seriously! My biggest hobby is traveling the world and checking out the spas and sites while there. I cannot live without love, lots of laughter, hugs, family, good friends, great food and libations, good music, excellent entertainment (music, theatre, concerts, live sports and comedy shows) and regular therapeutic body massages. Work has never been my number one priority; it's a means to exercise my gifts and talents and to ensure I have the opportunity to experience and enjoy the lifestyle that I desire... and to do for others.