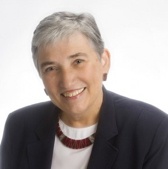 Sylvia Lagerquist, CPA is the founder and president of Haines & Lagerquist CPAs, an award-winning, full-service public accounting firm that services clients in a wide range of industries from healthcare and technology to retail and government contracting. In this interview, Sylvia shares some of the key insights she offers to CEOs about business growth.
WP: Tell us a little about yourself and your professional background.
SL: I began my college career as a music student, and received my Bachelor of Music degree in Instrumental Music Education from the Catholic University of America. After traveling and living abroad as part of my music education career, I returned to the U.S. and began studying accounting with the idea of using this knowledge to start a music school.

However, as it turned out, my inclination and approach to music gave me a natural predisposition to excel in accounting as a profession. A few years later, I sat for the CPA exam and passed all four parts on the first try. This opened a whole new door for me as I discovered the opportunities and rewards of working in the public accounting profession.
WP: What led you to found and build your own business?
SL: After eight years working for a variety of mid-sized and larger public accounting firms, I saw the benefits of building my own practice and working primarily with business owners as my clients. As a result, I stepped out and started my own solo practice in 1993.

Thirteen years later, I had the opportunity to acquire another firm and merge the two, creating Haines & Lagerquist CPAs. One thing I particularly enjoy about leading my own firm is that I understand my client's challenges from a personal perspective. They are CEOs trying to build their companies, and I am a CEO trying to build mine. I can relate to their experiences because I know what it is like firsthand.
WP: How has your business and industry changed over the years you've led it?
SL: This industry has radically changed, and the merger we completed in 2006 demonstrates just how much it has evolved. We acquired a firm that had operated largely on paper, with little use of a company network and no cloud technology. Over the last decade, we completely revamped every aspect of the overall operation to leverage state-of-the-art technology and applications to provide our clients with faster, more efficient service.

But technology is just one area in which the business has changed. Another is in what clients need and expect from their accounting firm. In the past, many businesses simply wanted their CPA to handle their taxes and maybe help them fix fundamental weaknesses in their bookkeeping. Today, businesses need a firm that understands accounting software and technology, as well as a firm where the CPAs can provide strategic counsel in an outsourced CFO capacity. We provide all of those capabilities and we're able to do it effectively because of our approach to the profession and commitment to our clients.
WP: What led you to seek a consultant to assist you with the growth strategy for your business, and why did you choose Wendt Partners?
SL: We successfully completed our merger process but recognized that acquiring new clients by buying a business is not the same as acquiring new clients by repositioning the company in the marketplace. We needed to work with a business consultant who could advise us on all key aspects of organic growth. This includes marketing, of course, but it also includes sales and business development, as well as strategy and even strengthening our leadership. Those are the four quadrants that Wendt Partners addresses in their process, and having that holistic approach at the table has been invaluable.

In addition to choosing Wendt Partners because of their approach, we also selected them because of their involvement. During our initial strategy engagement, when they performed a detailed assessment of our business and prepared an action plan for how we could grow most effectively, they were really engaged in every discussion and through every step. It was clear that they took our success as their top priority, and it resonated with us.
WP: What are one or two key outcomes from your work with Wendt Partners that were particularly valuable to your business?
SL: One major outcome is that we have successfully completed a powerful repositioning and rebranding of the company, not just visually but also strategically. Our clients, partners and prospects now see Haines & Lagerquist CPAs as a leading, full-service accounting firm and automatically 'short-list' us because we present the firm with great credibility. Wendt Partners led us through the visual rebranding and all of the marketing components, including our new website, business blog, social media presence, e-newsletter and more. But beyond that, they also helped us create the content and message to back it up.

A second major outcome of working with Wendt Partners is that we now have a disciplined, consistent business development model that took the best of our prior efforts and integrated them into a complete program. We're beginning to use a new customer relationship management (CRM) system, we're capturing and following up with new leads from the web, we're connecting with and building our network of referral partners, and more. In short, we're successfully executing the day-in and day-out work necessary to grow the company and do it strategically.
WP: How would you describe the value of Wendt Partners as a strategic resource to other CEOs?
SL: I would say that Wendt Partners pays attention to your business with the same intensity that you do. In fact, at times they are like an extension of the CEO because they are able to focus on the growth issues while you, oftentimes, are tied up with the day-to-day running of the business.

That is especially true in professional services, which is why having Wendt Partners working with us is like having a 'Chief Growth Officer' on the team...a dedicated C-level professional and a team behind that person who make sure that we're consistently executing our growth strategy correctly, for the long term.
It's that focus and commitment that makes the role of Wendt Partners invaluable, especially, for professional service firms since in our industry, the CEO is both the business leader and the top billable client-serving resource as well.
WP: Do you have any key lessons learned or nuggets of wisdom you'd like to share with fellow CEOs about growing a business?
SL: I would begin by saying that you always need to lead by example. Do your best to produce the highest-quality work possible, so that your employees recognize that as the standard to which they should aspire. I would also encourage fellow CEOs to not hesitate when thinking about making essential changes to grow the business. If you need to invest in new technology to move ahead, make it a priority and do so sooner rather than later.

If it's time to rethink your market focus and move away from certain clients and toward others, make it happen because you need to prune a tree if it is to continue to grow. And if you need the benefit of outside counsel to help you decide how to grow the company and then make sure it actually takes place, don't hesitate to seek out that assistance and expertise. The future is bright if you focus on making it happen, so don't hesitate to drive change in order to get there.