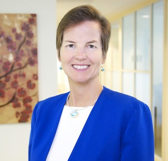 Kathy Clark is a visionary leader with a history of innovation in the technology industry. As the co-founder of Landmark Systems, she built the firm from a two-employee startup to a 330-employee, $60 million enterprise later sold to ASG Software. Kathy has served as board chair of the Northern Virginia Technology Council (NVTC), as well as on the boards of George Mason University, Shenandoah University and the Virginia Foundation for Independent Colleges. She has been named both a KPMG Entrepreneur of the Year and Ernst & Young Entrepreneur of the Year. Most recently, Kathy served as President & CEO of Smarthinking, Inc. We recently caught up with Kathy to learn about her entrepreneurial journey, her insights on business and her experience working with Wendt Partners.
WP: Tell us a little about yourself and your professional background.
KC: After high school I went to work as a file clerk for an insurance company in Washington, D.C. After two months I was promoted to a job in computer operations, then I moved on to a stint on the technical help desk before becoming a programmer trainee and ultimately a systems programmer. Eight years later, my partner and I started Landmark Systems, a software company that provided products to help manage large IBM data centers. Originally started as a part-time business to make a little extra money and have a chance to develop software, we had the good fortune to hit the market at exactly the right time. Soon, I quit my full time job and Landmark was off and running. Nearly 20 years later, five years after a successful IPO, we were acquired by ASG Software.
WP: What led you to become CEO of Smarthinking, Inc.?
KC: I was happily retired in 2008 when the economy crashed. At that point I had not decided if I was going to be retired for good or whether I wanted to go back to work at some point. The uncertainty created by the crash caused me to start looking to see what was available. I found several opportunities but none was compelling until I came across Smarthinking. It seemed to be a great company with a lot of potential. The investors were looking for someone to help unlock that potential and ultimately to find them an exit strategy. So it seemed like a great fit.
WP: At the time you served the company, what excited you about Smarthinking -- its solutions, and the impact it was having in students' lives?
KC: Without a doubt the best thing about the company was the people. I learned long ago that people are the heart and soul of any company, and I was delighted by the talent and commitment of the people at Smarthinking. Those people had created an amazing service that was helping students all over the country. It was amazing to read the testimonials of students for whom Smarthinking had made a difference. We also had a network of over 1,200 tutors, most of whom I never met, but who took their work very seriously. They simply loved helping the students succeed - and it showed in the results.
WP: You led the company to a successful exit, the strategic sale to Pearson Education. What would you say attracted a billion-dollar global leader to acquire Smarthinking and add the company its portfolio of solutions?
KC: Smarthinking from the start was created to meet the needs of the higher education market – our customers were primarily colleges and universities who paid for tutoring services for their students. The key to our success was to get buy-in from the professors who we relied on to encourage their students to use our services. In order to be successful, we had to create a service that assisted in teaching, not just providing answers or helping with a specific problem. Years of design and training went into creating the Smarthinking solution, which was recognized by many as clearly the best tutoring service in the industry. Our education group never compromised on their standards for education.
WP: You had the opportunity to work with Wendt Partners on business strategy, brand assessment and development, and marketing and sales implementation. At the time, what led you to make the decision to retain our firm to work with you?
KC: While Smarthinking had a great service and an outstanding sales team, I felt we did not have a great strategy or a consistent marketing message. Within the company we had experts in education, technology, and sales and could produce some good marketing materials, but lacked real expertise in strategic marketing and overall business strategy. We interviewed several firms to help develop our message and ultimately selected Wendt Partners because we thought they provided the best focus on the higher-level issues of strategy and vision.
WP: During and after the engagement with Smarthinking, what would you say were the one or two greatest benefits that came out of your work with Wendt Partners?
KC: Wendt Partners was really a catalyst that helped to bring the management team together. While the Smarthinking organization was full of talented people, there had never been a "team" approach to developing a strategy -- so this involved a real culture change. And although people were excited about that, there were certainly a few bumps in the road as people became accustomed to a new way of working together. We were fortunate that Wendt Partners understood and bought into the whole concept of not only creating a marketing vision and strategy, but helping to transform the leadership style of the company, and bringing the experience and tenacity to see that process through. In the end, we also developed a great brand message, a great website, and a great friendship.
WP: What would you tell other CEOs about the value and impact they can gain from working with Wendt Partners to help them grow their business or position their company for growth or exit?
KC: When we started interviewing firms to work with us, I'm not sure we quite knew what we needed. I knew we needed some help with marketing and I knew our fundamental message needed some work, but it wasn't until we began actually working with Wendt Partners that we began to clarify what we needed. Unlike many marketing consultants or agencies, Wendt brings a depth of expertise focused on getting the basics right before moving on to implementation. The many hours spent getting the management team on board and in agreement, working with all levels of the company prior to developing materials that were visible, was invaluable. With Wendt, we had a true partner, not just a vendor working on a task.
WP: Do you have one or two key recommendations that you'd encourage other CEOs to consider that will help them grow their companies, not only from your days at Smarthinking but also your time as CEO of Landmark Systems?
KC: Every CEO has a different style, so the first piece of advice is to surround yourself with people who match your style. If you are a collaborator, find people who like to participate and contribute. If you are a command and control type who already has a vision, find people who will take direction and execute well. Some of the biggest problems I have seen are when there is simply a mismatch in style between otherwise competent people. Once you have the right people in place, value them, trust them, and reward them for success. Ensure that everyone shares a common vision and goal -- and works together to achieve it.
WP: Tell us a little about your personal passions, charities and interests, and any closing thoughts you'd like to share.
KC: I am happily retired again, now living aboard Shear Madness, our 72-foot motor yacht. We enjoy cruising to remote destinations and hope to spend the coming summer in Newfoundland, Labrador, and Greenland. I remain active on one corporate board as well as a family charitable organization founded by my grandfather. One of my passions is to encourage people to take time to enjoy life – spend time on things that are fun and things that are important, such as family. For me, success is not defined by business achievements – it is defined by how much you have made a positive impact on other people.