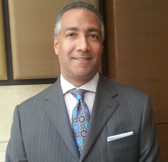 As an international healthcare professional with more than 25 years of experience, Jim Marinucci has a clear vision for new strategies that can improve the delivery of care to a diverse range of patient populations. As the CEO of Via Medica International, he is implementing that vision at the cutting edge of innovation. We recently interviewed him at the City Club of Washington to learn more about his approach and accomplishments.
WP: Tell us a little about yourself and your professional background.
JM: I spent most of my professional life at George Washington University's Department of Emergency Medicine: 24 years at GWU, of which 22 were within emergency medicine. During the last 12 years, I was initiating our transition to the integration of Physician Assistants (PAs) in the Emergency Room (ER), and also ran the trauma technology and wound management programs, which focused on doing high-level, high-quality acute traumatic wound management and basic emergency orthopedics in an ER setting using a specially trained, non-physician team to perform specialized actions in a realm of practice that is usually only led by orthopedic and plastic surgeons. The benefit is that you build a highly focused team, with consistent practice exposure, while eliminating the wait for specialists who would normally have to be called in.
Interestingly, my earliest days at GWU were about innovation. The trauma technology field first evolved in the early 1970s when there was a tremendous shortage of trained personnel dedicated to emergency medicine. Back at the time, ERs were primarily staffed by personnel on rotations, rather than dedicated emergency specialists. Especially in the D.C. area, the influx of highly trained trauma medics after the Vietnam War fueled this shift. A great deal of my work throughout my career with GWU also involved international missions, providing training and support to hospitals and health systems in other countries. In 2002, my role shifted from being primarily oriented toward direct clinical care into management, administration, training and leadership with the introduction of PAs as a key resource in the ER setting, and through that we carved a new niche in developing the certification training and medical education programs. This ultimately led to my appointment as Director of International Special Projects, where I worked closely with our international emergency medicine fellowship program. I also served as an Adjunct Assistant Professor of Emergency Medicine at the GWU School of Medicine for 12 years.
WP: What led you to establish Via Medica International?
JM: The idea to start an organization like this was in the back of my mind for the better part of 20 years. I saw clearly that there were four core components in the overall field of medical care that were historically treated as separate and were traditionally managed independently, but which are inherently linked. My belief was that effective strengthening of one could have a dramatic positive impact on improving another. These four are clinical operations, healthcare management strategy and consulting, internationally recognized certification training, and the development of academic medical programs.
For example, we started our relationship with a major client by providing needed medical services in remote locations, and shortly after the value of this was observed, we were then asked to provide training for both medical and non-medical personnel working in these field environments. Then, through that client's support of educational initiatives within their country, they recommended us to assist in the development of multiple academic medical programs. The ultimate result of this integrated approach was that the client was able to achieve a higher level of sustainability in the configuration, delivery and support of care across their service area. This in turn led to the growth of their incumbent healthcare workforce. This is fundamentally different than the more silo-oriented models in which each activity might have developed separately, without any collaboration between initiatives, and in deviation way from the integrated value of a best practice model.
WP: Where do you see the field of integrated global healthcare heading, and how will Via Medica International bring unique advantages and benefits to this market?
JM: This field is heading in the direction of a new level of recognition of the need for an equality of service and an ability to provide international populations with the same advantages that those in other parts of the world experience. Equalizing access to and provision for first-class healthcare allows a nation to (a) improve the overall health and life expectancy of its population, (b) create a more dynamic pathway for educational and economic opportunities, and (c) develop its own innovations and best practices that can later be shared or exported, thus leveraging the strengths of a particular nation, culture, region or population.
At VMI, we envision our focus being on the development of academic medical programs with a strong emphasis on international collaboration. We want to provide services that may be simple or complex, but in areas that were not exposed to a higher quality of service previously, working closely with practitioners who are vested closely in the development of that area. This is in direct contrast to the 'helicopter' model where top practitioners from another nation or region are 'dropped in' for very short stays, and are promptly rotated out before any real roots or relationships can be established. Interestingly, this follows very closely with the evolution of emergency medicine itself. Emergency care used to be fragmented around the individual specialties necessary to treat a single patient, and today it has evolved largely into an integrated field of practice, in which all aspects of the delivery model are working in unison to promptly and sustainably treat the patient.
WP: You chose to work with Wendt Partners in order to help you develop and execute your strategy. What led you to select Wendt Partners, and what have been some of the most valuable benefits you have gained from that collaboration?
JM: One of the keys that led us to select Wendt Partners was the opportunity to work with a firm that clearly understood the overall concepts of building a sophisticated brand and strategy. They clearly listened as we developed a better picture of where we wanted to go as a company, and how we could get there. We came to Wendt Partners with a series or list of tools that we had in our 'toolbox', and the Wendt Partners team worked with us on ways to use the tools that we had to, in essence, build the house that we wanted. I would say that without Wendt Partners' direct interest and involvement in the strategy and planning process, the methodology upon which we were able to communicate our unique advantages and capabilities to our potential clients would not have been realized. Put a different way, we were able to diagram not just a marketing strategy or website, but really a business model – or business architecture – that influences every aspect of how we position and present our firm. The result is that we now know how to organize and execute consistently in our core categories of services, solutions, regions and more.
WP: What are some key points you would share with other CEOs about the impact and unique value they can gain from working with Wendt Partners?
JM: First and foremost, we are all incredibly busy – especially CEOs. We are all experts in our field, but being an expert in our field does not necessarily mean we are experts in how to frame, present or communicate our products or capabilities to others. As a result, the way I envisioned our message being communicated to clients was not necessarily the best option or approach. Therefore, it is imperative to partner with a firm that will both take the time to develop a detailed understanding, and work with you through the process – but whose leaders are also capable of speaking at the CEO's level, and carrying the confidence and strength to be able to disagree and redirect the CEO in a better direction. This in and of itself is a huge difference, and for us it was the key to our success. In fact, one of the other things I would add is that gaining this guidance is often more beneficial when you receive it from someone on the outside looking in, rather than from someone within your own organization. So in other words, I don't need a 'yes man' – which is what so often happens when you hire a person internally to oversee these things, tell them what you want, and later act surprised when they implement it without question and the results are less than satisfying. Having that external, peer-to-peer C-level guidance is a fundamental and lasting benefit for every CEO who works with Wendt Partners.
WP: What is one guiding belief that, as a CEO, you identify as critical to successful business leadership?
JM: I really believe that everybody has a story. Everybody can bring value to you personally and professionally. You may not know it, or how you will get from point A to point B, but the opportunities are everywhere. I recently met an executive from an industry that would seem completely unrelated to our business, but in fact we had common goals and markets that could in fact lead to future projects. I truly try to maintain that focus at all times. My wife and I could be in a convenience store and I'll be chatting it up with the person behind the counter, but later that experience or discussion, perhaps with someone from a different country or culture, could provide me with insights that directly relate to a future encounter in my career. I am fascinated by people: their histories, cultures, languages and beliefs. In our world at Via Medica, we embrace the challenge of bringing creative thinking to clients in vastly different regions and cultures. I try always to be curious about others and let that curiosity fuel and refresh my thinking every day. This is where you learn and grow – not only as an executive, but as a learner…and as a leader.
WP: And you see this philosophy or approach being relevant not only in your business leadership, but also in your work as a practitioner?
Yes, absolutely. Being exposed to a tremendous amount of diversity both domestically and internationally, and also experiencing that enrichment not just culturally or linguistically but also professionally, has brought incalculable value to me as a person and as a medical professional. It has allowed me to really see how places and people have evolved, and understand more about their history. I was always someone who enjoyed studying history, and now I am able to see the practical realities of how that history has created the world in which we live – and how it could be even better tomorrow.