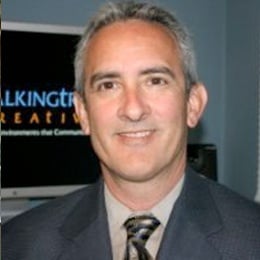 During his career, Craig Weisbaum has served as a musician, entertainer, band manager, publisher, videographer, retailer and event producer. By creatively connecting these experiences, Craig established TalkingTree Creative, an award-winning video and event production company that counts Hughes, KPMG, Intelsat and Medtronic among its clients. In this interview, Craig shares how his formative experiences helped shape the successful vision for TalkingTree.
WP: Tell us a little about yourself and your professional background.
CW: After attending college for music performance and touring the world with an international music act, I spent the rest of my twenties as a songwriter and musician trying to get a recording contract. I managed the business of my band, established a publishing company to administer my original content and learned quite a bit about negotiations, intellectual property laws and business.

As things changed (marriage, kids) and I needed to make different lifestyle choices, I eventually opted for more mainstream businesses. Around the age of thirty, I invested in the dry cleaning industry – eventually owning and managing three stores.
Later, I would leave that industry and go back to music, expanding into video production and event production. The variety of businesses I've experienced has taught me to supervise staff, learn how to lead and, of course, manage taxes and financing. Mostly, it has taught me that whatever you do, you're going to be doing it a lot and therefore it better be something you enjoy.
WP: What led you to found and build your own business?
CW: Basically, I always had a fear of being trapped under a boss who was less qualified than me, yet had control over me. This probably comes from multiple incidents I experienced as a child, where I learned that many people in authority who had control over me in one way or another did not have my best interests at heart! I always wanted to be my own boss, and always had the confidence that I would be better off doing so.
WP: How did the experiences you had prior to becoming an entrepreneur shape your approach to business ownership and leadership?
CW: My approach to business ownership and leadership was driven by my successes in the music business. I enjoyed making people happy and getting paid for it, both financially and emotionally. I don't know that I'm a great leader, but most of what I learned about leadership I learned from my junior high school band director. He made hard work into fun, had very high standards, demanded the best of everyone and inspired us to deliver it all consistently by making us each accountable for everything we did and promised. Needless to say, I worshipped him... and I have always aspired to be that kind of leader.
WP: How has your business evolved and changed over the years you've led it?
CW: We have always experimented with the most cutting-edge technology, and most of the changes we've made have been focused on creating a smoother process for our clients or staff, in order to improve the experience.

Part of our evolution involved running the entire business online, with everyone working from their homes or in the field...only to find that we really did better when we were together. So now, we've brought together the best of both worlds in a hybrid approach, with our team operating together in a state-of-the-art studio but using cloud-based software and mobile tools so we can collaborate anywhere at the same time.
WP: What led you to seek a consultant to assist you with the growth strategy for your business, and why did you choose Wendt Partners?
CW: We enjoy doing a variety of jobs which we think are all connected, but this can confuse the market because prospective clients may not be clear on how to identify us. We also have trouble focusing on a direction because we don't like to "box ourselves in" to a definition that excludes other elements that we enjoy. We needed help to decipher our market identity and Wendt Partners was the first strategic consulting firm we spoke to that seemed to understand our business, and had the supporting arguments that made sense to us.
WP: What are one or two key outcomes from your work with Wendt Partners that were particularly valuable to your business?
CW: At the beginning of the process I was impressed with how Wendt Partners would interview us and from our responses parse out all the important factors which we were saying but were not aware of. Then, they researched the rest of the market and graphically showed us where we fit in according to our strengths.
They did a fantastic job of designing a strategy that fit who we were and where we wanted to go, and then helping us implement it. As a result, they've worked with us on many different elements of growth, from our business strategy to our content marketing program, and from our proposal process to our sales CRM system and strategic relationship management.
WP: How would you describe the value of Wendt Partners as a strategic resource to other CEOs?
CW: Wendt Partners can help you clarify a direction if you don't have one, or reinvigorate your business if you have reached a plateau. They are excellent at finding the weaknesses and working with you to turn them into strengths. The other key to their approach is what they say in their tagline -- they not only help you develop innovation, but they also help you implement it. Put simply, they don't just give you advice, they actually work with you to put that advice into action.
WP: What are some key points or recommendations that, in your experience, you'd like to share with other CEOs?
CW: First, as I mentioned above, make sure you focus on building a business that you are passionate about. Your are going to live, breathe, eat and sleep with this business, so you need to be absolutely engaged with every aspect of it, and enjoy doing so.
And second, make sure to keep your eye on the ball. Business is about growth, and growing begins by building solid relationships with every customer your company serves. Build processes and a team culture that can deliver the quality you believe in, every time you sign a contract or begin working with a new client.
WP: You talk about the importance of passion in a business leader. What is a passion that drives you in your business?
CW: I am committed to educating the market about "corporate theater", and that concept is a driving one for our company. Corporate theater is about using the power of events to create truly dynamic experiences that communicate and drive action. For a private business, that action could be to purchase a new product or to share the excitement about a business goal or accomplishment. For a nonprofit or association, the action could be to make a donation or spread the word about a cause.

I know firsthand that when you craft the right experience for people, it makes a lasting impression: one that motivates them to get involved or take a new step. I love sharing that vision with clients and prospects, and helping them see how we can partner with them to create a "corporate theater" experience that will be powerful and transformative for their stakeholders.