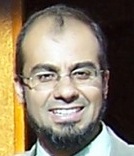 Ayman Nassar is a servant-leader in the true sense of the word. As an accomplished technology innovator and engineer, he has identified a unique opportunity to apply the leadership and innovation concepts developed in the technology field to other endeavors, most notably youth and community development. Ayman is the founder and president of the Islamic Leadership Institute of America (ILIA), which provides leadership development training, education and programming to support a new generation of leaders. We sat down with Ayman for the following interview about his vision, direction and formative leadership experiences.

WP: Tell us a little about yourself and your background.
AN: I am originally from Egypt, but spent my childhood between Atlanta, Chicago and Cairo. The diversity these three big cities exhibit made a lifetime fingerprint on my vision to make the world different. In the 1980s while in high school I envisioned the need for simple ways to transform the unsafe neighborhoods of Chicago or then sweeping sewage of Cairo. Something was and is still needed to allow our societies to become empowered through technology and human capital development.

WP: What were some of the formative experiences that shaped your unique vision?
AN: I started my career as an IT help desk support assistant at the age of 18 at the University of Maryland during my summer break from college, and this was during the early days of personal computing and networking. At that time, I was one of those lucky to have a job. In the evening I used to clean the floors and organize the banquet halls of the University's on-campus hotel. I learned from these two jobs that making money on the job is secondary, and it's really the value of gaining real-world experience that counts. I learned integrity and responsibility and discovered that being the youngest kid on the team does not mean that I am the least effective. Although humble beginnings, these two roles paved the way for my life-long career in IT, engineering and technology.

WP: And this set you on the pathway toward a dynamic career in technology and innovation?
AN: Yes, it did. I received my B.Sc and M.Sc in electronics and communications from two of Egypt's toughest Universities, Ain Shams and Cairo respectively in the early Nineties. Seeking to apply this body of knowledge into an engineering position where I can be part of changing the way the world connects was not easy feat in a country that produced very little in the way of electronics innovation.

I was able to work for Acer and Fujitsu troubleshooting computers, building local area networks and connecting businesses. I then moved to Saudi Arabia where I learned how to connect the nation's largest insurance company to the world of the internet, from email to web to internal corporate business workflows. In then decided to move back to America where I had spent my entire childhood and worked during the college years. I landed in BWI with the vision to work on the most advanced and complex technologies in communications and networking to bring communities closer across the globe.
WP: Yet, in the midst of this exciting career, you identified the need for something more, is that correct?
AN: Working at Ericsson, Northrop Grumman, RPM Consulting, HP, IBM and several dynamic tech startups, I was part of teams that were changing the world. And yet, I realized that although we were delivering phenomenal technology, we were not contributing enough to human development, and whatever we were contributing, it was at a late stage in the game.

With a continuing desire to empower youth, I started volunteering at over a dozen non-profits from Catholic Relief Services to Big Brother Big Sister and from the Council on American Islamic Relations to Dar us Salaam and several other local schools and community centers, from Howard Community College to Howard County Detention Center. Eventually the light bulb went on after 20 years of getting exposed to different shades of the society across four continents and over a dozen countries. It became apparent to me that the oasis I had once envisioned in the middle of the desert when I used to live in Egypt at the age of 10 was really an institute that can bring hope, enlightenment and empowerment to the younger generation to transform their lives to what they can dream.

WP: How have your personal experience and professional career impacted one another?
AN: My passion has always been, in particular, focused on engaging teens in a society's everyday life. As a graduate of three engineering schools in the U.S. and Egypt and a professional who completed a graduate degree in management and over half a dozen leadership certificates, I feel that it is only natural that I apply approaches used to innovate technology and deliver engineering solutions into new areas or domains related to the development of a teen, with the goals of transformation of people and organizations. If these innovative leadership tools work for enterprises, they should be applicable to society as well. And my experience has been that, indeed, they are.

WP: What are the greatest goals that you and ILIA seek to achieve, and what social challenges do you address?
AN: We want to empower people with the ability to learn, understand, apply, deliver and measure leadership capabilities which are practical to implement and sustain. Lack of sustainable processes, sub-optimal organizational governance, sub-optimal investment in the youth and wasted human capital in general are just a few of the challenges that sparked the interest for ILIA. I envision our students and alumni impacting their communities and leading initiatives and projects that deliver opportunities of growth and empowerment for the greater society.

WP: What is a day in the life like for you and for ILIA?
AN: As founder of the Islamic Leadership Institute of America (ILIA), I hold multiple hats during the same one day. I might be meeting with leaders from across the region discussing capacity building and state-wide initiatives, and an hour later counseling a 14 year old on a teen problem, or giving a short talk at a county jail to inmates, or driving teens across town to apply concepts of project management they learned in a class I taught the weekend before to work at a homeless shelter, or awareness protest planning activity.

WP: You had the opportunity to work with Wendt Partners to help you plan for the future of ILIA. What led you to make the decision to retain our firm to work with you?
AN: We identified a clear and compelling need for high-quality outside advice that could help us make critical decisions and position ILIA for a strong future. We recognized that a seasoned consultant with an independent perspective could help us clarify key aspects of our vision, sharpen the positioning of our programs, and move ILIA to the next level in its journey. We chose Wendt Partners for a few reasons. First, they were extremely professional and also personally interested in our mission and goals - that was very clear. And second, they have extensive credentials and proven success in guiding organizations such as ours.
WP: What have been the one or two greatest benefits that you gained from your work with Wendt Partners?
AN: Wendt Partners has developed processes and frameworks to deliver value to their customers. However, they have configured these processes to be flexible in order to meet the custom needs of their clients. They easily understood ILIA, its challenges and requirements very quickly. Working with Wendt Partners allowed us to verify our assumptions and priorities. They were a good trusted partner and sounding board. They helped us see things from an outsider's point of view and highlighted key areas of weaknesses in strategy and execution.

WP: What would you tell other executives about the value and impact they can gain from working with Wendt Partners to help them achieve their goals?
AN: ILIA was looking for a high return-on-investment (ROI) with our consulting service. As a consultant myself, and having worked in the past for large multi-national consultancies, I knew we were not looking for boilerplate recommendations. ILIA was more interested in a ground-up approach that looks deeply into the organization, its assets, capabilities, resources and culture, and the development of recommendations that are for ILIA and not just an organization such as ILIA. Working with Wendt Partners gave us these benefits across the board.

WP: Do you have one or two key recommendations you encourage other CEOs to consider that will help them become more successful in their efforts?
AN: Be honest with yourself. Dream big, execute smart.

WP: What kinds of fellow leaders do you enjoy meeting, and why?
AN: I thoroughly enjoyed meeting CEOs from the for-profit and nonprofit worlds who have failed and turned those failures into opportunities and, ultimately, success stories. True entrepreneurs are the ones who dare to enter into new domains, or solve the challenging. They are individuals willing to take the risks of the unknown and the complex.
WP: Tell us a little about your personal and interests as a business, personal and community leader.
AN: My biggest passion to do work that empowers the human race to live a peaceful life based on justice and fairness. Our role as leaders is to be role models and serve those who have chosen to believe in our vision, as well as those around us who don't yet see the purpose of our mission.