The competitive marketplace is as challenging as ever. Many CEOs are looking for new ideas and insights that can help them catapult their company to success in an increasingly demanding environment. Among the options many consider is pursuing a corporate rebranding.
When described in this manner, the word 'rebranding' typically refers to the process of hiring a design firm or ad agency to examine, research and redesign the company's logo and related visual identity components. This process can be as simple or as complex as the company's business requirements indicate. It can easily encompass a complete redesign in the entire range of web, print and customer communication deliverables, impacting every corner of the business. Brand strategy and identity certainly constitute a critical component in the business growth toolbox, and there is no doubt that a rebranding can help support new sales growth.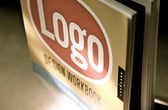 By the same token, for every company that has achieved significant market gains in part due to a design-driven rebranding, there are many others who have actually achieved results just as strong by sticking with a logo that has become timeless in its own right. Sometimes, these companies will tweak or adjust the logo design to keep it current. Still, the idea of a truly 'back-to-the-drawing-board' brand design process is roundly rejected, precisely (in part) because the company's success has reinforced the power of an unchanging brand identity. Excluding small tweaks, adjustments, and minor refreshes, it's remarkable how many successful companies have chosen to stay true to their core brand identity over not just years but decades. They include:
Amazon
AT&T
BMW
Canon
CBS
FedEx
General Electric
Hewlett-Packard
IBM
Johnson & Johnson
Marriott
Mercedes-Benz
Minolta
Shell
Starbucks
UPS
Even brand identities that have been pretty significantly redesigned in recent years have often kept a commitment to core design features (such as Xerox staying focused on the color red and the X symbol, or Apple retaining the shape and style of the original apple icon in all subsequent designs).
So, why it is that some companies commit enormous sums to corporate rebranding while others stay with tried-and-true identities for anywhere between ten and (in some cases) fifty or more years?
The answer in each case is to be found in what the logo represents. Looking at the list of companies we noted above, we can instantly draw a mental line between the logo identity and the brand promise of each company.
The FedEx arrow logo equates with instant overnight delivery of valuable packages.
The General Electric logo speaks to the innovation and excellence that makes the world work.
The Johnson & Johnson logo says quality, care, and protection for patients and families.
The Marriott logo means consistent, business-class lodging in cities around the world.
The Mercedes-Benz logo symbolizes uncompromising automotive engineering.
The point is simple: It's not that the logo made the company's brand successful; the company's commitment to its brand promise made the logo successful. Strategically looking at brand helps further clarify this understanding. Here is a strategic definition of brand:

Brand is a set of conclusions that stakeholders reach about your organization, based upon their impressions, experiences and understandings of it.

Put another way; your customers control your brand — you can only influence it. A well-designed, sophisticated, memorable, and consistently implemented logo system can be an essential ingredient in that influence, but it is only successful if it is backed by flawless execution. A logo redesign and a design-driven rebranding of your business can be the right move — but only if you are ready to back it up with delivery on the promise you state.
In fact, a design-centered rebranding of your identity that comes before a customer-driven re-engineering of your business can dramatically backfire. When Amtrak rebranded in the early 2000s, customer perceptions of the brand initially dropped because passengers felt that the rebranding was just a 'fresh coat of paint' placed on top of a poorly-managed, unreliable travel experience. After ten years of solid results made possible by the company's new Acela express trains, the brand perception started to fall in line with the intentions behind the rebranding.
The bottom line is this: If you decide to rebrand, the place to start is with the brand strategy for your business, not the logo design. The building of that strategy — based primarily on your company's ability to achieve operational excellence serving a carefully defined market or delivering to a specific target audience — will give your logo and design rebranding meaning (and muscle).
Remember: when you define your brand, you must also deliver your promise.
Image Credit: Flickr @ Creative Commons