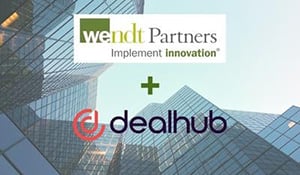 Partnership Brings World-class CPQ to HubSpot
September 16, 2022, Queens, New York – Wendt Partners now has access to the complete configure, price, quote (CPQ) software solution they need for complex deals through a new partnership with DealHub. This mutually-beneficial partnership also marks DealHub's first affiliation with an Elite HubSpot Partner.
What is DealHub?
DealHub is one of the top-rated CPQ revenue amplification platforms on the market right now. This CPQ company performs integrations that align teams and software among top platforms, including HubSpot, Salesforce, Microsoft Dynamics, DocuSign, and more. DealHub's vision is to "deliver a complete end-to-end Revenue Amplification Platform" through CPQ and to manage each sales engagement touchpoint for their users.
DealHub's team truly understands the impact that an efficient, productive technology can have on sales teams by influencing their productivity levels and sales acceleration capabilities.
What Does This Mean for B2B Companies
Sophisticated use-case deals require complex, in-depth solutions that DealHub solves in "one fluid motion." Starting with a beautiful, custom-branded DealRoom, DealHub creates the possibility for increasingly advanced deals that keep pace with the ever-changing technology scene of the sales environment. By being the first authorized HubSpot Partner to form a partnership with DealHub, Wendt Partners can implement DealHub and HubSpot into a unified solution for B2B clients to meet their needs.
What's Next?
Doug Wendt, CGO of Wendt Partners, hosted a Zoom web event on September 22, 2022. Guest Eyal Orgil, CRO & Co-founder of DealHub, who joined him to discuss the company, the future of sales growth, and advancing CPQ in HubSpot.
After the event, we are presenting a limited-time special offer before the holidays to celebrate this fantastic partnership. If CPQ is a priority for your business, learn more about this unique discounted proposal by choosing DealHub CPQ with Wendt Partners. Let's evolve your sales process — contact us today.
Learn about your next CPQ solutions for your business. Book a meeting today.