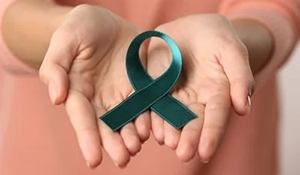 Learn the warning signs & empower women through knowledge.
September 2022 - September is observed as Ovarian Cancer Awareness Month — a time for education and celebration of strength that profoundly impacts our organization. Known as the "silent killer" for women, many of the disease's symptoms resemble common discomforts or conditions.
What is Ovarian Cancer?
Ovarian cancer affects the ovaries, fallopian tubes, and/or the primary peritoneum, which is the tissue lining the abdominal wall and covering the organs. This disease is the fifth leading cause of cancer death in women in the United States, with a low survival rate of 49.7% after five years.
Why is Ovarian Cancer So Difficult to Treat?
This cancer is much more lethal than breast cancer, despite not being nearly as common. Many Ovarian Cancer symptoms resemble common conditions that those with female organs experience throughout their lifetime. Because of this, it often goes undetected until it reaches advanced stages. According to the National Cancer Institute, Ovarian Cancer tumors are also more difficult to screen and catch in medical tests than other cancers.
What is Ovarian Cancer Awareness Month?
September is a time to give recognition and understanding to Ovarian Cancer survivors, those currently struggling with the disease, and those we've lost. Organizations and communities unite to make people aware of this cancer and its warning signs, promote early diagnosis, and raise funds for research and support groups.
Learn About The Cardinal Cancer Foundation
Wendt Partners' educational vision also extends to The Cardinal Cancer Foundation. We established this organization in 2019 as a living memorial to the amazing life and legacy of our late co-founder, Alice Wendt.
The Cardinal Cancer Foundation empowers women to put their health first and supports those affected as they face the many challenges of ovarian cancer.
Learn more about Alice's lasting legacy, Ovarian Cancer awareness, symptoms, and early diagnoses. Visit the Cardinal Cancer Foundation today.