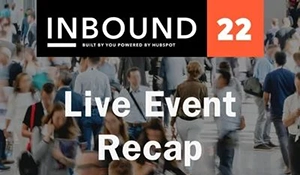 HubSpot Announces World-Class Updates at INBOUND 22
September 7, 2022 - At INBOUND in Boston, HubSpot officially announced many new solutions to help B2B organizations grow to the next level, making HubSpot the world-class CRM for B2B Enterprises.
As an Elite HubSpot Partner, Wendt Partners, in the top 1% of all HubSpot partners worldwide, have been able to alpha and beta test many of these new features and capabilities, many of which are available for the free starter HubSpot accounts.
"At our firm, we focus on the B2B world and making sure B2B companies have the tools, strategies, and content and relationships to achieve sustainable growth," says Doug Wendt, Chief Growth Officer of Wendt Partners, announcing live from the event.
Here are some exciting new updates announced from HubSpot and the future of business growth, focusing on three key elements; CRM customization, developer improvements, and data management and quality.
Records Overview Tab

-

This update allows users to see critical information on a new overview tab on all records. HubSpot professional and above customers can configure the overview tabs, change the properties shown to different teams, or create custom cards with development tools.
Record Custom Tab

-

Users can create custom tabs with specific components called CRM extension cards and allow users to code new application capabilities inside the cards.
Board Card Configuration

-

We can configure board view cards which can be fully customized and configured to control which information will display on the cards. This customization change allows users to customize their CRM to match their business needs, not just an out-of-the-box experience.
New Activity Types and Configurable Buttons

-

SMS, LinkedIn messages, WhatsApp, and physical mail are all now available for logging customer connections in HubSpot. These changes are in addition to bi-directional, inbound, outbound calling, seamless email integration, and calendar integration.
Right Sidebar Configuration

-

Users can configure sidebars in HubSpot to show only need-to-see sections. Users can also organize and customize the sidebar by teams or roles using the advanced permissions and provisioning within HubSpot enterprise capabilities.
Custom Object Builder

-

HubSpot now offers the ability to create custom objects natively on the platform and create associations. In addition to standard components, such as tasks, companies, or contacts, we can now create custom objects based on specific use cases and connect them.
Data Modeling Tool

-

Built into HubSpot is a new data modeling tool that allows us to create the data models necessary for your unique business natively in HubSpot without using a third-party application.
Property Validations

-

This addition to HubSpot allows more control over keeping the consistency and quality of your user data within the CRM.
Automation Recommendations

-

Using automation and HubSpot's artificial intelligence, this release scans the database for issues and provides automation recommendations to fix them, making it easier for users to move quickly.
Data Quality Command Center

-

Analyze the data within your HubSpot records quickly with the new command center to identify properties and any integration concerns and provides a detailed overhead view of the health of your CRM property.
Cleaner Import

-

Importing data into the CRM has been made even easier giving even less manual work for contact importing.
Data Sync Health

-

In integration, data is brought to HubSpot from other sources and need to remain healthy. Within HubSpot, a section for data sync health will be visible to show the integrations that are in sync, excluded from sync, or failing to sync.
CRM Card Builder

-

This exciting addition allows developers to create extension cards that grant control to add customization elements such as alerts, statuses, custom code, images, tags, text, titles, and more.
Debugging

-

Improvements to the debugging experience are available for developers with a CRM mid-panel card logging system for easier detection.
Projects GitHub Integration

-

This new integration will make it easier to develop applications of custom solutions on the platform rapidly.
Development Sandboxes

-

The development sandbox update gives a secure, separate building environment for early testing.
Custom Goals

-

With data quality and importing, custom goals allow users to set, track, and manage team performance unique to your business.
A World-Class CRM with an Elite HubSpot Partner
By partnering with Wendt Partners, HubSpot is now the solution to build with and meet your specific business objectives. As an Elite HubSpot partner, we have hundreds of certifications across our team, with an average of nearly a decade of experience under our members. The changes released today with HubSpot will set the standard for the future of enterprise CRM technology.
If your B2B business is looking to sell, market, or service customers more effectively, contact Wendt Partners today to learn how our team can help you utilize HubSpot to the best capabilities using the powerful tools announced today.