As the Senior Vice President of Sales at KnowledgeNet.ai, Ben Victorica has over a decade of experience using AI-powered technology to deliver robust sales insights to B2B enterprises. In this eye-opening web event, Victorica speaks with Doug Wendt — CGO and Co-founder of Wendt Partners — to help you understand the true potential of HubSpot's world-class CRM interface in combination with KnowledgeNet.ai.
Read on to explore the highlights of their discussion.
HubSpot & Relationship Intelligence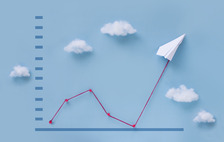 Before robust CRM technologies like HubSpot came onto the B2B scene, companies had to collect and filter through sales data — contact information, emails, messages, and more — across a variety of locations. "Now that we have the unified CRM database in HubSpot," shares Doug, "The challenge has become, 'I've got all this data and information. How do I see what's most important for me to know?"
KnowledgeNet.ai is an extension that enhances an organization's current HubSpot flow rather than replacing it, giving users the ability to see the relationships that their company has with accounts and prospects.
"We light the path to warm introductions through your relationships that exist in and outside of HubSpot," says Ben. "Our customers tell us that it improves their brand because when customer service knows that there's a relationship with an account, they can give them more personalized treatment within interactions. There's a brand impact as well as a sales impact."
Exploring KnowedgeNet.ai's Capabilities
As visual learners, it can be hard for us to feel a personal connection to simple lists of client data. KnowledgeNet.ai solves this problem by allowing CRM users to clearly see the connections between accounts and prospects so your team knows how to personalize their interactions.
"It's a combination of real-time information and visualization that I can interact with," says Doug. This unique, full-picture approach to sales allows HubSpot users with the KnowledgeNet.ai integration to reach several specific sales outcomes.
Use Signals to Identify Priorities
Connecting your team's emails to HubSpot is just the first step in using that data to your advantage in a sales context. How can your sales representatives determine the strength of your relationships with these companies and contacts in HubSpot without having to open countless emails or filter through disparate pieces of contact information?
With one click into the KnowledgeNet.ai CRM card, HubSpot users can immediately generate an at-a-glance view of all their relationships with every individual contact in a company record or contact list. This map connects you and the other accounts with threads called "signals" that convey interactions — such as the presence of an email exchange, past meetings, and if the contact has visited your webpage.
By being able to see the connections with the highest likelihood of positive sales outcomes (based on past communications and interactions), you'll determine the most important next step to getting a deal off the ground.
Connect With Prospects Outside of HubSpot
Not every contact you conduct business with is housed within your CRM. With KnowledgeNet.ai, you can also determine the strengths of relationships with companies you're connecting with outside of HubSpot. Simply input an email address from past exchanges into a new contact record to retrieve the entire networking history between your company and theirs, in seconds.
Master Every Networking Opportunity
HubSpot users with the KnowledgeNet.ai integration can quickly prepare in advance for networking events by leveraging preexisting professional relationships. With the right connection, you can ensure you have one foot in the door with a prospect's key decision-makers and go from a 2% effective cold call to a 98% effective warm introduction.
Re-Engage Stalled Deals & Preserve Interactions
The KnowledgeNet.ai extension shows users at a glance if any of the deals in a given deal list have stalled. Sales reps can then click into the stalled deal's record and see if that relationship is "single-threaded" (with only one or two connections within their organization), and conduct a deal review to gain valuable insights -- like whether or not they have spoken to the organization's major decision-makers.
"Eight out of ten deals stalled last year because of job changes," shares Ben. "If you're only single-threaded into an account, your deal is going to stall longer until you build those additional relationships that will show you how to be multi-threaded."
In addition, KnowledgeNet.ai preserves 100% of all client and prospect interactions. "This ensures the continuity of business relationships so that even if I were to lose a salesperson or a customer contact, other people can pick it up," says Ben.
Make LinkedIn Work for You
In addition to your email network, KnowledgeNet.ai can bring your Linkedin connections into the fold. Simply syncing your LinkedIn network to your KnowledgeNet.ai database will allow you to see graphs based on that information wherever you are — in Linkedin, HubSpot, or the intuitive KnowledgeNet.ai Chrome extension.
Build Your Sales Pipeline, Plan for Success
The powerful combination of HubSpot and KnowledgeNet.ai allows users to quickly and easily build sales pipelines within their organization based on strong, existing connections – or to look back on relationships that they may have missed.
"Our technology working in combination with a world-class CRM like HubSpot… will help you find relationships and opportunities that work, and help you to close deals faster, close more deals, and manage your accounts," affirms Ben.
Access Game-Changing HubSpot CRM Solutions
As a leading Elite HubSpot Solutions provider, Wendt Partners frequently works with B2B organizations to perform full-scale migrations to the HubSpot platform. We're ready to help you map out your business priorities and processes inside HubSpot's superior interface, and to create exponential sales growth within your market and throughout your organization. Book a timeslot with a HubSpot expert through our website, or give us a call today to get started with proven CRM solutions.